Black-ish Season 1 Episode 2 Review: The Talk

Stacy Glanzman at . Updated at .
After a promising pilot, Black-ish Season 1 Episode 2 failed to live up to its expectations. 
Not that  Black-ish Season 1 Episode 1 was perfect by any means, but it did show the series has potential. I still believe it does, but this episode did not do much to improve on that theory. Instead it was mostly bland and unfunny.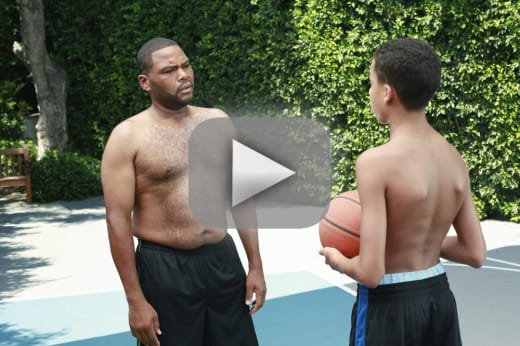 Dre and Junior's attempt at having the sex talk was more uncomfortable than funny. The "sex talk" plot has been done before obviously, and Black-ish does make an attempt to make it unique; I'll give it that. However, while having the conversation shirtless is unique, it still really isn't very funny. Dre said it himself, it's just weird. 
This is me multitasking, because two shirtless dudes standing around talking about sex looks weird after awhile.

Andre
Even worse than the father/son sex talk story line though was Rainbow's attempt at connecting with their daughter, Zoey. When Dre makes a comment that Zoey doesn't talk to her, she wants to prove him wrong. That's understandable, and Zoey is at an age where getting her to open up to her mom would be difficult. 
If that were the conflict, I'd get it. They probably could have come up with some funny scenarios of Rainbow trying to figure out what was going on with her daughter on her own. Instead. Zoey willingly comes right out and tells her everything, but Rainbow has ADD or something and doesn't listen. 
I get that kids babble on and I'm sure my parents zoned out at times when I was talking too, but after a couple of failed attempts to figure out what Zoey said, she gets a second chance. She tells Zoey it sometimes helps to talk about the situation from the other person's perspective and, surprisingly, it works. 
Zoey repeats her whole dilemma and Rainbow misses it AGAIN! This was more frustrating than funny. At one point she actually blows off the younger kids who come to talk to her because she's trying to figure out what Zoey said. She's not winning any "mom of the year awards" any time soon. 
The saving grace of the episode though was the twins, Jack and Diane (also, I don't think I caught their names last week, but kudos to the John Mellencamp fan who named them -- great song). The kids were adorable as they tried to figure out what "the talk" is and how they could get someone to come have it with them. 
I especially loved the end when they decided they could give "the talk" to each other and Diane said it just has to be serious and in a deep voice. She may have gotten bored, but I would have liked to hear more from Jack on the difference between jelly and jam. I definitely want to see more of these two in future episodes! 
This episode wasn't terrible and it was nice that we got to see more from the rest of the family. I do think the acting is great and the characters are starting to get fleshed out. This episode was disappointing because the jokes mostly fell flat and the plot felt a little tired.
As I said before, I still think the show has potential and just needs more time to find its groove. Comedies in general tend to need more time than dramas to find their footing, so I'm willing to be patient with Black-ish. 
What did you guys think of the episode? Will you keep watching? Visit our section of Black-ish quotes to relive the best lines and don't forget you can watch Black-ish online any time via TV Fanatic. 
Stacy Glanzman was a staff writer for TV Fanatic. She retired in March, 2019.