Last week, Bones Season 10 Episode 4 offered another fun hour with some nice moments for the main characters, including girl talk and Booth's bathtub beer helmet.
Below, Bridget Liszewski from The TV Junkies joins TV Fanatic writers Mary Kate Venedam, Christine Orlando, Michelle Carlbert, and Ashley Bissette Sumerel for a discussion of "The Geek in the Guck." See what they have to say below!
Did you have a favorite quote or scene from this episode?
Bridget: I loved seeing some genuine girl talk between Brennan and Angela. It sure feels like it's been forever since we've last seen these two sit and just have fun together. The talk of daycare and kindergarten did show the growth of these two characters, and where they're at in their lives now, but I loved that Brennan wasn't afraid to slip right back into the sex talk of the "good ol' days." This moment also provided my favorite quote of the night with Angela's, "You guys like the tub, don't you?"
Mary Kate: There were a lot of little moments that I liked. I liked the first scene with Christine because you sometimes forget that they have a daughter and she was just adorable. I also liked the scene with Aubrey geeking out with all of the stuff at the video game company. My favorite quote though was definitely Hodgins begging Angela to let him do his experiment because we know how much he likes that.
Christine: All of the scenes with Christine. My little namesake was just adorable. She has an amazing smile and I love seeing Booth and Brennan as parents.
Michelle: I really liked seeing Angela and Brennan hanging out together outside of the lab and having some good old-fashion girl-talk. It seems like haven't seen that for a while and I missed it. Theirs is a typical friendship of people who have known each other for so many years. They used to talk about sex or dating and now they talk about husbands, homes, and children.
Ashley: There were definitely a lot of moments that I loved. Christine is super cute, and I think it's even cuter that she understands her mother's way of talking to her with scientific facts. But like Michelle and Bridget, I really loved the scene between Brennan and Angela. I started re-watching Bones from season 1 this week, and I had this moment where I was like, "Oh yeah, Brennan and Angela are supposed to be best friends." So I'm glad we were reminded of their friendship in such a nice, normal way this week.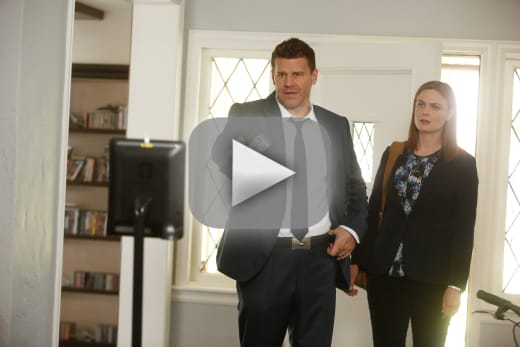 Thoughts on this week's murder investigation?
Bridget: Honestly, the case of the week took a backseat for me. I don't really remember many of the details to it. I remember being a bit like Aubrey, and thinking how the gaming stuff was pretty cool. Speaking of Aubrey, him geeking out over everything hopefully helped to endear him to fans that aren't clear how they feel about him yet.
Mary Kate: I was indifferent. In the last couple of seasons, the stand-alone investigations have been pretty predictable. They are interesting concepts, but I feel like I can guess who the murderer is before the first commercial. My favorite episodes have always been the long term crimes, like the Grave Digger and Gormogan because they were so unpredictable.
Christine:  I think my favorite part was watching the guy meet his Chloe who wasn't really Chloe. He'd been having a relationship with someone he'd never met and didn't really exist…until she suddenly did under a completely different name and she knew nothing of him. It was a great twist and played as both comical and sweet.
Michelle: Well, you know me, the investigation is never usually the highlight for me in any of these types of shows. That being said, I did enjoy their view on the world of geekery and games. I also liked seeing Aubrey's reactions to it.
Ashley: The video gaming stuff was a lot of fun. I agree with the crowd here that usually, the cases are less important to me than what's happening with the characters, but I think this one offered some nice moments. And I'm with Christine on the Chloe piece. It was cute, and it was nice to see something of a happy ending.
What are your expectations for Booth and Brennan as parents?
Bridget: Booth and Brennan are great parents. I think they both clearly stated that all they really want for Christine is that she has it better than they did. I think we can all agree that in that sense they are very very successful. Just as they do at work, Brennan and Booth nicely balance each other out when it comes to parenting. They are a true team that works together to raise their daughter, just how it should be.
Mary Kate: Now that Christine isn't a baby anymore its interesting to see their takes since you can see how much she responds to Brennan's 'science-talk.' Booth and Brennan have always had differences between how they would parent, even before Christine, but now we see them follow through on their beliefs. They're good parents, but you can definitely see how they differ when they parent.
Christine:  That they will balance one another out. Parenting is a tag team sport. As much as they both had specific and differing concerns for Christine's education, they were willing to listen to each other's point of view and try and compromise. That bodes well for their future.
Michelle: I think they will balance each other out very well. Brennan will give Christine incredible intelligence, while Booth will give her heart and guts. I predict she'll grow up to be a person who knows enough about the world to understand how it works, but also find joys in the little things. Let's put it this way, I would love to have Booth and Brennan as parents.
Ashley: I agree that their differences is what will make them great parents. But I also hope we see Christine have an influence on their characters, as I think it already has some with Brennan.
What do you think of Jessica Warren, and what does her character add to the show?
Bridget: I'm a little embarrassed to say that I didn't really remember her from last season. However, I did like the fact that she wasn't afraid to stand up to Brennan, and in the end even ended up opening Bones' eyes to a different way of thinking. I did enjoy her interaction with Hodgins as well, and I'm curious to see if we see more of her hanging out at Hodgins and Angela's home.
Mary Kate: She's not my favorite Squintern. It is, though, interesting to see how she has the back and forth with Brennan because she is always shocked when the interns know way more than she thinks they do. It's nice to have another female Squintern because its mostly been Daisy and now there's someone new to the field.
Christine:  I really thought I was going to hate her and surprisingly, I didn't. I like how she interacted with Brennan, Hodgins, and Angela. She was intimidated by Brennan but she wasn't arrogant either. I thought she was unique and I wouldn't mind seeing more of her this season.
Michelle: She's still a little too new for me to have formed a full opinion on her yet, but so far I thought there were a few interesting aspects to her character. I thought it was great that Brennan decided to try out cooperation in the lab because of Warren.
Ashley: Love her. I didn't at first, but after this episode, I really appreciate what she has to offer. She's already had an effect on Brennan, and I'm excited to see what the dynamics will be like if she stays with Angela and Hodgins for a while.
What's been missing this season? Do you have hopes for future episodes?
Bridget: To be quite honest, this season has been a really pleasant surprise for me. When a show has been on the air for 10 seasons you tend to think there's not a lot of new territory to explore, or stories to tell. But Bones has really got me caring all over again about these characters. I love the way that Sweets' death has shaken up the group dynamics, and I still think the addition of Aubrey is a good thing. Dr. Brennan has shown some serious character growth, and I can't wait to see if her relationship with Booth is further challenged by the events in the beginning of the season.
Mary Kate: I enjoyed seeing one of Hodgin's experiments because they haven't been around nearly as much as they used to. I hope we can see more of that. I also liked Angela and Brennan's moment because it definitely feels like they have had zero scenes just them to talk like they used to. Now that Michael Vincent and Christine are older I would love for them to have more of a presence in the series, like Hodgins having Michael Vincent in the lab for a day, just something to let the audience know that they actually have children. They made such a big deal out of both Angela and Brennan's pregnancies, I find it odd that the children have been absent.
Christine:  I agree with Bridget. I'm enjoying this season more than I've enjoyed Bones in years. There's been lots of character development. The will they/won't they is long gone and now we've got two solid couples with families. I'm really enjoying the changes and I think it adds to the show. When everything is going right it's more enjoyable and when things go wrong for these characters they've got a lot more to lose.
Michelle: After seeing the scene with Christine in the beginning (which was another one of my favorites), plus the girl-chat with Brennan and Angela, I feel like we're missing those little personal moments we used to get in earlier seasons. I would love to see more of the children in their lives, plus just more of the friendships that have developed between all of them.
Ashley: It sounds like the general consensus here is a hope to see more character development and relationships. I agree with that completely. I hope we see more development between all of the characters, and I hope we see more of the kids. And what about Booth's son? I hope we see him soon. I also wish we saw more of Booth in the lab interacting with the squints. But overall, I'm pleased with the way things are heading.
What about you, Bones Fanatics? We'd love to hear your thoughts on these questions too, so leave your answers in the comments!
Need a refresher? Don't forget that you can always watch Bones online via TV Fanatic!
Ashley Bissette Sumerel was a staff writer for TV Fanatic. She retired in September 2017. Follow her on Twitter and on Google+.