I don't know about you, but I've been bracing myself for Bones Season 10 Episode 2 all week.
After last week's shocking premiere, it was clear that the episode to follow would have us breaking out the Kleenex.
It did.
What I loved most about this episode was the way Sweets' death was dealt with. Even though he wasn't actually in this episode, he was extremely present. Yes, the goal in this episode was to find his killer, but Sweets also influenced the characters in the way they worked to solve the case. And his death is having a profound effect on everyone.
At the beginning of the episode, Booth blames himself for Sweets' death, telling Brennan that he should have been the one to serve the warrant that caused Sweets to be killed. I imagine that this is a lingering feeling Booth will have throughout Bones Season 10.
Later, Booth looks at their case through the eyes of Sweets, saying that they needed his perspective. Even Brennan agrees, and as it turns out, this leads them closer to solving the case.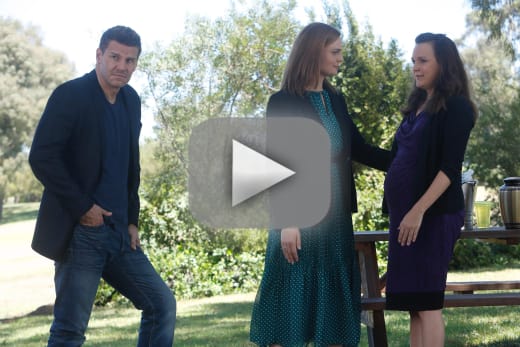 What's also nice is the way that Brennan's character is evolving. Sweets has helped her to become a more sensitive and open-minded person. This scene is a clear example of that. Brennan is willing to consider a different perspective – one that deals with psychology and religion as opposed to just science.
Bones Producer Stephen Nathan alluded to the fact that the death of Sweets would be handled in a respectful way, and it certainly was. We even had the chance to learn more about his character through the study of his bones and his handwriting. And if you weren't teary eyed enough, we also learned that Lance wanted to name the baby Seeley.
We also started learning more about Agent Aubrey in this episode. Booth still seems a bit hesitant of him, but they work together well. Aubrey also serves as a way to lighten this episode up a bit.
He's apparently a history buff and can remember details pretty well, but when he blanks on one detail in particular, he asks Angela and Hodgins if they've seen any good movies lately. He tells them if he's distracted, then he can remember the detail. It's a really fun moment, especially since they end up talking about kids' movies until he remembers.
Caroline: So, how's junior here working out, cheri?
Aubrey: Be nice to the millennials. We'll be controlling your Medicare soon.
Aubrey is clearly a replacement for Sweets -- heck, he even replaced him in the credits. But the good news is that he's a likeable character. I don't think it will be long for Booth and Aubrey to develop a good friendship.
But what bothered me about this episode was Booth and Brennan's relationship. I know that a lot had to happen in this episode, but when they start fighting about the weapons Booth bought, it feels like it comes out of nowhere. I think that if Brennan is going to get this upset with Booth, we need to have more development.
Who you are now -- it's not someone I want in my life. In my daughter's life.

Brennan
I also think that the characters need to be dealing with the fact that Booth was in prison for three months. He's a strong character, but I want to know what he's thinking and how that's changed him.
The good news, though, is that Sweets' murder was solved and the conspiracy was put to rest. A nice touch, too, that the conspiracy started with J. Edgar Hoover.
The episode ends with Sweets' funeral, which was handled perfectly. It's a small gathering with his closest friends… rather, his family. This is when Brennan talks specifically about the effect that Sweets has had on her:
He's here. Sweets is a part of us. Our lives, who we all are at this moment, have been shaped by our relationship with Sweets... I might not have married Booth or had Christine. Daisy certainly wouldn't be carrying his child. We are all who we are because we knew Sweets.

Brennan
And they spread his ashes overlooking Washington D.C., but not before Booth suggests they need some music. The group sings a song that always put Sweets in good spirits: "Put the Lime in the Coconut" while they spread his ashes.
It's a nice ending that also serves as a bonding moment for the characters. Daisy is clearly going to become closer to Booth and Brennan, and I like that Caroline has been so present as well. I'm also really glad they chose a small funeral, because I think that was fitting for Sweets' character.

What did you think of this episode, Bones fans? Leave us a comment and let us know!
And if you can't wait until next week to see more, you can watch Bones online now via TV Fanatic.
Ashley Bissette Sumerel was a staff writer for TV Fanatic. She retired in September 2017. Follow her on Twitter and on Google+.