Cristela Season 1 Episode 1 Review: Pilot
Whitney Evans at . Updated at .
Cristela is just about as adorable as it gets. 
And I'm referring to both lead Cristela Alonzo and the show named after her. Cristela Season 1 Episode 1 is a very funny pilot episode, from a woman who has star quality written all over her. 
Cristela is a Mexican-American woman in her sixth year of law school, living in Texas in a crowded house that includes her sister, Daniela, brother in law Felix, their two kids and her mother, Natalia. From the opening scene, it felt like I was right at home with my own family. They were hysterical and making fun of one another left and right, but you could really feel the love.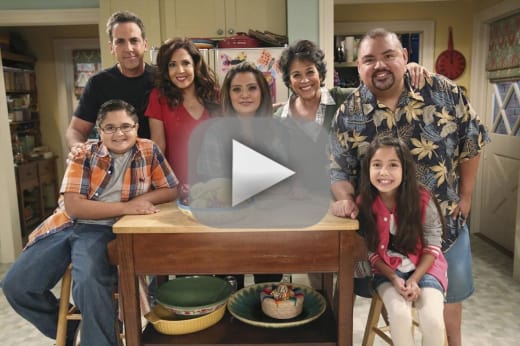 Natalia is the old school mama bear, constantly reminding her children of what life was like back in Mexico before she moved to the United States to give them a better life. The girls immediately begin to mock their mothers stories in a good natured way, as it's clear these are stories they've been hearing their whole lives. 
I didn't have cheer leading as a kid. We had fun games like, getting water from the well and digging the well.

Natalia
The sisters have a great rapport with one another and the scenes with them and their mother were easily the best parts of the pilot. 
Also good was the slight animosity between Cristela and Felix. It's clear they have a love/hate relationship, as Felix is desperate for Cristela to move out so he can get his house back. Their banter is fun though, as Cristela clearly enjoys torturing him.
Felix: If you were my wife, I would put poison in your coffee.
Cristela: If you were my husband, I'd drink it.
The scenes at home were to me the stronger parts of the episode. Between the sisters and their mother, Felix and Cristela and Felix's brother Alberto, who dropped in a few times to hit on Cristela, I was really enjoying the family chemistry.
What didn't work so well for me were the scenes at the law firm.  
Cristela interviews for an internship at a top law firm in hopes that the internship will eventually lead to a job offer. While waiting, she meets fellow candidate Josh, a bit of a nerdy, nervous guy who bonds with Cristela right away. And she also meet the bosses daughter Maddie. And the less said about her, the better. 
The boss is Trent Culpepper and while interviewing Cristela he immediately makes some off color remarks in regards to her heritage and even speaks to her with an accent at one point. Cristela takes it all in stride, the live studio audience does as well, but I'm hoping each episode won't be bogged down with the bosses insensitive remarks because that will get old rather quickly. 
Although the interview doesn't exactly go well, Cristela is offered the job at the firm. When she breaks the news to her family, they are less than enthused, but once they realize she used her lawyer skills to get Felix paid on a job he was being stiffed on, they slowly come around. 
This is Cristela's dream and Natalia wants to support her, but she's also scared for her daughter. She knows what a cruel world it can be and she doesn't want her little girl to get hurt. 
Natalia: Cristela, mi corazon, part of me worries that they'll not let you do it. And that you're going to get hurt. And part of me worries that when you are a big deal lawyer, you will be embarrassed by me.
Cristela: Oh Ma, don't be ridiculous. I'm already embarrassed by you.
This perfectly sums up Cristela. A comedy full of heart, with a lead that will bring a smile to your face. 
Now it's your turn to tell me what you thought? Did you fall in love with Cristela? Did you enjoy the work scenes? Will they push for an eventual Josh/Cristela pairing?
Remember to watch Cristela online anytime on TV Fanatic and keep up with the laughs. 
Whitney Evans is a staff writer for TV Fanatic. Follow her on Twitter.