Dance Moms Season 4 Episode 33 Review: Playing Favorites

Winston Rice at . Updated at .
At the end of every season of Dance Moms, Abby and the moms return for a low budget reunion special that inevitably leads to them fighting about the exact same things they fought about during the season.
No resolutions are ever made, and the same fights continue well into the following season. No one knows this better than executive producer, Jeff Collins, who found himself saying, "you guys are never going to agree" a few times during Dance Moms Season 4 Episode 33. 
In fact, that should probably just be the tagline for Dance Moms, because no matter how hard the moms try to get Abby to see things their way, she never will. They will never agree. And the reunions serve as another testament to that point.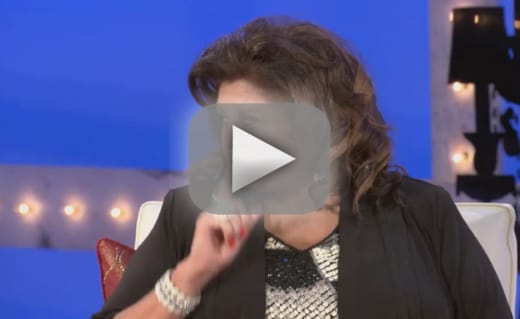 Holly can't stand the way Abby tears the other girls down to lift Maddie up. Christi thinks Abby will do anything in her power to ensure Chloe fails. Jill just wants Abby to see Kendall as the next Maddie and can't stand it when Abby brings in other girls. And Melissa, well, she doesn't have much to complain about.
Unless, of course, you count all of the jabs thrown her way by her fellow dance moms. They still can't believe Melissa didn't go out of her way to make sure Abby stuck to her word about Maddie not having a solo at Nationals; the fact that Maddie, not Melissa, had to be the one to tell Abby she wasn't going to dance is still appalling to them.
Just look at what Holly had to say about it:
Maddie had more sense than you.

Holly
If there's one thing the Elite Competition dance moms can agree on though, it's their mutual dislike for the Select Ensemble team. Abby claims she brought the team on to motivate her Elite girls, but Christi is calling hogwash. She thinks Abby just wanted to have other dancers to phase in and out at her choosing. Let's be real. It's probably both.
At the end of the day, however, all of the dance moms' complaints are totally lost on Abby; regardless of how angry the moms get, they still bring their daughters to the ALDC. And because of that, the ALDC will continue to operate the way it always has.
If there's one mom who's definitely not putting up with Abby's ways, it's Jeanette, former Select Ensemble dance mom. She showed up to the reunion livid about the way Abby handled kicking her daughter, Ava, off of the Select Ensemble team. She's done, guys. She will not be returning to the ALDC and walks off set in a grand flourish.
It's just too bad that's not a loss Abby's going to feel. Considering Jeanette and Ava were kicked out of ALDC by Abby herself, Jeanette's cry really holds no weight.
And finally…no reunion would be complete without Cathy, who takes her delusions to a whole 'nother level when she declares the Candy Apples' performance to Sia's "Chandelier" was more avant-garde and cutting edge than Maddie's music video performance. Cathy really needs a reality check.
To end the reunion, Jeff Collins teases viewers with Abby's official announcement of ALDC: LA. Season 5, here we come!
So…what did you guys think of the reunion? Do you think the moms are just wasting their time fighting with Abby? Are you excited about ALDC:LA?
And don't forget! If you've missed a single amazing second of Dance Moms this season, you can always watch Dance Moms online via TVFanatic.