Hawaii Five-0 Season 5 Episode 2 Review: Family Man

Michelle Carlbert at . Updated at .
One kidnapping led to a case of mistaken identity, plus an additional kidnapping in Hawaii Five-0 Season 5 Episode 2.
Any case where the team has to chase down a kidnapped child is scary, but this one had a lot of extra twists and turns. At first, I had all kinds of wild theories as to why someone would kidnap Sophie.
Her parents weren't rich so I wondered if maybe her father had arranged the whole thing so he could get sent back home. I realize that's not very patriotic, but it was just one crazy idea floating around in my head.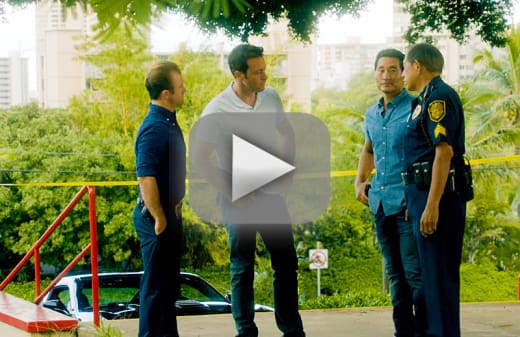 The moment I saw that William Mapother (aka Ethan from Lost) was playing Eric Porter, I immediately suspected that he was behind it somehow. Anytime one of the people supposedly in the background of a story turns out to be a great actor, little radar poles pop right out of my head.
As it turned out, I was wrong about Eric, which was a nice little surprise. I liked that the story was still a mystery more than halfway through the episode, which is something that this show is quite good at pulling off.
Once I heard about the defective car seat, I knew who the kidnapper was but it wasn't until that point that we found out that Caroline had kept the secret of the cover-up from her husband. I didn't blame that poor father for wanting to kill her, but I'm glad that he wasn't able to do it. That would have done nothing but add to his pain, even if he didn't realize it.
Not a lot happened on the story that was hinted at for Jerry in the premiere, but we did see that he is still being followed by a scary-looking person. We also saw that he has an EMF meter and he's not afraid to use it to keep people from buying his mom's house.
As for Danny, I was almost ready to say that his story didn't go very far either but once again the show delivered a shocker in the last couple minutes of the episode. I was wondering why Marco kept acting so smug around Danny. It made no sense to me that a scumbag like that would think he could threaten a cop and get away with it.
Of course, that was before we found out that Marco had Danny's brother. I have to say, as a hard-core Danny fan, I am beyond excited by this storyline. I can't wait to see Danny get to practice some of that badassery we know he can do so well. Marco has no idea who he's dealing with. In fact, that last bit was so good I may have to watch Hawaii Five-0 online just so I can see it again.
My favorite bits:
The music they played as the mission was deployed. That was kind of inspiring.
Steve telling Angela that they were 'ohana to him.
Danny knowing what Steve was thinking, even though he didn't say it.
Danny pointing out that Larkin sensing something was wrong with his daughter was just as dangerous as being told what happened. That's a good point.
Jerry showing up with an EMF meter to keep potential buyers out of his mom's house.
Kono showing up at the Porter's house and Grover walking a dog as cover.
Danny giving Eric a father-to-father talk.
Kono's reaction to finding out that Jerry's nickname for Steve was "Captain America."
Jason discovering that his daughter was gone in the flashback to the accident. That was heartbreaking.
Jason saying all he wanted was his little girl back. Oh man, this guy is killing me.
Sophie's reunion with her parents. So sweet.
What did you think of this episode of Hawaii Five-0? Which part of the episode surprised you the most?