Hawaii Five-0 Season 5 Episode 4 Review: The Painter

Michelle Carlbert at . Updated at .
In an hour full of twists and turns, the action took a final, shocking twist in the final minutes of Hawaii Five-0 Season 5 Episode 4.
I don't know about the rest of you, but this was another one of those episodes where I feel like I need to -- at the very least -- watch Hawaii Five-0 online to wrap my head around what just happened. Before I do watch it again, I think I'm going to have myself a stiff drink first.
Before I talk about that final two minutes, let's discuss the bulk of the episode and the unique case the team caught this time. I swear I will never grow tired of the ways this show finds to take old ideas and give them a new twist.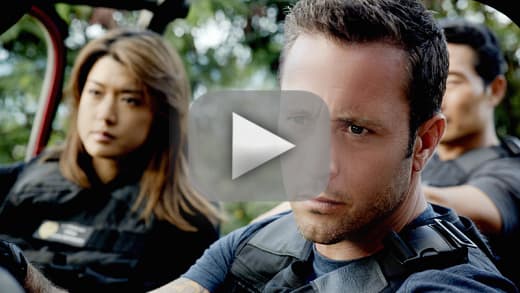 A hit man comes to the island because he's obviously there to kill people, but before they can find out who his targets are, another hit man kills him. Now I just assumed that it was either one hit man stealing a job from another or maybe even one hit man trying to get out of the business and another taking him out before he can do that.
As it turned out, both of my theories were completely off. I never thought we were dealing with a hit man who (you could almost say literally) had a change of heart about his business. But even when Valentine was telling his story, I thought that it was an okay twist, but nothing earth-shattering.
I think you told a really great camp fire story and the only thing missing is the marshmallows.

Grover
What brought it to a completely different level for me was discovering that Valentine had been not only refusing to kill the people on his contracts, but sending them away to his own personal witness protection program. That gave his story a lot more heart and I was very happy that he got to be a part of helping the team capture Bagosa and send his people to safety.
Beyond the great case, there was of course Danny's story. I never, ever thought that Reyes would take Danny's money and then basically announced that Matt was already dead. Now, I'm still not positive that Matt is actually dead (I won't believe it until I see a body or evidence of a body), but that doesn't really matter.
The point is that Danny truly believed Reyes when he said Matt was in that barrel. I swear I nearly got chills when Danny said he would kill Reyes and, boy, he sure didn't mess around. Do I blame Danny one bit for putting that bullet between Reyes' eyes? Nope, not at all.
Listen to me. Do yourself a favor and kill me now because I promise you I will put you in the ground the first chance I get.

Danny
I am, however, worried about the ramifications of that action on Danny. I'm also worried about Chin as he took a big risk to help Danny, too. I will also say that this is easily the best storyline Danny has ever had on this show and I can't wait to see how it continues to play out.
My favorite bits:
Stave walking into Danny's place and finding him muddy and surrounded by money.
Totally falling for Bristol's innocence, right up until he took on an entire room of agents and won.
Kamekona and Jerry. On a stakeout. That is all.
Steve and Danny's reaction when Grover told them their bad guy had taken down five guys by himself.
Total shock when the sniper took out Stegner, Steve shot him, the guy started shooting a machine gun out of his car and Steve jumped on the hood of the police cruiser. WHOA! That was one heck of an action sequence.
I know it was sort of a joke, but I couldn't help the "aw" I felt when Danny said he loved Steve for always being willing to risk their lives.
Steve telling Danny that he'd go through the door first and Danny saying he knew he would.
Thinking Danny had a point about Reyes coming for Grace if he didn't get all his money.
The entire conversation between Grover and Steve during the chase. I have no idea what a "giggle hole" is either, but it made me laugh.
Agreeing with Grover, it was indeed ironic that they needed to call an ambulance for a man in an ambulance.
Jerry announcing that he was in the market for a new basement, in exchange for light housework.
Not being at all surprised that Jerry knew not just one, but two places where a group of people could disappear off the grid.
The use of "Taking Care of Business" as the plane full of hit men landed. You really have to appreciate the sense of humor.
Yep, I knew Bagosa was going to kill the poor guy after he handed him the envelope.
Yep, I knew that was a recording. But I loved that Jerry was the one acting as maestro.
The guy opening the bathroom door and being greeted by Danny's fist.
Steve actually asking for help in a fight? Have we entered an alternative universe?
Feeling like cheering when Valentine got to help put Bagosa away.
The group watching all the families drive away safely. That was awesome.
My heart BREAKING when Reyes' men wheeled out that barrel.
Danny marching back down those stairs and ordering Reyes to look at him before blowing his brains out. OH. MY. GOD.
What did you think of this episode of Hawaii Five-0? Do you think Danny''s brother is really dead?
Note: Hawaii Five-0 Season 5 Episode 5 is titled "Ho'oiina" and airs on Friday, October 25.