It was another emotional ride in Hawaii Five-0 Season 5 Episode 5.
After what we all went through at the end of Hawaii Five-0 Season 5 Episode 4, I might have expected a lighter episode this week to get everyone back in the groove. Instead, Steve was sent on a journey that brought him closer to his father in ways I'm sure he never expected.
In many ways, this was a beautiful episode. From the opening scene, I knew we were in for something different and I found myself caught up in the story right away. I think part of that was the music, which is always good on this show, but was exceptional tonight.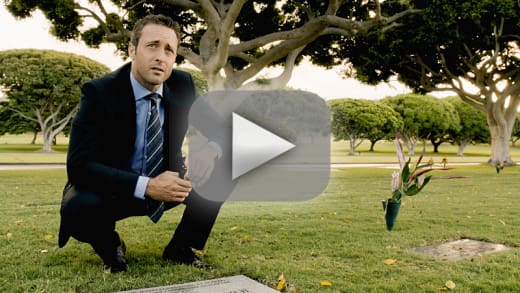 Steve met a woman who once knew his father and took over an investigation his father began many years before. Researching his father's old leads and speaking to Ellie and Chin about what happened at that time, Steve was able to connect to his father again.
Steve has held some resentment for his father sending him and his sister away, even though he has known it was for their protection. It was interesting to discover that John began to regret that decision, at least according to Chin's opinion.
Obviously, this meant a lot to my dad. I owe it to him to try and solve it.

Steve
It's really too bad that Steve couldn't have known everything at the time, but even he must understand that he was too young. So it's great that, even though his father is gone, he can still get some closure.
The fact that he got that closure while giving closure to Ellie is one of those little things that always makes me love the writing on this show. That little bit of connection between the storylines that made them flow so wonderfully. I feel like I need to watch Hawaii Five-0 online to catch all the nuances of it.
Now, it was fairly obvious that Ellie was being set up as a possible love interest for Steve in the future. From the way they ended it, she could come back anytime but it doesn't seem like it will be all that soon. I guess the writers are trying to give us fans the chance to get used to her slowly, which isn't a bad idea.
Kamekona: You know what your problem is? You're a hoarder.
Jerry: Yeah, a hoarder of truth.
As for the final few minutes, it looks like we're finally going to get the action we've all been waiting for on Jerry's story. I knew he was going to be in big trouble and it's interesting that his story will intersect with the Halloween episode. Or maybe a better word for it is "scary."
My favorite bits:
I seriously need to find out the name of that song from the beginning of the episode. It was gorgeous.
Steve filling his dad in on everything that was happening in their lives. Dang it, where did all of this dust come from all of a sudden?
Kamekona and his buddy playing with the tape.
Jerry immediately giving up Kamekona as his third party.
Ellie dancing with her dad. So sweet.
John telling Ellie that she would survive what happened and that she needed to be strong and brave.
Steve calling to check in on Danny and see how his family was holding up.
John giving the present to Ellie and Chin asking him if he's spoken to Steve in a while.
Chin telling Steve that his father may have come to believe that it would have been better if he hasn't sent him and Mary away.
Steve taking Ellie's hand as they exhumed her father's body.
Cracking up when Kamekona's cousin assured Jerry that he "got this." Why do I feel like things are about to go horribly awry?
Wait. How can Jerry still be listening if the book was gone?
Wow, another great song. Loved what was playing during the montage.
Jordan helping the team to get Sykes to admit to the murder.
Jordan beating Sykes over the head and tearing off his wire. Uh oh, I didn't see that coming.
Steve reliving one of the good times with his dad in the garage. So much dust. (wipes eyes)
Ellie offering mechanical advice about his dad's old car.
Okay, that's it. I'm going to need the soundtrack to this entire episode now.
Jerry coming home to the surprise of his life. Oh noes!
What did you think of this episode of Hawaii Five-0? Did you like Ellie? What do you think will happen to Jerry in the next episode?