Madam Secretary Season 1 Episode 4 Review: Just Another Normal Day

Tanya Moat at . Comments
Battle lines are drawn in Madam Secretary Season 1 Episode 4 as we begin to get a clearer picture of the inner workings of the White House. To see past the shell and who lurks inside.
Four days of intense negotiations has helped Elizabeth's staff come together. They are bit giddy, cranky and relieved. In other words, they actually seem like a real team of real people.
Elizabeth has a giggling fit when she tells Chief of Staff Russell that her team was able to resolve the issue between Japan and China to which he responds rather indifferently. It's actually nice to see her let loose.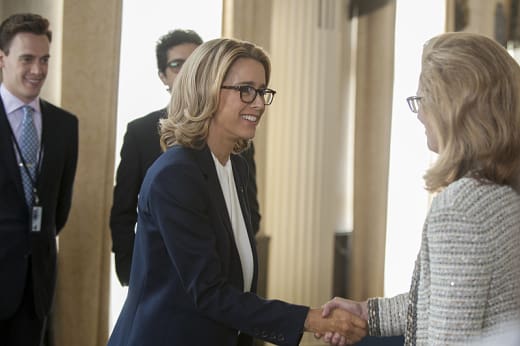 Tea Leoni portrays Elizabeth so well. She is smart and confident while being both an idealist and realist. She also let's Russell have it when he responds with a "fine" to her team's hard work.
Fine means thank you for not screwing up. It's high praise, so take it.

Russell
Their relationship remains somewhat chilly, but I'm glad they backed off from making him seem like a one-note villain. He is a realist through and through. He is also much more willing than Elizabeth to sacrifice people for the greater good.
It's an interesting contrast. One that I hope they continue to play up because both sides have merits. 
Elizabeth's triumph is quickly over when a Chinese student, Fu Xinpei, refuses to get back on a plane to China and pleads political asylum. Not surprisingly, the Chinese Foreign Minister refuses to sign the treaty unless Xinpei is sent back home.
The threat of World War 3 between China and Japan looms over us as does the potential persecution Xinpei could face if forced to return to China. Those are big consequences. Yet even as huge as those consequences are, sometimes it didn't feel all that big. I wasn't sitting at the edge of my seat, biting my nails.
It's not because I assume Elizabeth will fix everything. Most procedurals on TV have an incredibly high rate of success too, but they still manage to create tension. In large part because we care about the team pursuing the bad guys, making the danger feel closer.
This is their biggest opportunity: they need to ratchet up the tension. Being told isn't enough. We need to somehow see and feel more vested in the outcome. To feel the pressure. To see the microscope they work under.
Overall, they continue to demonstrate more confidence as they once again did a nice job balancing work and home. I was pleased George's death had not been forgotten, and Elizabeth admitting that she had not been able to cry or mourn his passing to Nadine.
Nadine's overreaction to delaying the unveiling of former Secretary of State Marsh's portrait initially seemed out of place, but when we learned she had an affair with him, it made more sense. Her guilt, shame and heartache made her prone to outbursts, but it also showed her human side too.
It sounds like your heart is broken.

Elizabeth
One thing they excel at is those quiet moments. They know when to breath and let the silence do all the speaking. 
Work kept Elizabeth from home, which naturally made her feel guilty. Again, I appreciate how strong the McCord marriage is. Henry doesn't grumble or add guilt. He simply reminds her that she's Mom who got stuck at work. 
Stevie remains the most interesting McCord child. The argument between her and Allison will hopefully set the stage for a bigger storyline for her. You could see the hurt in Stevie's face when Allison told her that she was just a hostess and no longer the golden child.
They also moved the mystery surrounding both George and her predecessor's death forward. We never knew much about Marsh besides the fact that George thought he was murdered. Of course, George didn't exactly come across as stable himself as Elizabeth noted.
I was secretly kind of rooting for crazy.

Elizabeth
What we do know now is that Marsh had planned to run for President against the very man who put him office. And he had two powerful enemies: President Dalton and his Chief of Staff. This isn't necessarily shocking, but I'm looking forward to getting to know both men a bit better, killers or not.
What did you think of the episode? Do you feel vested in the main storyline's outcome? Or do you find the tension lacking at times? Let me know your thoughts! And don't forget, you can watch Madam Secretary online via TV Fanatic at your convenience.