For the past two episodes I have expressed my desire to be patient with this show and hold out hope that Mulaney's comedy was the key to unlocking this shows potential. Mulaney Season 1 Episode 3 made me lose some of that hope and the show is honestly already starting to feel stale a little bit forgettable. 
In this episode of Mulaney Halloween is just around the corner when the gang's neighbor, Mr. Lapedis, dies and starts to speculate that his ghost may be sticking around.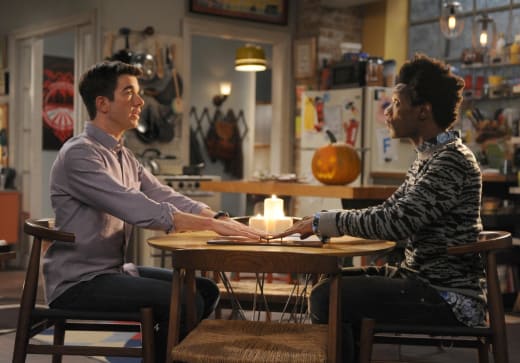 Halloween is the least sentimental holiday. No one is ever like 'I should give mom a call. Ever since pop died she never goes out on Halloween dressed as a power ranger and takes ecstasy.'

Mulaney
While Motif is convinced that it wasn't the mice reacting badly to his anti-cat jokes, Mulaney is taking advantage of the 'old person jokes' left behind by Lapedis in order to impress Lou. Although Mulaney -- being an old white man at heart -- might have been able to write those anyway.
Impossible. I was doing a lot of anti cat stuff. The mice love that.

Motif
You took the credit for a dead man's jokes. Thats stealing. No wonder Lupides is haunting us.

Motif
Jane had the best idea by trying to commandeer their deceased neighbor's rent-controlled apartment. The fact that she had a good idea about that apartment is the only good thing I have to say about her in this episode.
The scene with the song was something I never want to rewatch and was just not funny. It's a shame because I know Nasim Pedrad is more talented than this. 
I thought that Lou ended up having some of the funniest jokes in this installment. The man just wanted to bring back the scary in Halloween and did it the only way an eccentric and maniacal boss knows how to do.
I felt like the holiday was getting a little watered down. I wanted Halloween to be scary again.

Lou
Truly talented people always think they are a fraud. Its like my buddy OJ. The guy is a Heisman trophy winner, but he always had this look liked he did something wrong.

Lou
John you spent the week scheming and lying. I don't respect what you did, but I can certainly exploit someone like you.

Lou
After being annoyed by Jane, I wanted nothing to do with Andre and didn't waste any laughs on him. He could never make it out of the clutches of those old people for all I care. 
I am also so over this 'I lied to my friend, then I struggled with telling them the truth, but in the end I told them the truth and they were disappointed but forgave me' story line. Stop beating this dead horse of a story format. It was absolutely irrelevant whether Mulaney stole those jokes out of that fresh grave or not. All we got out of it was the revelation that hipsters may watch movies in cemeteries and saw Mulaney do something that will never be mentioned again. 
As I said in my Mulaeny Season 1 Pilot Review I am a fan of Mulaney's stand up, but I have lost the majority of my faith in this show. Hopefully I am wrong, but it will all depend on next week's episode. 
As always if you disagree with me or have some thoughts please comment below! 
If you missed tonight's episode don't forget that you can watch Mulaney online via TV Fanatic!