Scorpion Season 1 Episode 5 Review: Plutonium is Forever

Allison Nichols at . Updated at .
Okay, who else is shipping Toby and Happy? Make your presence known!
In Scorpion Season 1 Episode 5, there is some super important Happy and Toby moments. Oh, there's also a malfunctioning nuclear reactor and a disgruntled Scorpion employee named Mark. Where shall we start first?
Happy and Toby, let's start there because it is fantastic. The two of them have always butted head a little more than everyone else. It is always fun to watch the two of them interact. In this episode, things are a little different between them. Yes, they still argue, but Toby also defends Happy's honor and makes her smile. Alright, we need a ship name.
It is great that the romance or budding romance on the show is not between Paige and Walter. This is a hallelujah moment, people. The writers will still be able to get in whatever flirty or romantic moments/storylines they please, but it will be with a much better couple.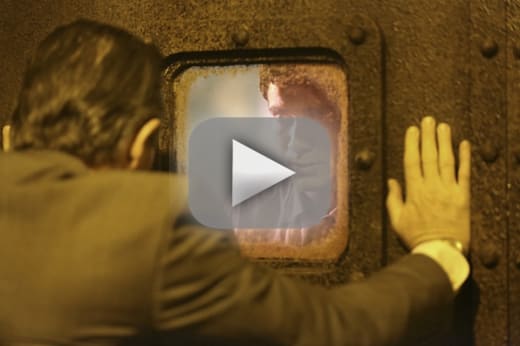 As for how Happy and Toby would actually do in a relationship together, more data is needed. All that has been shown is the two of them arguing. There haven't been a lot of bonding moments. It's just bickering. Personally, the writers should go with a slow build.
The shrink is crazier than all of us. What a surprise.

Happy
Plus, it would be interesting to see who picks up on it. Obviously Paige will be the first one, but can you imagine if she mentioned her observations to Walter or Sylvester? Just picture the hilarity. Are you on board with Happy and Toby?
Alright, let's talk new guy. The writers spend a lot of time talking about how bad Walter and Mark are for each other. It's nice that multiple characters can comment on it, but a flashback would have helped. All viewers are going on is someone's word. There isn't anything that can be seen to validate everyone's concerns.
It's not hard to see that Mark is a jerk. He is ridiculously rude to Happy, and he even does some mind games on Paige. Oh, and there's the whole withholding life saving intel at the end. But, there aren't really any instances where he is a bad influence on Walter. Did anyone else want a flashback?
If this nuclear power plan doesn't melt down, the team might.

Toby
There needed to be something concrete that viewers could really hold onto. A great scene to show as a flashback would be the one that Happy describes. She says she was the one who pulled Walter out of his last go round with Mark. This could have shown how bad things got when Mark and Walter traveled down the rabbit hole, and it would have highlighted Happy and Walter's friendship.
As far as the case goes, it was weird and a little hard to follow. A lot of it is the team talking about something happening that the viewers can't see. The result is that you just have to watch and be like, yup this is bad. There really isn't any other way to watch this case.
There isn't a moment of doubt as to whether or not things will get pulled off. The writers have used the "only have x many hours until something bad happens" in every episode. They are clearly trying to amp up the drama and suspense, but it doesn't work, especially not in this episode.
A man gives you what could be his last goodbye, and you say okay?

Sylvester
The closest suspenseful moment is when Walter and Gabe are running trying to make it through the doors before they close. The very end where Walter has to get the code out of Mark in under two minutes is more annoying that thrilling. Mark is being a jerk, and come on, it was going to happen. The other option is that there is a wide scale radioactive explosion.
Maybe if the writers want to amp up the suspense, they should have a case where the stakes aren't so high. That way failure is an option, and it won't be the end of the world. Instead, it could mean that the bad guy gets away, and then the writers have set up a potentially reoccurring foe.
What did you think of the episode? Did you enjoy the case? If you want to catch up, you can watch Scorpion online anytime via TVFanatic!
Leave me your thoughts in a comment below.