Stalker Season 1 Episode 4 Review: Phobia
Paul Dailly at . Updated at .
Another episode of Stalker can only mean one thing -- another night of sleeping with one eye open for me!
On Stalker Season 1 Episode 4, a group of women are stalked by a man they met online. He finds out all of the women's fears, before carrying out an attack and recording it.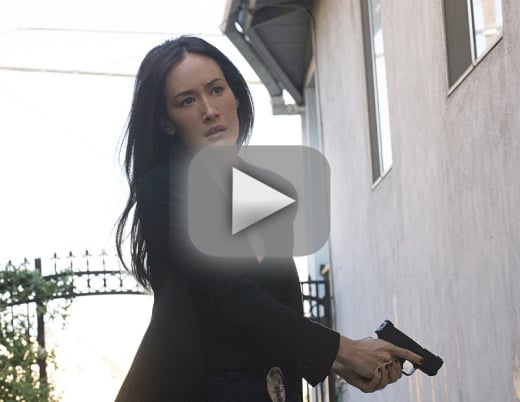 Through four episodes, Stalker is showing no signs of slowing down. I can never believe the episode is over-- it's that good!
I am really enjoying the subplot with Beth and Perry. Perry is scary; I shudder to think what he is capable of. He quickly got the answers he needed while sleeping with Beth's friend. I was shouting at the TV when she informed him of Beth being stalked before. 
It is now obvious she was stalked prior to joining the police. She didn't exist before then. Perry now has a whole host of information about her to use to his advantage. The final scene in which he had drawn pictures that resembled a graphic novel of his encounters with her was completely crazy. The final picture, which showed him having sex with her before strangling her, was really uneasy to see. This guy needs to be stopped.
Jack finally slept with Janice. Yep, he took her for a drink. They then went to his apartment. I'll spare you the details, but he still had his pictures of Amanda on the wall! If Mariana Klaveno wasn't a series regular, I wouldn't have been shocked if she seen them and he killed her.
Are you afraid of the dark?

Jack
Back to the women with phobias; they were all linked due to an online dating website. The first scene wasn't too scary, but I can only imagine how scary it was for the victim. Imagine going to turn your lights on and there being no light bulbs! The horror continued when another young woman's house was infested with snakes. So creepy.
The stalker's reason seemed to stem from his girlfriend splitting up with him. He didn't like it so she had to put her life on hold, quit her job and move to high rise apartments to feel safe. Yes, the stalker had a phobia of heights!
Beth and Jack got along a lot better this week. She was only annoyed by him once or twice. I don't understand what Ben has against Jack. Every time Jack attempts to have a conversation with him, he rudely cuts him off. I don't know if he is jealous of his job or something else we don't know yet. Either way, I can't wait for them to have it out.
Jack: Call me if you get something.
Ben: I'll call Beth.
All things considered, this was another strong episode of Stalker. The series has just the right amount of frights to keep me tuning in every week. I love the interaction of the cast. They are an engaging bunch, full of chemistry. I think the series can sustain its current formula or years to come; I only hope the Perry storyline is resolved this season. 
Remember, you can watch Stalker online right here on TV Fanatic if you want to relive tonight's episode.
What did you think of the episode? Was it scary? What do you think Ben's problem is? Sound off below!
Paul Dailly is the Associate Editor for TV Fanatic. Follow him on Twitter.