The Threat Assessment Unit employs one messed up bunch.
If we are to believe the way they are portrayed on screen, it appears almost all of them have been stalked before, or have the urge to indulge in some teatime stalking -- all in a days work!
On Stalker Season 1 Episode 5 a young woman was taunted after moving in to a supposed haunted house with her friend -- yes, tonight was our first Halloween stalk-tacular.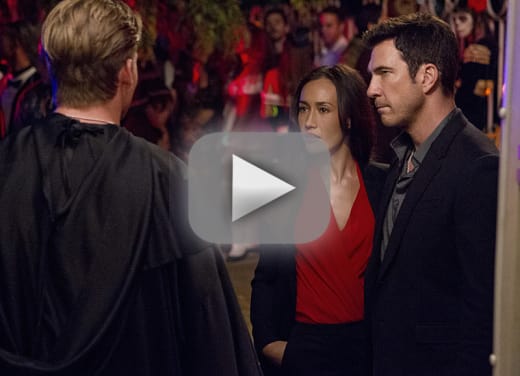 Let's start by getting a few things clear; Stalker is not realistic. It is on our screens to entertain us. I don't think the show is an accurate representation of what a job in TAU would be like, but that's not a bad thing. As I've already said, the show is entertaining. 
Every week the show effortlessly opens and closes a case, while delving deeper into the personal lives of the lead characters. It truly is an excellent example of a procedural done right.
I am a massive fan of horror, but that opening scene gave me the creeps. Sure, the clown wasn't as scary as the one in American Horror Story, but it was still a clown. Why did they have to include a clown? They are overused in horror. At least it was only in the one scene!
Back to our messed up characters. We found out Beth's deep dark secret. She had to change her identity many years ago, after her family was wiped out in a fire. It sounds like this was at the hands of her stalker. 
Perry should be worried as Beth is already on to him. Once a stalker, always a stalker in her eyes. I'm guessing the man who burned her house down is still put away, and she was phoning to check in to see if Perry had visited. Like I said, she knows his game.
I have no idea what Perry will do next. Will Beth give him another taste of his own medicine? I'm literally counting down the days until the next episode. I never expected to be this invested in this show!
After Janice got hot for coworker last week, she got the cold shoulder from Jack. Jack's a bit of a wildcard. We still don't know what went down in New York. Amanda's constant ultimatum calling for him to depart LA is beginning to annoy me. His conversation with Amanda sure got Janice intrigued, as she appeared at his door with beer declaring that he needed a friend.
Janice: I hate clowns.
Jack: I hate Halloween.
I'm not buying what she's saying. She's just digging for dirt. We still don't know what Jack is capable off yet, which makes me worry about Janice. If she finds his Amanda shrine, I have no idea what he would do.
Calm down, this isn't a booty call.

Janice
The case was clever and intricate. I loved how the writers alluded to the idea that the house was haunted. We all know Stalker isn't a supernatural show, so I wasn't at all shocked when we found out the real reasons for the mysterious events in the house. 
I feel like the show is really similar to The Following, minus the melodrama and predictability. It doesn't seem like a CBS show. I'd love if both shows where set in the same universe and Ryan Hardy lent a hand with a case -- a man can dream, can't he?
The show continues to be an enjoyable hour of television, It improves week after week. I'm happy I'm not the only one thinking this, as Stalker just got picked up for an additional nine episodes!
Remember you can watch Stalker online right here on TV Fanatic! Get your stalk on and watch online now.
What did you think of the case? Has Perry overstayed his welcome? How did you feel about Beth's past? What's your next move if you're Perry? Sound off Below!
Paul Dailly is a staff writer for TV Fanatic. Follow him on Twitter.