Red wine paired well with a big file of "skeletons" tonight on The Good Wife Season 6 Episode 4. Oppo Research was one of my favorite installments of The Good Wife, and it didn't include a moment in the courtroom. 
Enure - v: to toughen or harden
Tonight, we were introduced to campaign manager Johnny Elfman (played by the handsome Steven Pasquale), who, along with Eli, gave us a front row seat to enuring Alicia. (although, hasn't she been enured enough?)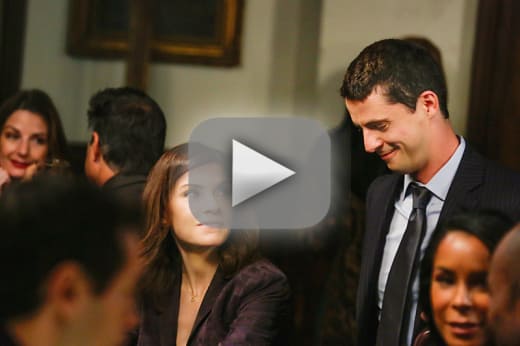 As the three bickered back and forth, I had to remind myself that The Good Wife is a drama, not a comedy. The quick quips around Alicia's dining room table provided some laugh out loud moments that have me excited for more scenes between Alicia and Elfman. (Although, does anyone else see a potential love interest, here? I mean for Alicia, not me!)
Alicia's skeletons (or really, her family's) included Zach's girlfriend's abortion, her brother's affair with a married man, and her mother's spanking of a child in a department store. As Alicia learned of them all, she started a to-do list on her next steps. I'm a big to-do list girl, although mine usually include laundry and running to the bank, not convincing my Mom to apologize to another mom for hitting her child. 
On top of that, Alicia was pulled over (in what I definitely agree was a set up) for a DUI! After agreeing to a breathalyzer, the officer declined and made her perform tests on the street, giving someone the chance to snap Alicia's photo. 
One to-do on Alicia's list proved much harder than she thought. Lemond Bishop just won't go away! After trying to let Bishop go as a client, he flat out refused, until he cornered Kalinda and found out Alicia's plans to run for State's Attorney. I have to admit, I didn't see it coming, but the PAC money (over $130,000 and counting) is being funded by Lemond. What a great storyline, that is sure to add a page full of to-do's to Alicia's list. I'm glad to see Lemond will be sticking around, although I'd love to see a different shirt/tie combination - it was entirely too distracting!
The verdict is in
For those of you who may not have watched until the end, SPOILER ALERT: Alicia's officially running for State's Attorney. I don't think it was much of a surprise to anyone, but now that the words came out of her mouth, I'm onboard. I was surprised I landed so strongly on team Alicia for State's Attorney, but I'm ready to see Alicia make a real run for Castro's job.
One question I'm not sure we got an actual answer to was why exactly Alicia is running. As Elfman pointed out all her reasons were negative, and had to do with getting Castro out! Is it a play for power? An ego thing? Or is there more to it? I believe it's the latter and think it has a lot to do with the clarity Alicia mentioned. 
While I missed screen time with the other Good Wife regulars, I thought this was a great episode to follow a few weeks of Cary's court battles. It gave us a full hour to contemplate Alicia running and in the end, I think she would be a great fit for State's Attorney. It's going to affect her relationship with everyone at Florrick, Agos, Lockhart & Associates and I'm interested to see how it all plays out. 
Love triangle?
Finn made a quick appearance tonight, as Alicia checked another item off her to-do list, and offered some quick flirtations. I still think this potential love interest will play out more throughout the season, but now Mr. Elfman has my interest piqued as well!
Don't forget to pour yourself a glass of wine this week (I prefer a good Riesling to a red) and re-watch The Good Wife online. It's on my to-do list! I think I need to watch Rescue Me and see more Stephen Pasquale, too!
Are you ready to raise a glass and toast Alicia on her run, or were you disappointed with her choice? Sound off in the comments and let's keep the conversation going!
And here's your first look at The Good Wife Season 5 Episode 5, "Shiny Objects."
Krystal Sondel is a staff writer for TV Fanatic. Follow her on Twitter.