Sexism played a key role in The Good Wife Season 6 Episode 5. Kittens, penguins in top hats and clowns did, too. Somehow, it all worked. 
Alicia and Dean battled it out in court against Elsbeth (yes, Carrie Preston is back for a two episode arc) over a sexual harassment case. The Good Wife isn't afraid to go there, to bring up that elephant in the room, and discuss how the word "bitch" is used in our society today.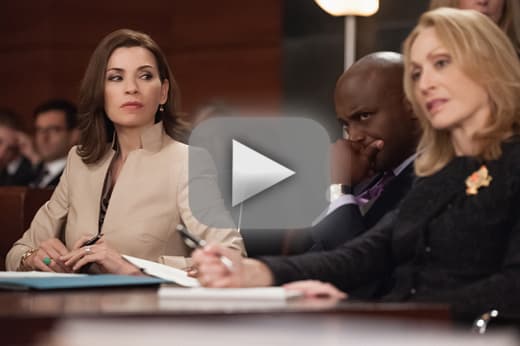 It's the truth that women are often called bitches while their male counterparts are called strong, tough leaders. We've seen it in the news, we've seen it in our offices, heck it may have even happened to us. We can't move past this issue until we all agree to stop using the word as a descriptor. Leadership is leadership and being male or female shouldn't play into it. The best leaders are tough, strong and dynamic people. That's doesn't make them a bitch, that makes them good at their job. 
As the trial played out, we got a glimpse inside Elsbeth's head as she prepared for the case. It was a little terrifying, if I'm being totally honest. Many fans of The Good Wife love her character, and while I think she has certainly provided us with many great scenes, I wish the focus remained more on the case at hand. It was distracting trying to keep up with all the thoughts running through her head. Do these thoughts mean something more? Is Elsbeth okay?
With the trial on hold, I'm hoping we get back to a discussion on this important issue next week!
Don't click the link.
Meanwhile, Diane clicked the link (life lesson - never click the link!) and all of Florrick Agos Lockhart and Associates files disappeared. After discovering they fell victim to a malware scam, the team decided to fork over $50,000 to get their files back. If only it were that easy. It took some good "detective" work from Kalinda to get the files restored!
Tonight's laugh out loud moments came courtesy of Diane Lockhart! As the office crumbled around her, water dripping from the ceiling and a very not romantic cockroach, she headed back to LG to chat with David Lee. 
What a fun plot twist it would be if Florrick Agos Lockhart and Associates moved into the LG offices. I'm still smiling over the thought!
Asking the Governor for favors
Peter was Peter, letting his ego get in the way of what Alicia wanted. After asking Finn to endorse her run, Peter made it clear he wouldn't have any part in endorsing her if he was there as well. Come on, Peter! As Alicia pointed out, you need her as much as she needs you. They both got in some good jabs (don't forget to check out tonight's The Good Wife quotes) and in the end Peter swooped in at the last second and gushed over his wife in front of the cameras. 
Their marriage is what it is; a marriage of convenience. There is really no way out for them at this point. 
The other elephant in the room
I can't finish up without mentioning our own elephant in the room, the departure of Archie Panjabi from The Good Wife at the end of the season. The news broke early this week, and I'm having a tough time with it. Kalinda is such a great character that has turned into a very strong female lead on this show. Watching her scenes tonight, I started wondering how she would be written out of the show. It is spoiling the time I do have left with her. If you are going to miss Kalinda as much as me, don't forget you can watch The Good Wife online and re-live all her sexy moments with Cary and Lana. 
So now that Alicia is endorsed and her run is officially public, how will she balance her case work AND her campaign? Let me know your thoughts in the comments. 
Krystal Sondel is a staff writer for TV Fanatic. Follow her on Twitter.