On The Good Wife Season 6 Episode 6 we watched Diane get a little revenge on Lockhart Gardner & Canning, Alicia and Elsbeth team up to beat AUSA Perotti, Cary violate the terms of his bail and a lot of talk about God. 
In my opinion, this week's installment fell a little flat for me. There was a lot going on, but compared to some of the other episodes this season, I just didn't find myself as invested in some of the storylines.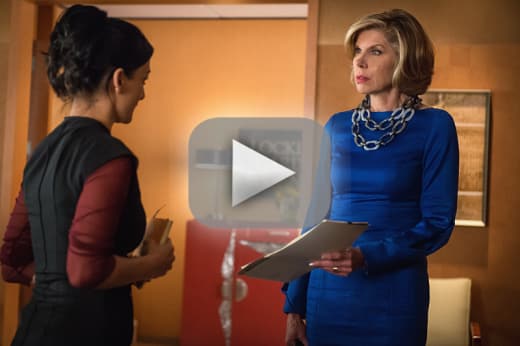 Lack of religion
We were introduced to Pastor Jeremiah who interviews a variety of political figures and discusses God. It was great to see a cameo appearance from New York State Senator, Chuck Schumer! After Elfman told Alicia she needed to get on his show, Alicia turned to her daughter Grace for help on her "struggles" with God. 
Side note - you've probably all had this revelation much earlier than me, but it is quite fitting that Grace's name is GRACE. 
I didn't feel this interview would make or break Alicia's campaign as Elfman alluded to, and it seemed like it was just a way for the writing team to give Grace some screen time. The scene between the two was another great mother/daughter moment this season. I hope the writers find a new storyline for Grace that doesn't revolve around helping her mom figure out her struggles with God. 
Eviction
Diane, looking to get a little revenge on Lockhart Gardner & Canning, served the team with eviction papers but was quickly served up a bunch of OSHA violations on their current space. Quick thinking Kalinda (man, I'm really going to miss her!) looked into Canning's properties and served up over a million in OSHA violations to them. These were some of the better scenes of the night. The quick quips back and forth were fun to watch.
In the end, Lockhart Gardner & Canning was evicted and as Alicia and Diane moved back into the space, they found quite a mess (and some missing letters on all the keyboards). 
The best scene of the night (in my opinion) was one that didn't include any words. As Diane and Alicia walked into their new offices and looked around, I couldn't help but get emotional myself as Alicia sat down at Will's desk. 
Earlier in the episode Cary disapproved of the move, saying they were ending up right where they started. As Alicia pointed out, they are not the same. Not even remotely the same, and this change of scenery could continue to bring up a lot of emotions for Alicia moving forward. They are truly coming full circle now. 
Indiana
Poor Cary. He seems to be spiraling out of control; getting drunk at a bar, picking up girls and ending up crossing state lines into Indiana (violating the terms of his bail). To make matters worse Joy Grubick, his pre-trial service officer, was back for a spot check. Cary ended up in court, and while Grubick testified that she felt crossing state lines was inadvertent, she did recommend Cary wear an ankle bracelet, have a nine o'clock curfew, and most importantly - not have any contact with Kalinda Sharma. 
I wouldn't say Kalinda is a dangerous person, but could this be a reason why she ends up leaving the show? I'm not sure how Cary will be able to stay away from Kalinda, but if he keeps picking up random girls at bars, he might be able to. 
Old Spice and baby lotion
The case this week focused around economic espionage against Alicia's client from The Good Wife Season 6 Episode 5 and I didn't find myself too interested in the actual case. However, the interactions between Elsbeth and Josh Perotti made up for it!
Elsbeth and Perotti couldn't take the sexual attraction (and smells of baby lotion and Old Spice) anymore, and ended up sleeping together! Perotti fumbled in court, much like Elsbeth did the previous week, which lead me to believe they might be perfect for each other. In the end though, some dirty work on both sides left them shaking hands and Perotti returning to Washington. 
I have to say, the use of the song "Call Me Maybe" was great. Come on, you have to admit it is a pretty catchy song. Is it stuck in your head now, too? Elsbeth dancing in her office was my laugh out loud moment tonight, and her use of the words when walking out of Perotti's office after catching him on tape was hilarious. 
Next week's episode will feature guest star David Hyde Pierce, and I'm already looking forward to seeing how he fits in to Alicia's campaign. 
Don't forget, you can watch The Good Wife online anytime at TV Fanatic. Anyone want to watch again and count up how many times they used the line, "in my opinion"? 
So what did you think of this week's episode? Which story line did you find most interesting? Let's discuss in the comments below. 
Krystal Sondel is a staff writer for TV Fanatic. Follow her on Twitter.