On The Mysteries of Laura Season 1 Episode 4, the main story started out slow but soon gained traction before the first commercial break.
They seemed to put more emphasis on Laura being a working mom -- in case we forgot. They are so going to be putting Laura and Luke together by the end of the season. Though it seems they are listening to the fans by toning down the 'family time' between Laura and her boys.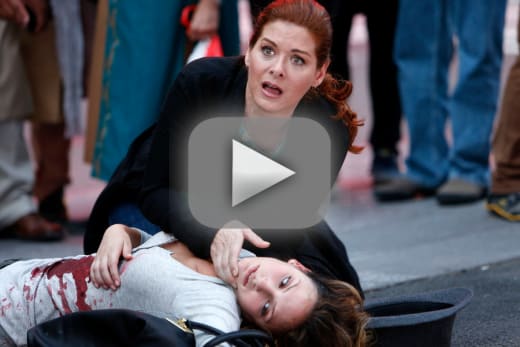 Oh! For any man that is wondering what goes on at a sample sale -- yes women can be vultures! NO HOARDING!
Have I said that I love the Billy and Laura dynamic? I have! Well, here I am again saying that I just love these two working together. It is rare that you see a cop/partner duo when you actually like both of the people.
My favorite thing was the BDSM Club that Laura and Billy visited -- Laura and Billy's reactions were great! I was surprised to see the show actually showing the different rooms for BDSM -- I can already hear people complaining about it tomorrow. 
Even though I am a big fan of Laura/Billy, I do love the scenes with Jake/Laura working together. I was a little nervous that when they made Jake the captain that it would be ridiculous, but they are actually doing a great job with it. Jake is still letting Laura run the show the way she wants to -- though he does try to rein it in when she goes a little too overboard. 
Laura using "mom burnout" to get into rehab was a smart move on the writer's part. What parent doesn't go through being burnt out? You might as well make your rehab stay a spa stay -- I cannot fault Laura on that!
Can we put Meredith and Billy together more often? Meredith is such a badass and is more like Laura than she cares to admit. Meredith is also a closet gamer! I am ready to get more back story on Meredith. 
Another ensemble scene -- wonderful!
I know we are not supposed to look at television shows as being realistic, but Laura eating at the victim's apartment was rather ridiculous. Yes, I know that they were trying to add it has comic relief. I couldn't ignore the fact that she was eating the victim's food -- who does that?!
The big question -- is anyone surprised that Max is a One Direction fan? Come on! We know that guy is a pushover and basically a dork but why did we have to go and make him a One Direction fan?
The main story tonight was pretty nice. Again, it was a story that has been done before, but the twist of having the mentor as the one that actually killed the supposed mistress was a nice twist. 
The final scene summed up the character of Laura perfectly. Having Laura take a "spa day" in a jail cell was perfect for this character who has some rough edges, but just needs to take some time for herself. 
What did you think of tonight's episode of The Mysteries of Laura? Are you enjoying the small character developments? What do you hope to see in the coming episodes?
Don't forget that you can watch The Mysteries of Laura online now via TV Fanatic!
Samantha McAllister is a staff writer for TV Fanatic. Follow her on Twitter.