American Horror Story Season 4 Episode 7 Review: Test of Strength

Henry A. Otero at . Updated at .
Aside from the fact we lost Ma Petite, American Horror Story Season 4 Episode 7 was relatively uneventful.
I realize there have to be installments that give us time to decompress, but this season has been so intense I was a tad disappointed with "Test of Strength."
Dell is such an unsympathetic character, it's a shame Amazon Eve didn't just finish him off. I'm sure he'll get his, I just hope his exit is a gruesome one.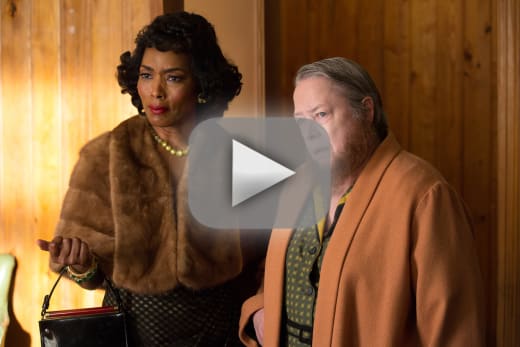 It was just a matter of time before Bette and Dot returned to the freak show. It seemed fitting that Jimmy went looking for the twins and convinced them to return. Jimmy's made the connection between Dandy and the killer clown – I'm sure he's going to pursue it – but will he take Dandy down or die trying?
Gloria Mott was as irritating as ever. Will she cross the line and kill for Dandy? It seems like that is all that's left for her to do.
Dandy: Bette I know you love me. Tell them you want to stay and live forever in luxury.
Dot: There's something wrong with Dandy and you know it.
Bette: I'm sorry but I choose my sister always. We have to go.
Surprisingly, I enjoyed Evan Peters' performance of Nirvana's classic "Come As You Are." Even though the musical number wasn't as relevant this week as Jessica Lange's previous show stoppers, Peters can do no wrong. Along with Lange he's one of the highlights of this insane series for me.The music has been fantastic this season.
The men were testing their strength in this installment, however it's the women that won out. It was crappy of the twins to turn on Jimmy even though they had a plan to blackmail Elsa.
The doctor's daughter was terribly rude to poor Ethel and Desiree. They had to find out their favorite doc was dead at some point. Will they learn Dell's behind it?
Speaking of the strong man, he was pretty easily manipulated by Stanley wasn't he?
Rule #1 When attempting to blackmail a man with freakish strength and a mean streak the size of the panhandle make sure you got witnesses.

Stanley
While I'm glad he spared Jimmy and came to terms with being his Dad, it was awful Ma Petite ended up the victim at the museum. I hate the fact Stanley was successful and paid a pretty penny, but I bet there will be more additions to his collection before the season's done.
Amazon Eve is one tough cookie, loved that she kicked Dell's ass. Why would he go after her though? It certainly doesn't seem like the smartest move. Then again, Dell isn't the sharpest knife in the drawer either. 
Who's the strong man now?

Amazon Eve
I was shocked to hear Ethel say they should sneak into Dell's trailer and kill him. Was Kathy Bates' monologue impressive or what? I hope Bates returns next season, she's something else.
Bette and Dot tested their strength by attempting to blackmail Elsa. It was pretty clear the ringleader wouldn't stand for it though. We saw a vision of the twins heads in a tank earlier; will they make it out alive?
The scene where drunk Dell and Jimmy confronted Elsa was hilarious.
Dell: This is the perfect time for me to tell you something that my father told me.
Jimmy: What?
Dell: It's the Toledo code. The first minute you let a woman tell you what to do is the first minute you hand your balls to 'em.
Jimmy: I wanna keep my balls.
Dell: You hold on to them son.
I'm not sure what to make of Bette's makeover, but the real makeover of the episode was Penny's snake tattooed face and forked tongue. Is her father insane or what? I bet he's not long for this world.
In the end, Elsa foolishly confided in Stanley about the twins separation surgery. It's like she gave him the okay to dunk them in formaldehyde and put them on display. I have a bad feeling they'll be joining Ma Petite soon.
Poor Ma Petite. Dell giving her a new dress, calling her a little princess, then crushing her was just pure evil. While he's a detestable character, now his story is more fleshed out. How will he meet his end?
What did you think of "Test of Strength"? Are you sad to see Ma Petite go? Will Dell pay for what he's done? Can you believe Penny's father did that to her? Your turn my fellow freaks, hit the comments and share your thoughts with me.
Remember you can watch American Horror Story online via TV Fanatic if you've missed any of the horror.