Awkward Season 4 Episode 21 Review: Sprang Break, Part 2
Nick McHatton at . Updated at .
After a season of misses, Awkward Season 4 Episode 21 finally begins to set itself up on the right path for its farewell season.
Spooling out plenty of story, Awkward starts out with what might be one of the biggest revelations of all: Val is quitting her job.
Yes, the one constant in the hallowed halls of Palos High is finally moving on to greater things with her boy toy. Val is ready to explore the world, find some (more) near death experiences, and live a more fulfilled life. Hopefully, Val doesn't lose the fanny pack along the way.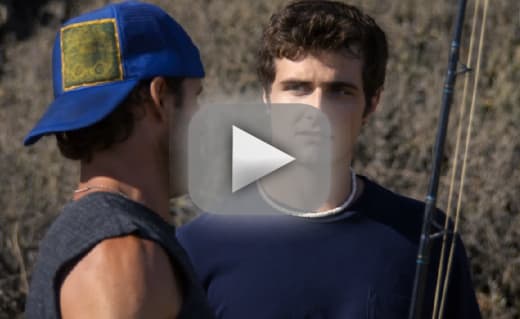 Kevin joins the party in Mexico with a surprising welcome too: Lacey is pregnant. While not the biggest surprise in the world, Awkward has been showing Kevin and Lacey in plenty of sexually fueled situations this season; the pregnancy gives the opportunity for some redemption for Lacey.
While Lacey can never take back some of the things she's done to Jenna, she can do better with a second chance, and Lacey still has all of the experience from her time with Jenna – meaning she's able to better juggle motherhood and being a full time student.
Tamara gets caught up in romance and Nicholas Sparks novels just long enough to accept a proposal from Brian's military buddy, thinking he's shipping out soon, but in further conversations she finds out he's shipping out to 29 Palms months before heading overseas. Tamara really needs to talk herself out of this predicament.
Finally, the biggest reveal of the installment starts with an affirmation of sorts. Matty's bio Dad is, according to Matty, one of the worst judges of relationships and people, and Matty knew instantly – the minute they were complemented as being soul mates – he screwed up. Usually, with one small conversation, Matty is able to patch things up with Jenna and things are good again.
Not this time. Lacey – the biggest advocate of Matty and Jenna together – has had enough of Matty stringing Jenna along, and tells him he had his chance and lost it. It's a big moment for the both of them. Matty has never really looked at Jenna as something that passes him by; Jenna's always been the known quantity he could come back to at any point without worry. Lacey has never been this forward and direct with Matty about Jenna. Lacey is usually one for letting Jenna figure everything out with a little guidance or support, or telling her what not do by using stories from her past.
As Matty is looking on at Jenna and Brian on the beach, the look on his face tells the story. He realizes that he lost his chance with Jenna. Jake, feeling guilty about sleeping with Gabi (yes, another twist!) wants to confess to Matty and keep their friendship intact, but is unable to after Matty sends some compliments his way.
Matty's friendship with Jake survived Jenna, but will they overcome Jake sleeping with Gabby? Matty wants Jenna – that much is clear during the end – but he can't have her. Matty has a few choices: he can turn back and go to Gabby, keep moving forward to pursue Jenna, or just move on to the single life much like Jenna did.
That's a wrap on this season. During the break while waiting for the final season, relive the series' greatest moments again when you watch Awkward online right here at TV Fanatic!