A massive helicopter explosion on Chicago Fire Season 3 Episode 8 left many members of Firehouse 51 feeling repercussions in its wake.
The episode began with too many bad omens to count, as Boden received bad news about Donna's pregnancy, and Brittany made Severide promise he'd come home safely that night. All these signs just pointed to something really bad happening, and that's just what we got.
Every member of the squad was called to the scene as the explosion left huge pieces of helicopter strewn about and several victims' lives in danger. As a viewer, the crash site was quite impressive, and at times it felt as if I was watching a movie instead of an hour long drama series. There should be major kudos given to Chicago Fire's prop and stunt coordination teams this week.
What was even more impressive was the way the show was still able to weave personal storylines throughout the rescue attempt that took up much of the hour. Severide's marriage to Brittany may not be as shiny and perfect as it originally seemed, and when she showed up at the scene of the rescue, it sure looked like she's going to have a hard time adjusting to his line of work.
While the number of texts to Kelly's phone may have been a bit extreme, Brittany's feelings are somewhat understandable. Somewhat. Is there any member of the squad that finds himself in more dangerous situations than Kelly? No. But she better get used to it if she's going to stick around for long.
It was nice to finally get some insight into what may be driving Brittany to feel this way, as we learned that she had recently lost a sister. It's clear that this tragedy is what has drawn her and bonded her so quickly to Kelly, still hurting and reeling from the loss of Shay. These are two people, clearly still living with a lot of pain, who have found comfort in each other. I hope for both of their sakes it's something that works out as painlessly as possible in the end.
Two people directly affected by Severide and Brittany are Casey and Dawson, both of whom struggled to keep their feelings in check during the rescue attempt. They were involved in very dangerous situations during the rescue, and each had to keep their personal feelings at bay. However, it was evident on their faces the extreme amount of relief they felt upon learning that the other was ok.
What I find especially interesting about Casey and Dawson's relationship is the show seems poised to throw Mills back into the mix, recreating the Casey/Dawson/Mills love triangle. There were several moments that can be viewed as foreshadowing for the triangle, both when Mills shared with Brett his advice on "in house" romances, and then when Mills and Dawson reminisced about "old times" outside the ambulance.
Mills: Hey, good work.
Dawson: Dawson and Mills! Just like old times huh?
Mills: Just like old times.
While I definitely have some trepidations about reopening this story line, Dawsey has been boring me as of late. If getting Mills back into the mix causes things to be shaken up for Dawsey, that may not be such a bad thing, and it may be something I can live with.
The only problem with that theory is that Mills may not be free. He seems to be getting closer every week with his new partner, Sylvie Brett. While she did correctly guess about Mills' history with Dawson, there still seemed like there may be something brewing between the paramedic team members. Given the fact that he wanted to discuss his history over beers, it's not a far leap to think Mills may have interest in Brett as more than just a partner.
Mills may be a potential suitor, but Casey thought he had a lead on a secret romance between Brett and Cruz. It turned out that she was just keeping his secret about leading Zumba classes, but unfortunately for him she let the cat out of the bag by the end of the episode. Cruz may be embarrassed, but with his skills he really shouldn't mind showing off those moves. In a hilarious scene to end things, almost the entire squad showed up to take Cruz's class.
Herrmann: Come on, what's the hold up! We paid a lot for this Zima!
Dawson: It's Zumba!
Herrmann: He knows what I mean.
Other favorite moments from around the Firehouse:
I really felt bad for Boden and Donna. Here's hoping Herrmann is right, and everything works out ok for them and their baby boy in the end. They sure deserve it!
Speaking of Boden, I loved the way he threw Brittany a bone as she waited in the wings and let her know that Severide was ok. He's a big softie underneath!
By far the worst dancers were Casey and Mouch. I have to say Mills surprised me with some pretty sweet dance moves.
Again, I ask: Where do I sign up for CruZumba?
Should Dawsey fans be worried about Mills re-entering the mix? Would you like to see Mills start a relationship up with Brett? Are you still worried about Brittany?
Still feeling all ablaze? Add your thoughts in the comments below and watch Chicago Fire online any time via TV Fanatic.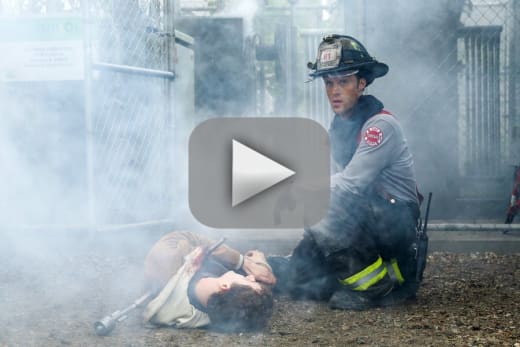 NOTE: Chicago Fire Season 3 Episode 9 will be titled "Arrest in Transit" and it will air on November 25.
Bridget Liszewski is a staff writer for TV Fanatic. Follow her on Twitter.