Constantine Season 1 Episode 2 Review: The Darkness Beneath

Henry A. Otero at . Updated at .
I've got to say, the creative team made the right decision ditching Liv and making Zed the new female lead.
Constantine Season 1 Episode 2 gave us a real sense of who this new character is and I think she's far more interesting than Liv.
The demon of the week was okay, nothing spectacular but I found the hour had some nice twists and turns. Overall a decent episode.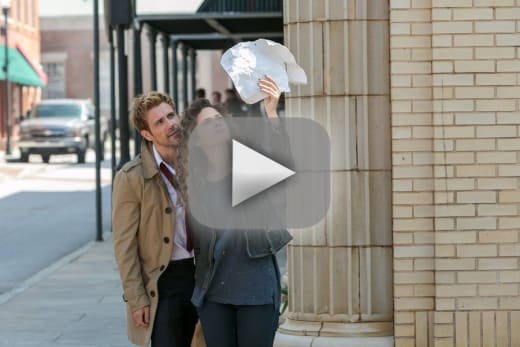 We catch up with Constantine in Pennsylvania this week. Guess Liv's map is going to alert John to supernatural activity at the start of each episode. That's fine but won't it get old? The scene with the miner catching fire in the shower was brutal wasn't it?

The writers wasted no time introducing Zed and again bringing her in was the right choice. There's a mystery and attitude there that wide-eyed, innocent Liv could never have. Angélica Celaya plays Zed brilliantly and she's going to make an interesting partner for John.
Zed: It's you. You're you.
Constantine: That observation always ends in the same way and it's never in my favor.
Zed: I dream about you. I was starting to believe you weren't real. Who are you?
Matt Ryan and Angélica have great chemistry, which is clear from their first moments together. That's important and will keep the audience engaged.

John checks in with a few folks at the miners wake and learns of several other mining accidents. "Knocked on the door to hell and now hell's knocking back" is how one man described the situation. Guess Constantine is in the right place then eh?  

I'd like to comment on Bear McCreary's score. David S. Goyer and McCreary also collaborated on Da Vinci's Demons, which is glorious in its own right yet different. For Constantine, the use of harpsichords absolutely sets the right tone for the series. It's quite a unique mood, making Constantine stand out sonically from all the other genre shows out right now. Yeah McCreary's the man!

By the way, how about that opening credit sequence? Wow, was that cool as all hell or what? Excellent stuff!

I enjoyed the way John snooped around the dead miners house and encountered the widow. Hilarious that she came on to him right? The important thing to note is that he walked away with a sample of sludge from the shower. He also picked up a small detail about her.

Zed swiped John's wallet earlier and was waiting in his hotel room. She wanted answers about her visions, so he played along. A drop of the sludge put her in that shower. That's a powerful gift, feeling what the dead man experienced. There's no doubt in my mind Zed is a great addition to this series.
Constantine: You saw the fire.
Zed: Was that the man in town who was burning?
Constantine: What else did you see?
Zed: A tall cross.
Constantine: Alright, you did a cracking job. Well we're on to something you and me.
I was surprised that John bailed on her. It's understandable though since we know everyone around him suffers a terrible fate.

Funny that she comes home to find him laying on her couch. When Zed asks what he does this time he left out "Master of the Dark Arts," using "occasional dabbler" instead. Where are those new business cards John?

We learn Zed travels a lot. What exactly is she running from? Naturally the mine collapsed before we get any real answers.
Constantine: Hey what happened here?
Miner: It all came down right on top of us.
Constantine: Before it happened... knocking. Did you hear knocking?
Miner: Yeah it's in there.
The scene where the car filled up with mud was crazy. As were those hands reaching for John and the mine owners son. Good thing Zed was around to save the day. Well, she saved John anyway... the other guy not so much.

I found it interesting that the spirits in the mine are supposed to protect the miners. John talked about the "rising darkness" but with a human touch. Though someone was conjuring these particular dark spirits, I'm guessing the "rising darkness" is our season long mystery.  

The creature at the church and the disillusioned priest seemed to tie together nicely. Almost too neatly though. I loved that John is teaching Zed to control her visions. She saw a campground and who do they find there but the priest.

The guy basically told them they're barking up the wrong tree. It's was the bosses that were being killed off.  

After all the build up, John's incantation getting rid of the spirit seemed way too easy. Luckily there was more to it or that would have been one seriously anticlimactic ending.

Still, the adventure allowed John and Zed to bond properly.
Constantine: You did good earlier if I failed to mention it.
Zed: Well now I know what line of work you do.
Constantine: It's not for everyone love.
It was great that Zed brought the priest to watch the mine blow. It was even better that John let the man hit the button. He got some kind of closure after all those years of suffering.

When John told Zed it wasn't over, I wondered who the person controlling the spirits would be. Honestly, never expected the abused widow. Did you catch that she was a gypsy? I missed that completely. Seemed fitting that John summoned her dead husband to finish her off.

I'm curious about this "rising darkness" John kept talking about. We'll see how things unfold but it's a tad vague right now.

Unlike Liv, Zed's here to stay and I'm glad about that. These two characters make a great pair.  

What did you think of "The Darkness Beneath?" Do you prefer Zed over Liv? What's this "rising darkness" John talked about and is someone causing it? You're up, please share your thoughts on this week's installment in the comments below.
Miss the pilot or want to check it out again? You can watch Constantine online right here via TV Fanatic!