Elementary Season 3 Episode 3 Review: Just a Regular Irregular

Tanya Moat at . Updated at .
Break out your calculators because murdering mathematicians make things interesting on Elementary Season 3 Episode 3. Shirtless math genius, Harlan Emple, needs Sherlock and Joan's help after finding a dead body during a math puzzle competition, and Kitty starts warming up to Watson, sort of.
This case had a few more twists and turns, making it a more worthy case for Sherlock and Joan. Or maybe the math just gave me a headache. Both are probably true.
Sherlock and Joan were once again partnered on a case. This time Sherlock was assigned the case and asked Joan to assist him. He had Kitty on another assignment. After a moment's hesitation, Joan agreed.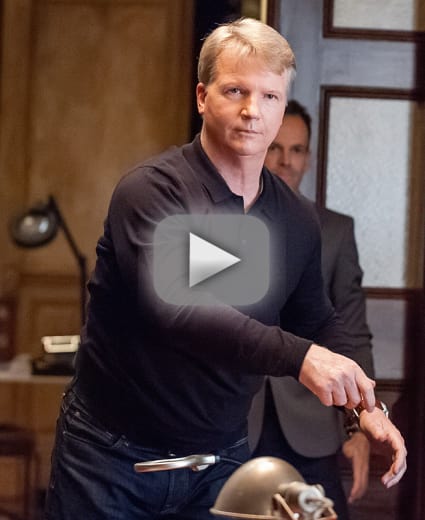 Joan had previously reached out to Kitty and asked for her help on one of her cases. But Kitty refused because she worked for Sherlock, not Joan.
Sherlock rightly noted that Joan was trying to make an effort with Kitty after reading her file. And I won't deny knowing a bit more about Kitty's background has softened my opinion of her a bit. It was very Joan to want to help and push Sherlock to get Kitty the help she needed.
I have no idea if math puzzle competitions really exist, but I'm guessing they don't typically end in murder. Poor Harlan. He's already a little kooky since he solves his math problems shirtless, but now his fellow contestants are being murdered and nobody knows why.
Sherlock quickly deduced that the competition was a trap. Instead of finding the next riddle to solve, the poor contestant was instead tortured and murdered. But to what end? And that is what had Sherlock stymied. 
The assignment Sherlock gave Kitty was to help Joan on her case. After she updated Joan, they talked about her file. Kitty tried to brush it off as no big deal.
It's just something that happened. It's in the past now. Let's just leave it there, shall we?

Kitty
We know Joan isn't the type of person to leave it alone. She invited Sherlock back to her apartment to discuss Kitty, and he also met her new boyfriend, Andrew, for the first time.
Watson seems adequately sexed.

Sherlock
The good news Andrew didn't run screaming from the apartment after meeting Sherlock. It will certainly be interesting to see how Sherlock handles Joan having a boyfriend. I know she dated in the previous seasons, but I can't remember if she had any long-term boyfriends. 
I know some people ship Sherlock and Joan, but I prefer them as partners and friends right now. Sherlock has never really acted with romantic interest towards Joan, in my opinion, but he is possessive of his relationship with her. He still doesn't like the fact she moved out or that they need to skype at night to talk to one another.
Sherlock: Your home, Watson, is utterly pleasant.
Joan: You say that like it's a bad thing.
Sherlock: When you told me you wanted a life of your own, I didn't realize you meant you wanted the same life everyone else has ... anyway, it's none of my business.
Sherlock is brilliant, but he is also a bit of a prick. Joan has always humanized him and Kitty might do the same too. Joan insisted that Kitty needed more help than Sherlock's tutelage. And he agreed, which surprised me. Sherlock can be a bit of a user - see Harlan - and I was pleased that he recognized that Kitty needed and deserved more than just observing his deductive skills. 
Now let's talk a bit about Harlan. It's easy to dismiss him to a certain extent. He's certainly a genius in his own right, but a bit of a goofball too. However, he is still a human being with feelings. One who thought he had found a friend in Sherlock and was devastated to learn that those feelings weren't reciprocated. 
Harlan: You were my friend.
Sherlock: I was your employer, Harlan. And you were my consultant. One of many.
Harlan: I know that I am a little obsessed with what I do. That has always made it hard to make friends. And I used to feel pretty bad about that and then I meet you. And I thought to myself, hey, if it doesn't bother him, why should I let it bother me? I got a lot out of the work we did. A lot. But if someone like you, thinks I'm a loser, then ...
The scene between Harlan and Sherlock was really well done. You could see the words land and hit each of them. Sherlock couldn't brush off Harlan's words, because in many ways, it could have been Sherlock speaking them to someone else. 
Sherlock solved the case and the reason behind the murders was a surprise, although the guilty party wasn't. By process of elimination, there weren't many suspects left standing. The case was interesting but not the highlight of the episode. For me, it was the little moments where we witnessed some character growth. 
Kitty had her own moment at the end when she agreed to counseling in part to appease Watson. Kitty realized that she needed both Watson and Sherlock to teach her how to be a detective. Sherlock cannot do it by himself.
What do you say, Watson? Will you help?

Kitty
I really enjoyed the character growth and the case was decent overall. I know Elementary is a procedural, but I'm hoping that they introduce some sort of serial arc to change things up a bit. Moriarty (Natalie Dormer) is really busy these days, but Sherlock needs an arch nemesis. 
What did you think of tonight's episode? Were you surprised that Kitty agreed to join a support group? Do you think Sherlock is jealous of Andrew? And don't forget, you can watch Elementary online via TV Fanatic to see if you can identify the killer before Sherlock does.