Welcome back to the Grey's Anatomy Round Table!
Grey's Anatomy Season 11 Episode 7 was about second chances, focusing heavily on Amelia. It gave Krystal Sondel, Stacy Glanzman and Christina Tran plenty to discuss regarding the Shepherd Showdown, Amelia's dark past and much more.
Ready to gather around and join in? Leave your takes in the comments!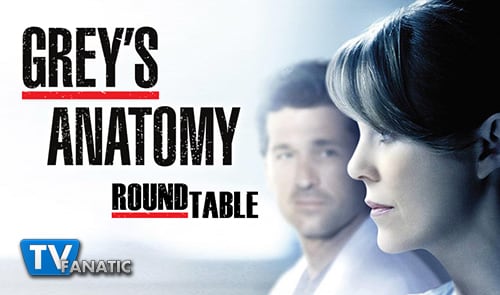 What was your favorite quote or scene from Grey's Anatomy Season 11 Episode 7?
Krystal: Everyone drinking in Alex's house. Callie's comment about how they are all related through sex made me literally laugh out loud, and the shout out to George O'Malley made me raise my cup of tea to him, too (although a beer would have been better)! Plus, bonus - Maggie interacted with more doctors and is making some friends.
Stacy: I have to go with the gang hanging out at Alex's house as well. I loved seeing them reminisce about how they've all lived there at one time or another and their toast to George was really sweet. I'm a sucker for the nostalgia of the early days of Grey's. I also found it interesting that while newbie Maggie was interacting with the group, Jo was off on her own as the outcast.
Christina: For some reason, Richard's quote about the past really stuck out to me when he said, "It's the past, and you don't have to defend it."
Did you watch Private Practice? What were you thinking when Amelia's dark secrets were revealed in such an awful manner?
Krystal: I loved Private Practice. I'm glad to see a lot of those actors appearing on the other two Shonda shows because they were all fun to watch. I really want to give Amelia a big hug - it's crappy enough when someone spills your past in front of all your co-workers, but then, your brother doesn't have your back either? The Amelia we saw on Private Practice would probably have gone back to her addiction, but thankfully this Amelia is stronger and focused on her career. It was great she had Richard to turn to as well.
Stacy: I did not watch Private Practice other than a few episodes. I was aware that Amelia was a drug addict but had no idea about the specifics of what she went through. I felt really bad for her, especially when Owen confronted her. Richard is an alcoholic and was the chief of surgery-maybe give Amelia the benefit of the doubt on this one.
Christina: I watched and reviewed Private Practice. I still miss it sometimes, and I felt awful for Amelia. Her dark story made her who she is but it's also in the past. Like Krystal, I'm glad she is a much stronger person today.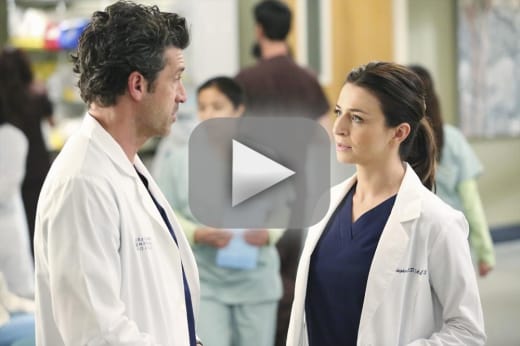 How do you feel about Derek admitting to hitting rock bottom and about where his story is going?
Krystal: Finally! Derek has been off all season, and whether it's a mid-life crisis, or something else going on, I'm hoping that truly was rock bottom and we start to see things turn around for Derek. It was also the first time I really felt like Derek was a little dark and twisty, too. All the flashback scenes and the emotion on his face was chilling to watch.
Stacy: Derek and his selfishness has really been getting on my nerves this season, so I hope standing up for Amelia and admitting he wanted her job is the beginning of a turn around. I think he could benefit from therapy to help him figure out how he can be happy again without bringing everyone else down in the process.
Christina: Much like my co-roundtablers, I'm ready for McDreamy to be back. You know what they say about hitting rock bottom… there's no place to go but up.
Pick one pairing that you want to see more of: Richard and Amelia, Meredith and Amelia, Meredith and Maggie, or Arizona and Alex.
Krystal: Meredith and Maggie. The scene where they were on the bunk beds at the hospital was an interesting change of pace for the two. I really think they can grow to be closer, and hope Meredith can convince Maggie to give Richard another chance, too.
Stacy: I have mentioned before how much I love Arizona and Alex, so they're the easy choice for me. I just love the way they play off each other. They're both fiercely loyal and will fight for each other, but at the same time neither will take the other's crap.
Christina: Meredith and Amelia! They can both put McDreamy in his place when needed.
Name one thing you'd like to see on the winter finale.
Krystal: Something NOT happen to April and Jackson's baby. I get that it's a drama and nothing can ever go the way it's supposed to, but we need a happy baby story, for once.
Stacy: It's Grey's, so I think it is safe to assume there will be a cliffhanger. I hope it's awesome and something that will make us really anticipate the show's return. Last year's cliffhanger centered around Jackson and April so I'd rather it be something else that we don't expect.
Christina: I want my jaw to drop. So far, Grey's Anatomy Season 11 has been good and sometimes even great, but there hasn't been an episode that's blown my mind all season. I want to see a winter finale that makes the break difficult and painstakingly long the way it used to be.
Take a look below at the official ABC teaser for Grey's Anatomy Season 11 Episode 8: