Haven Season 5 Episode 11 Review: Reflections

Carissa Pavlica at . Updated at .
Well, darn. Haven has rebounded.
It was completely unexpected. The beginning of Haven Season 5 dragged on for so long with so little forward movement, it seemed impossible to get the spark back. 
Yet at the end of Haven Season 5 Episode 11 that niggling feeling hit and next week seems too far away. Kudos for bringing some excitement back to Haven.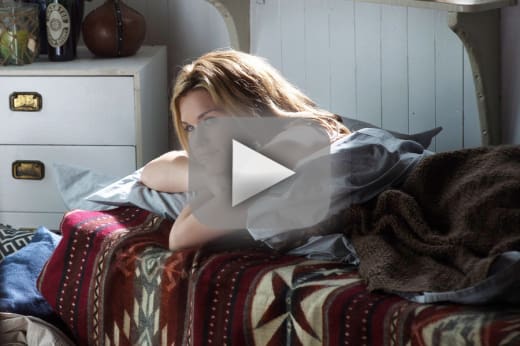 While viewers have been worried about having an Audrey for Nathan and a Mara for Duke, it's not nearly as cut and dry as it originally seemed. 
Audrey is still struggling with her identity and it's hard to blame her. She has no idea exactly how she can exist free of Mara. Assurances from Nathan she is a real person who is loved is hardly what's going to get her past her need to know who she is.
Audrey is almost like an adult who just not learned they are adopted and all of their history is suspect. Not dropping the nagging feeling she should be discovering more about herself is making Audrey more realistic. If she just went with the flow, it would be easy to write her off as an extension of Mara. 
The case of the week tapping into your insecurities and self esteem is brilliant. There isn't one person who would likely remain unaffected by it. Audrey's illness (which we'll get to in a minute) is cured. If Charlotte is being truthful, at least about the protein markers in Audrey's blood, then she's deteriorating on a cellular level. That fits with Mara's husk theory. A reversal of the process is the impact of the Trouble on Audrey because she sees herself as a healer. At least that part makes sense with Charlotte's input.
On to Mara. Separating her identity from Audrey's has taken an interesting twist. She's a girly girl! She wears sun dresses and paints her toenails. Her pattern of speech is getting lighter and she shops for popsicles.
Everyone after the aether comes away empty handed, including Duke. That leaves him struggling with a body full of Troubles about to explode. With Mara's help he releases a steamy Trouble (fitting with the idea of explosion, right?) and it's only when he believes she truly cares for him (and they engage in a hot kiss) that the Trouble disappears. 
With that bond of trust forming between them sex is the next step. Hey, it's Duke. It's Mara. Would you expect anything different? Unexpected is the level of passion the two share so quickly, especially if you compare them to the other pairing, normally only revealing the after effects of a night of lovemaking.
The two pairs not longer have anything in common and as Mara is slowly reining in her caustic side, she's not unappealing. The two women do not appear threatening to one another in any way, at least not right now.
However, we cannot ignore Charlotte's role in all of this. Dwight's belief she is with the CDC isn't mutually exclusive from that pesky folder she has in her possession. When defending her reasoning for not contacting her coworkers to Dwight and Audrey, it's a sound argument. No need to blow the lid off of something for which she has no proof and her reputation could take as much of a beating as the citizens of Haven.
The file. As an aside, how much fun has it been for Emily Rose to shoot all of those old photographs? Or, even if she's photoshopped in, to get a look at herself throughout various decades? It's almost like her own personal trip through time. Who were we seeing? All of the past incarnations of Mara?
If that's the case, Charlotte is really more interested in Mara, which would allow her to reside and dabble without doing harm to Audrey the heroine. Then again, Audrey is probably showing signs of the Spanish Influenza. Do we know of a version of Mara from 1918? Was the Spanish Flu a Trouble Mara created? 
The mystery surrounding that file is enough to keep the story going for a while, as long as the idea of Audrey repeating every 27 years with the help of the Barn. If you don't like spoilers, don't read this, but it was announced today William Shatner will join Haven Season 5 in 2015. There are hints of the final two episodes of 2014 as well as who will be returning in a recurring fashion when the series picks up again in 2015.
Given everything we know, what do you think is going on? Does Mara really feel something for Duke or has she morphed into a completely different version of herself to ensnare him? Is Audrey really degenerating or does she just have the Spanish Flu? What's up with Charlotte and where did she get that file?
What would you look like if faced with your insecurities via a Trouble? I'd be 600 pounds and without an ounce of wit. Hush if you're going to say I'm half way there. 
Hit the comments. If you need a refresher of all things Troubled, watch Haven online via TV Fanatic. See you next week!
Carissa Pavlica is the managing editor and a staff writer and critic for TV Fanatic. She's a member of the Critic's Choice Association, enjoys mentoring writers, conversing with cats, and passionately discussing the nuances of television and film with anyone who will listen. Follow her on Twitter and email her here at TV Fanatic.