The big question on Madam Secretary Season 1 Episode 7 was whether Henry was having an affair after Stevie caught him having an intimate meal with a young woman.
Please no. Please no. Please no. Please no.
One thing that I have really grown to love on Madam Secretary is how good Elizabeth and Henry's marriage is. I've been incredibly nervous about it being "too good" and one, or heaven forbid, both of them having an affair. And tonight, Stevie made a good case that her father was seeing another woman.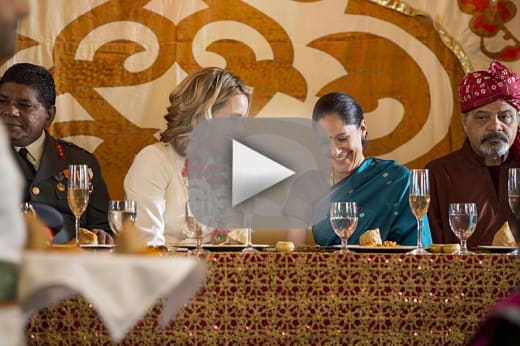 I may have shouted at my TV a few times. Cursed Henry. Accused Stevie of making assumptions. And you know what they say about people who assume - right? 
Then I felt awkward since this is a TV show and the characters can't talk back to me. So take a deep breath, Tanya, and go back to the beginning. 
Elizabeth took her first overseas trip to India. Her choice was Turkey but at the request of the President, she ended up going to India instead. Her family, with the exception of Stevie, were supposed to go with her. Then Henry suddenly backed out because they moved up the publication of his new book. Dun, dun, dunnnnnnn.
They made a big deal in all the promos about the earthquake and Allison being missing. She was missing for like five minutes. Elizabeth had barely started her Mama Bear routine to go find her when Allison is found, safe and sound. Now I'm used to promos being deceiving, but I was hoping for a chance to get to know Allison better.
Instead the real drama revolved around Henry. Steadfast Henry. Henry with the high morals. Henry: the Good Husband. But was he? 
When Stevie saw him in the restaurant, she asked who the babe was via text. I must admit; I liked her gumption! He immediately ran out to explain. Stevie was obviously not convinced by her father's answer. Her lack of conviction made me nervous. Had Henry been unfaithful before? 
Now before we could learn more about Henry and his mysterious lunch date, we had to witness another round of Daisy and Matt bickering about their "relationship". Ugh. So. Not. Into. It. Especially when I'm dying of curiosity and angst over Henry's potential infidelity. 
They, of course, were at a bar discussing the end of their friends with benefits relationship. Blah. Blah. Blah. I don't care. But Stevie was also at the bar, drunk as a skunk. The two debate what to do because the daughter of the Secretary of State falling off her bar stool would be a newsworthy event. Add in the fact that Stevie was also a minor and it's HUGE news. 
Matt, the jerk, decided leaving was the best course of action. Plausible deniability,  I guess. Whereas Daisy tried to help Stevie and find out what was wrong. 
Daisy: So, do you want to talk about it?
Stevie: The sandwich?
Daisy: Why you're getting drunk in a bar alone.
Stevie: He's a cheater.
Daisy: That sucks. But you're young. You can find someone else.
Stevie: My dad. He's a cheating cheater who cheats.
So I'm sorry that we need to briefly talk about Matt and Daisy again. I hate being a broken record. Their storyline feels like something the showrunners felt they ought to do, rather than an organic storyline driven by a strong sexual chemistry between two unlikely characters. The relationship has always felt forced and came out of no where.
I'm not sure if Daisy's acceptance of her boyfriend's marriage proposal when Matt was on the verge of confessing his real feelings means we can pretend this storyline never happened. Or more likely, we're going to have to bear it for a lot longer. Your thoughts?
With her new knowledge about the McCord marriage, Daisy had a potent bomb and potential weapon. She asked Matt if she should tell Elizabeth and he strongly advised her against it. 
Daisy: So I should tell the Secretary, right?
Matt: And be the woman who told her boss about the other woman? That makes you the other, other woman. The worst woman of all.
Well, Daisy didn't heed Matt's advice. Elizabeth's temper was on a short fuse due to a lack of sleep and trying to get India to accept US aid after an industrial accident at a US plant. She lashed out at Daisy who responded with the information that Henry was having an affair. Elizabeth was clearly shaken by the news too. She called Henry but only got his voicemail.
When she arrived home, she, much like her eldest daughter, didn't pussyfoot around. 
Elizabeth: Are you having an affair? I heard it, but I don't believe it. But I need to hear it from you ... Oh, my God.
Henry: No.
Elizabeth: Well, you're going to have to be a lot more convincing immediately.
Henry: Have you completely lost your mind?
Elizabeth: Okay. That's better. But what's going on?

So what was going on? Well, Elizabeth figured it out. Henry was acting suspicious, uncomfortable and did have a secret, but it wasn't an affair. He's working with the NSA again. 
This mission is so top secret that even the Secretary of State can't know.

Henry
I'm glad Henry was not having an affair. Well, I'm glad it appears Henry was not having an affair. Henry, out of all the characters,  has the strongest morals, so an affair seemed unlikely. But Tim Daly did such a good job of making an affair seem possible, so I'm not as confident as Elizabeth. A mission so secretive that the Secretary of State can't know about it is absolutely possible, but also a phenomenal way to hide an affair. 
Subtlety has never been their strong suit on Madam Secretary, so I'm guessing in the next episode or two, it will be very clear one way or another. 
While her professional life may have caused lots of stress for Elizabeth tonight, it was fairly boring to me. The family side has always been the most interesting part of the show, so Henry working with the NSA could be fun. 
What did you think of tonight's episode? Did you think Henry was having an affair? How do you think his mission with the NSA will play into Madam Secretary? And don't forget, you can watch Madam Secretary online via TV Fanatic and see which side of Elizabeth's life you most enjoy, politics or family.