NCIS Los Angeles Season 6 Episode 8 Review: The Grey Man

Carla Day at . Updated at .
A murdered and tortured homeless man ended up being much more on NCIS: Los Angeles Season 6 Episode 8.
The deceased was revealed to be a former marine and CIA operative who held a unique role as a Grey Man for them. He could be anyone at any time. He was the perfect undercover operative. Why was he homeless and then tortured and killed? That was a complex mystery unraveled throughout the hour.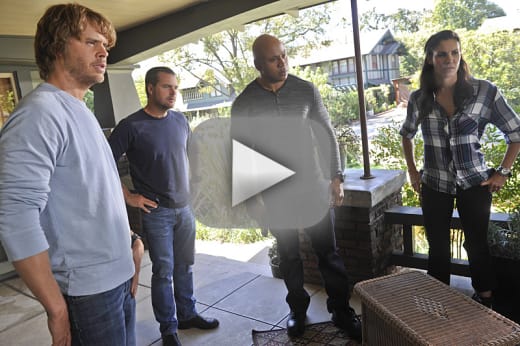 The case of Harrison Goodsell's death led to another overly complicated plot. In order to be shocking these days, I guess it's required to have an extra twist or two in there to keep the viewers guessing. It's become the norm for NCIS: Los Angeles, though to me it seems unnecessary. 
Goodsell wasn't really homeless, instead he was working a case of his own undercover. He was shifting between the persona of a homeless person and a business man in a suit who had lunch at the same restaurant. The extreme characters he was playing tied back to the same case of the Mexican cartel leader, Pena
The reason Goodsell was involved didn't make much sense until towards the end when it was revealed that Kevin Turner, a lawyer involved in the Pena case, was Goodsell's son. The former marine and CIA operative was working to protect his child from harm and in the end was tortured and killed despite his expertise.
Initially, NCIS thought the cartel wanted to free Pena, but eventually they found out they actually wanted the leader dead. Pena was going to turn on the Mexican officials who had helped cover their tracks over the years. Turner was blackmailed into killing Pena. Sam and Callen prevented Turner from going through with the killing, while Kensi and Deeks saved Monica and her daughter, who were being used as leverage against him.
Twists and turns and all was well in the world, except that Goodsell was dead and Turner never got to know his father.
The case was entertaining, though the best moments involved the NCIS team. I loved seeing Sam as a father. Should he have given his daughter a mobile phone? Maybe not. It did provide for some hilarious moments. Spaghetti or lasagna for dinner? My favorite call was when she contacted Hetty with the new dinner request.
Hetty talking about lasagna or froyo? Which was better? I have to go with froyo, since it cracks me up how everyone I know from California seems to be fixated on the yummy and believed-to-be healthy dessert. (Seriously, after you put on all the toppings, how can you think it's any better than ice cream?)
While those were some funny moments, there were some serious ones as well. Kensi finally talked about living on the streets and being homeless with Deeks. Every new reveal that she shares with him is one more crack in the wall that keeps them apart. She trusts him more than she's probably trusted anyone in her life. She's right that it's not that she wants to keep the truth from him, but that she doesn't want him to look at her differently. 
As they are opening up to each other, Hetty also pushed Callen into breaking down his own shell too. He has a home and has been dating the teacher for a while, so the next step would be to meet her family. If anyone could force him to evolve, it would be Hetty with a little help from Sam. I hope we get to see the school teacher again. It's been too long.
What did you think of the case? Another hour with just a few too many twists? Do you prefer when the show focuses on the team? Which phone call was your favorite? Lasagna or froyo?
Can't get enough of the show? Then, stop reading and go watch NCIS: Los Angeles online! It's available whenever you want to watch!
Carla Day is a staff writer for TV Fanatic. Follow her on Twitter and on Google+.