Parenthood Season 6 Episode 8 Review: Aaron Brownstein Must Be Stopped

Carissa Pavlica at . Updated at .
Buddy. Buddy. Buddy, buddy buddybuddybuddy... BUDDY!!!
We were treated to another hour named after something going down with Max at Chamber's Academy. Frankly, I could have done without it. If it's missing from the Parenthood Season 6 DVD, I won't be complaining.
Alright, there were a couple good moments, but if I had to hear BUDDY one more time, always when it seemed the most inappropriate time to use the term, I would have pulled my hair out.
Thus was my viewing of Parenthood Season 6 Episode 8. Ya can't win 'em all, right?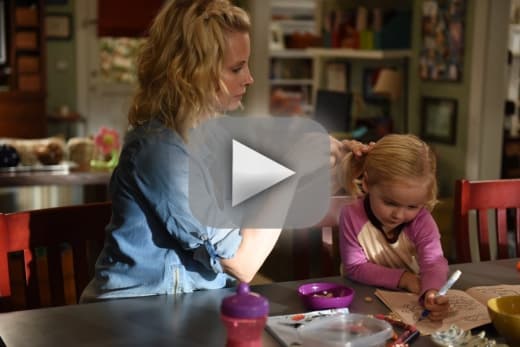 The whole situation with Max was out of control. He really should have gotten into trouble for what he did at the school, which bordered on harassment on many levels. When Dylan started calling Max Asperger's, Kristina was all up in arms and wanted her punished, but when Max passed out fliers about another kid? Nothing, buddy.
How on earth did Max make that humongous poster without Kristina seeing him doing it? She would have never let him roll that out in front of the entire school. How she managed to change that into a positive situation is beyond me. She's really quite good at that.
Then we had the Hank situation. Hey, it's great he's finally learning to become a dad after 15 years. I just wish he wasn't doing it on my time. There are glimmers of good coming from Ruby, but she's a mess. She needs a lot of therapy.
Hank and Sandy did have a Parenthood moment together making them worthwhile for the first time:
Sandy: We can discuss it over a drink. Did the kids bring anything good?
Hank: Brandy. Blackberry brandy. Remember that?
Sandy: That'll do.
Hank: Yeah. Crack that open. I feel like gettin' drunk.
Sandy: Oh yeah. That tastes like high school.
If you can't beat 'em, join 'em! When Sandy asked what kind of booze was left behind, I realized I might like to hang out with her. Ironically, Sarah and her would probably get along really well, if they just gave themselves the opportunity. We'll likely never see it, though.
It was a false alarm on Amber's pregnancy, but the scenes with her and Crosby were great. 
Singer 1: Does your cat like his food?
Singer 2: Or does he push it away with his little paw and act really rude?
Singers: Meow, meow, meow, that's a sound of a hungry cat...
That was a damn catchy tune! It might make me want to buy that cat food; bring it on Singer 1 and Singer 2! The dad and the pregnant girl go to a nightclub joke was really terrible. Dad got snagged at the door with weed and the pregnant girl started having contractions in the street. Yikes!
Thank goodness Amber finally talked to Drew about not taking on the responsibility that is hers and wrecking his own dreams. It didn't seem to fully sink in, but at least she said it.
Jasmine still has foot in mouth disease when it comes to her mother and Crosby. She over shares with her mom who cannot keep her mouth shut with Crosby. Her intentions, while good, come off as condescending, as if Crosby and Jasmine cannot possibly care for themselves. Yet they gave her a place to stay when she was going through a rough patch.
I'm packing my bags for California as I type this. If I can get a $30 per hour job as a freaking file clerk (which is my least favorite thing to do in an office), I'll bite the bullet and get 'er done! I wish Jasmine had been a receptionist or admin -- anything other than a file clerk. It seemed totally out of left field to make $62,400 a year doing it. 
Since the Grahams split, it's been Crosby and Jasmine who have the best relationship. Does anyone have a vote for Adam and Kristina instead? I didn't think so. 
While so much of the cast was out of their contracts tonight, the previews for next week look like whoppers. They're also most likely totally deceptive. Will Joel and Julia sign the papers? Will Julia crumble at Joel's admission of eternal love? Will Sarah beg Mark to give her another chance? Is Zeek dying? Probably none of the above. 
Until then, whittle away at your free time while you watch Parenthood online and hit the comments about we witnessed. 
Carissa Pavlica is the managing editor and a staff writer and critic for TV Fanatic. She's a member of the Critic's Choice Association, enjoys mentoring writers, conversing with cats, and passionately discussing the nuances of television and film with anyone who will listen. Follow her on Twitter and email her here at TV Fanatic.