Just when it seems things cannot possibly get any more complicated, they do. They really do!
On Reign Season 2 Episode 7, Francis leaks his secret in the hopes of finding a way out of his terrible situation with Narcisse. It's not enough, and Francis' desire to protect Mary pushes their relationship to the very limits.
Considering Princess Claude returned to the castle, the title of the episode was very confusing -- until Catherine told Mary Conde is a prince of the blood. By blood he is in line to take over the throne. So, Conde isn't just any prince. If something were to happen to Francis, he could very well be king.
That makes Mary's reliance on Conde as a friend and Francis' belief that Conde and Mary work well together much different. 
Francis finally made sense about his reasoning for keeping the secret. Well, he's always been understood, but it was the passion about which he spoke of the matters that made him more sympathetic for not sharing with Mary.
Bash: And Mary?
Francis: She can never know. She must be able to deny on oath before God that she knew anything. It's the only way to keep her safe.
Francis took a chance enlisting Lola to help him protect himself against Narcisse and it backfired. The truth always wins out, even when a rather cold-blooded person is doing the telling. Narcisse was very clever in the way he trapped Lola before propositioning her to take the next step with him, one from which she would be changed forever.
You asked me what I liked about baths. I suppose it's the vulnerability, the sense of comfort one feels covered, embraced, when in fact one is quite exposed. Why are you here?

Narcisse
Yet even with Lola at her most vulnerable, Narcisse still gave her a choice. She could have walked away, but curiosity got the better of her and now she knows Francis' secret. I cannot for the life of me remember if the ladies were in on the action when Mary and Catherine hoped to poison King Henry. If so, that might give Francis some leverage if he learns about Narcisse's feelings for Lola.
Narcisse never experienced love, but it seems he's starting to with Lola. Would he consider it a draw if Francis threatened to take Lola from him as Narcisse if threatening everyone else? Then again, Lola is on Narcisse's kill list, if not from a physical standpoint, she would be mentally demolished if Narcisse killed the King's son.
Bash finally got to do more than accept orders and leap after them gratefully. He hated his father as much as Francis and vowed to do what he could to help Francis so they could put it all behind them and kill Narcisse. Now that's the kind of sibling relationship we could all use!
But ugh -- Kenna wanted to know why slutty Princess Claude wasn't friendly with her and the last thing I expected was that her and Bash used to diddle! They softened the blow a bit when he said he thought at the time he wasn't really Henry's son, but how old was Claude then? She seems barely a child now. Icky icky icky.
Does someone understand what's going on with Catherine's visions? Don't yell at me for not having paid attention last season. Were they daughters of hers that Henry had killed? They're freaky as hell and pulling Claude's hair and yanking her head while sleeping was terrifying. Enlighten me, if you will. I don't need Catherine's mind playing tricks on her. She needs to be on her toes for whatever is going to go down with Francis and Mary.
I daresay Francis pushed Mary's very last button, but almost on purpose. She kept professing her love for him and desire to stand by him, but when he learned Narcisse has evidence that could implicate Mary and his mother in regicide, he just wanted her gone.
Mary: Oh spare me your lies and excuses! You're not the man that I fell in love with and you're not the King I want to rule beside. You are a coward!
Francis: Mary, everything that I have done...
Mary: Enough, enough! I gave you a chance, I waited for the man I fell in love with to return, but that man is dead and I am finished waiting for him!
Francis: If that is what you truly believe then perhaps you should return to Scotland. Leave me. Leave France.
The look on his face as she walked away was one of relief. She's a distraction he really doesn't need by his side while he fights an enemy that is even more brilliant than his father the King was. Narcisse has a huge arsenal at his disposal and he's not afraid to use any of it against the royals. 
If Francis isn't worried about Mary, perhaps he can think clearly and then with Bash's help they can rid themselves of Narcisse. Where Lola will wind up in the fallout is anybody's guess. She's kind of wavering between loyalties.
It was a pretty big episode. Do you think Mary will lean heavily on Conde going forward, looking to him for even more of what Francis can't give her? Which way will Lola topple? Can Bash help his brother if Claude continues to make waves?
Hit the comments and be sure to watch Reign online to keep up with all of the plotting and scheming!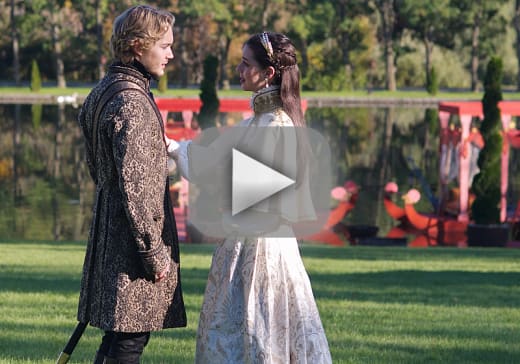 Carissa Pavlica is the managing editor and a staff writer for TV Fanatic. She's a member of the Broadcast Television Journalists Association (BTJA), enjoys mentoring writers, wine, and passionately discussing the nuances of television. Follow her on Twitter and email her here at TV Fanatic.