Resurrection Season 2 Episode 7 Review: Miracles
Paul Dailly at .
Well that was a bit of a let down.
On Resurrection Season 2 Episode 7 Margaret and Rachel shared a chilling dream while the virus spread to members of the community who hadn't yet died.
The ABC promo department struck again. They completely ruined the final scene. It boggles my mind as to why someone is approving these trailers.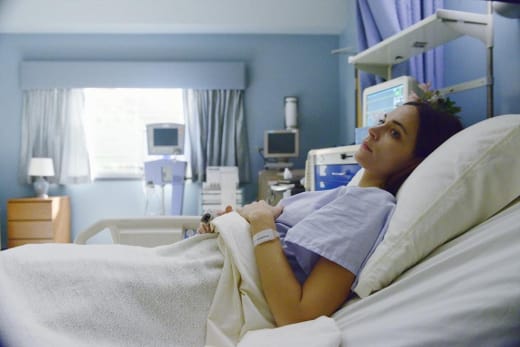 Other than the rebellion against the returned, this episode felt like filler. Not that much happened. I expected to see Jacob taken like the promos suggested and I was sitting wondering who would do it the whole episode. Nobody did!
Margaret's story continued to lose its appeal. The whole dream scene she shared with Rachel wasn't exactly a dream. It was the true events that went down that night. Margaret is a twisted, sick individual, but I am shocked she didn't end Rachel's time in Arcadia. She does hate a home wrecker. Did anyone else find it a bit weird that Rachel's health randomly improved so much?
I just had the most vivid dream. Do you know someone named Rachel?

Margaret
Margaret has to go now. She has over stayed her welcome in Arcadia. 
I was shocked that Ray seemed to get the same illness as the returned. I felt horrible for Elaine; she must feel so helpless at this time. She is probably regretting the things she said the last time she met him as he was recruiting for his rebellion. She has to be one of the most unluckiest characters in television. 
Can I give a shot to Ray? Is it save for a non-returned?

Maggie
A theory that crossed my mind is that Ray got unwell, then Rachel got better. Could she somehow have stolen his life?
If he doesn't recover, the group has a worthy successor in the form of Carl. Carl hasn't had the best experience with the dead. His bullying brother came back to torment him at any given opportunity. The guy seems to be painting all of the returned with the same brush.
Bellamy finally coming clean to Maggie was anti-climactic to say the least. Maggie is a smart girl. There is no way she wouldn't have figured this out long ago. It makes me wonder if the writers think we actually believe some of the duff storylines we are watching every week. 
You keep lying to me, so how can I trust you?

Maggie
Maggie felt let down by Bellamy, rightfully so. Bellamy has done nothing but lie the whole time they have known each other. I don't really know if these two could ever be a romantic pairing at this point. If I'd been asked a few weeks ago, I would have been all for it, but after everything that has transpired between them since, it would be strained. 
I'm still not enjoying the factory storyline. Margaret should have had doubts as soon as Henry mentioned the news to her. I didn't expect her to go out on a date with the potential investor. I can't help but wonder if he meant for her to see something at the house. Even so, she's on to him now after seeing the picture of his father. 
"Miracles" wasn't very enjoyable. It lacked the suspense I am coming to expect from this drama. The quality of the show is really inconsistent. Shows this early into their run should be improving every week and changing the game. Resurrection has to get it together before it's too late. 
Did you know you can watch Resurrection online, right here on TV Fanatic? Get caught up with the residents of Arcadia now!
What did you think of the episode? How do you feel about Margaret's character? Could Ray actually be one of the returned? Sound off below.
Paul Dailly is the Associate Editor for TV Fanatic. Follow him on Twitter.