Jax is stunned by Abel's revelation and even more surprised when Wendy comes clean the next morning and tells him that Gemma and Unser had been hiding Juice in her apartment on Sons of Anarchy Season 7 Episode 11. 
After questioning Unser and finding out the Chris Dunn wasn't even in the state on the night of Tara's murder, Jax gets in to see Juice and that's when the truth comes out. Juice tells him exactly what he and Gemma did that night. A shocked Jax promises Juice a quick death for finally telling him the truth.
Juice gets word to Gemma that Jax knows the truth. As she heads out on the run, she tells Thomas and Abel goodby and gives Abel his grandfather's SONS ring for when Abel some day joins the club. She also sees Nero who is devastated to learn the truth but he lets Gemma leave.
Later, Jax must tell the club the truth and he wonders if it's even possible to make amends for all he's done. As he and Nero share tears over Gemma, Jax laments that no matter what he's done, he loves her. She's his mom. 
Don't miss out on the mayhem. Watch Sons of Anarchy online here at TV Fanatic.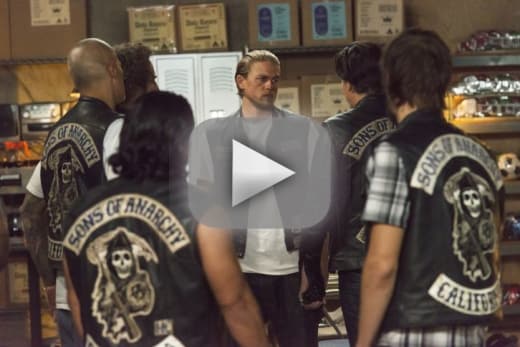 C. Orlando is a TV Fanatic Staff Writer. Follow her on Twitter.