Sons of Anarchy Season 7 Episode 11 Review: Suits of Woe

Christine Orlando at . Updated at .
It was a family thing on Sons of Anarchy Season 7 Episode 11; a horribly dysfunctional family. Jax found himself torn between the family he'd been given and the one he'd chosen. 
There were so many emotionally disturbing scenes in this episode that it's difficult to remember them all. We'll start with Gemma who sat at the dining room table telling Tara how sorry she was, as though the woman sat across from her to hear it. But even Gemma seemed to know that her lies had begun to unravel.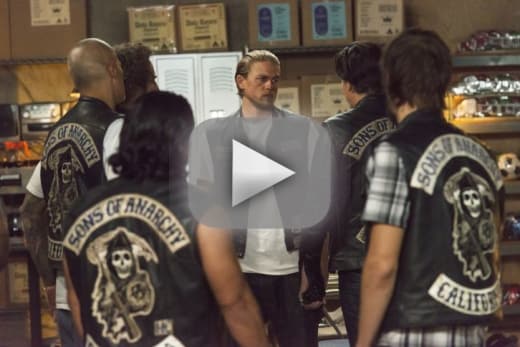 Wendy decided it was time to come clean with Jax. If he was willing to let her be a mother to his sons, and he did indeed refer to them as "our" sons, then she didn't want any secrets between them. They were in this together. 
From there it was like watching dominos fall. From Unser and the revelation that Chris Dunn couldn't have murdered Tara to a sit down with Juice. I held my breath during that entire conversation. I thought it was too much to hope for to have Juice tell him the truth. I kept expecting Juice to lie to him at every turn. 
But there's not much left of Juice, whether it be the will to fight or some semblance of sanity. He is irreparably broken. That was obvious when he killed Lin. He was so very calm. Was that because he believed this was his way back in to SAMCRO or didn't it matter any longer?
Telling Juice the truth about Tara's murder seemed to be his last moment of sanity. The end is coming and Juice knows it. He can only hope that Jax is true to his word and it will be quick when it comes. 
Gemma's conversation with Nero was heartbreaking because we all knew it was goodbye...
I love you Nero. Our time together has been neck deep in chaos but you have made me happy.

Gemma
He looked completely devastated when he got the call from Jax. He could only stand there and stare at her with tears running down his face as he tried to comprehend the horror of what she'd done. I expected him to ask why or how? Instead, all he could do was tell her to go. 
As Jax desperately searched for his mother, I was a little surprised by Unser's outburst until I realized that he still didn't know the truth...and he loves Gemma. Unser's words held plenty of truth when he told Jax in this Sons of Anarchy quote...
If you gave a shit about Tara maybe you'd spend a little less time being a thug and a little more time being a dad.

Unser
Jax had to face the club and he told them the truth. That his mother had murdered his wife and every brutal death that happened after that was on him. 
I'm sorry that the family I was given has created such chaos in the family I've chosen. I hope you know I love you all very much.

Jax
Is there any possible way to come back from this? Will it even matter if the Indian Hills charter votes against him when they hear that Jury wasn't a rat?
Before Gemma bolted, she stopped to say her goodbye to Abel and gave him John's ring for when Abel joins SAMCRO someday. The very thought turned my stomach. That her greatest hope for this little boy was that he follow in the footsteps that have led to nothing but devastation and death. 
Finally it was just Jax and Nero. The two men who loved Gemma. The two men who looked more like confused, brokenhearted little boys as they cried over what to do next. Leave it to Nero to point out the price Jax will pay if he makes his mother pay with her life. Even Jax knew it was wrong, whether or not she deserved it.
After everything she did, all the lies and the death and the wreckage, I still love her. She's my mom.

Jax
Will Gemma be allowed to run? Will Jax or someone else end her life? With only two episodes left it's anyone's guess what comes next on Sons of Anarchy Season 7.
There's no reason to miss the mayhem. You can watch Sons of Anarchy online here at TV Fanatic. 
Here is your first look at Sons of Anarchy Season 7 Episode 12, "Red Rose."
C. Orlando is a TV Fanatic Staff Writer. Follow her on Twitter.