Constantine Season 1 Episode 7 Review: Blessed Are the Damned

Henry A. Otero at . Updated at .
So far this series has given us some seriously freaky twist and turns. Its unpredictable nature is one of the things I look forward to weekly, but Constantine Season 1 Episode 7 managed to top them all. Can you believe we met our first fallen angel?

For seven episodes Manny had remained neutral, explaining to John angels could not interfere in mortal lives... "free-will" and all that jazz. Well our rogue angel certainly dirtied his hands bloody this week.

Plus, the mystery surrounding Zed deepened. Was she part of a religious cult herself?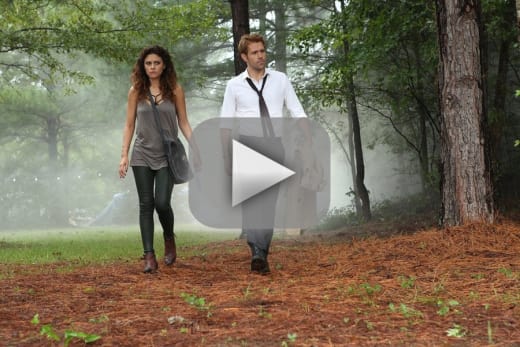 In the words of professor Indiana Jones... "Snakes. Why did it have to be snakes?" Yeah just the sound of rattlesnakes is enough to freak me out. I guarantee you I would have screamed just like Zed if those snakes came near me. Eeeek!

To be honest, I didn't expect to enjoy this episode as much as I did. The "preacher as healer" trope is as overused as the possessed kid in Constantine Season 1 Episode 6. Besides, I didn't particularly dig the actor playing the preacher. His performance felt forced and slightly over the top. I can't put my finger on it, but something was off with the guy.

That said, once he was bitten by the snake and revived, the story's unique take on the material became clear.

The first time around, I didn't realize the preacher was holding a feather when he came to. If I had, perhaps I'd have been tipped off earlier that we were dealing with angels. With Constantine, I have noticed I catch something new with each viewing.

Wasn't it fun the way John and Zed talked over each other? They're already like an old married couple.
Constantine: You said snakes?
Zed: Yeah
Constantine: Our training is expanding your psychic awareness. You see there.
Zed: What Kentucky?
Constantine: Middle of bugger all. Seems a preacher was bit by a poisonous snake which explains your vision. He came back to life and started performing miracles. Now he's a bloody star.

I'm not sure why the showrunners find the need to write Chas out of the episodes in order to feature Zed and vice versa. These guys are a team, surely they can find something interesting for each character to do.

When John pointed out that the preacher was speaking Enochian – the language of the angels – I admit my interest was piqued. Why the man the preacher healed went all evil escaped me. Of course, in retrospect it made perfect sense.

We learned Zed wants to believe in a "guiding hand," but she's riddled with doubt. What happened in her past to make her this way? Does it tie in with her gift? I have a feeling it does and we'll learn more about it soon enough.
Zed: I could feel him John. He was so close to death. I felt what he felt in that moment.
Constantine: An angel so you said. So you get any other sense of Zachary the great and powerful?
Zed: Well, he has good intentions and he's unquestioning in his faith.
Constantine: A bit boring, but okay. Let's say he's not the dark part of this equation.
Zed: Unless he's being manipulated. Blind faith can be a dangerous thing.
Constantine: Spoken from experience.
That quote was a sign John's caught on to Zed. I'm hoping this particular mystery is touched upon soon.

While Zed assured John that the preacher's heart was in the right place, he reminded her the scry map = bad. The dead fish was all the proof John needed to understand something poisonous was going on.

Wasn't it funny the way Zed asked to meet Manny? Though it didn't happen this week, I wonder if the angel will reveal himself to her at some point. They're all on the same team, right?

When Manny appeared he hit John with one of his riddles, which did lead them to the angel, Imogen; so there's that. By the way, anyone else absolutely loving the angel's wings on this show? We learned angels can die. "The soul is extinguished. We simply cease to exist," Manny told John.

Okay things were getting really interesting...
Constantine: What happened to you love?
Imogen: I was taking a dying mortal to Heaven. I don't know how, but he pulled a feather from my wing. He was revived, I fell to Earth.
Zed: That must be what I saw in my vision when I touched Zachary.
Constantine: It's the only way an angel can enter our plane in physical form; damage to the wings. One feather, piss poor design if you ask me.
Zed: That's what Zachary has; an angels feather.

The hunt was on, our dynamic duo set out to retrieve Imogen's feather from the kooky preacher.

I loved the way John's cynical nature came through in this episode. While it was easy to see Zed's point of view, John's also made sense. We were given a better understanding of his belief system this week.

Confronting the preacher about the feather wasn't going to end well, that much was clear. Did anyone else feel awful for the poor guy who just wanted his leg back? Look where that got him.

Church sermons involving snakes are creepy as hell. However, there's something about a river baptism that's freaky, as well. Zed managed to lift the feather off the preacher during the ceremony and rushed to return it to Imogen.
A fallen angel finds a desperate bloke, intercepts him at the gates of hell and makes him think it's the gates of Heaven. Zachary didn't take your feather, you put it in his hand so you could break through to Earth.


Constantine
Yup – mind blown! I never expected the preacher accidentally killed someone and in reality was headed to hell. The fact Imogen was a fallen angel was a brilliant twist, as well. As I mentioned at the top, this simple reveal made the entire installment worthwhile.

Well, that and the fact Manny rips her heart out of her chest. Ouch! Manny's got blood on his hands now, how will this affect him moving forward? Has he chosen to "officially" fight on John's side?  

We have six episodes left this season. Make sure to spread the word about Constantine and live-tweet with us Friday night's during the show. Petitions are fine, but only ratings will convince NBC to green-light a second season. We can do this – let's #SaveConstantine

What did you think of "Blessed are the Damned?" Did the fallen angel reveal surprise you? What kind of consequences will Manny face for his actions? What does nude model Eddie want with Zed? Was she part of a cult? Your turn Hellblazers, hit the comments below and let me know what you thought of this latest installment.
As I already mentioned, Constantine is a show that requires a second or third viewing. Watch Constantine online via TV Fanatic and look for those little details you might have missed the first time around.