Hart of Dixie Season 4 Episode 1 Review: Kablang

Amanda Steinmetz at . Updated at .
Zoe Hart's life is about to change, and no one is more shocked than the good doctor herself. 
Welcome back to Bluebell everyone! It's been a long time since we last saw Zoe, Wade, and the rest of the town. However, Hart of Dixie Season 4 Episode 1 picks up just a few days after the events of Hart of Dixie Season 3 Episode 22. 
Let's begin with the big reveal at the end of the hour that will be the main focus throughout the rest of the season.
Zoe Hart is pregnant! This isn't exactly a surprise since the producers said they would write Rachel Bilson's real life pregnancy into the show. I can't wait to see Wade's reaction to the news. It is sure to be priceless.
I'm not expecting Zoe and Wade to get back together immediately. That wouldn't serve the characters – to simply have them get together for the sake of the baby. It has to be more organic than that.
Zoe tried and failed many times throughout the hour to get Wade back. She made several attempts, including coming out of the water in a bikini. I loved the callback to the first season when Wade did the same thing. 
It's also nice to see Zoe pursue Wade instead of the other way around.
Wade: What's going on here?
Zoe: I am here, Wade, to seduce you.
Wade: You know, most people don't announce it first.
Zoe: I just wanted to make sure you were aware of what was happening because this, my friend, is happening.
Wade clearly loves the attention and finds her attempts to win him back amusing. It may have been harsh, but his statement that sex would not lead to anything more than sex was honest.
Zoe came clean about her intentions and asked Wade how he really felt. Whether you agree with Wade or not, it's obvious he didn't trust her enough to start things up again.
Wade: I know it's not fair, but you wrecked by heart, Zoe, and I can't do this again.
Zoe: What if I promise that I won't hurt you?
Wade: I guess... I don't trust that you know how to stop yourself.
It was sweet how Earl wanted Wade to reconsider. Wade's relationship with his (newly sober) father is wonderful to watch. He's happy with his new woman, Mae, and wants Wade to have the same happiness. 
Unfortunately, Zoe was so startled by the news of her pregnancy that she shut the door on Wade when he asked her out. I hope it doesn't take too long for Zoe to tell Wade. I don't want her to keep it a secret. Although I don't know how she could (hello – pregnancy boobs!).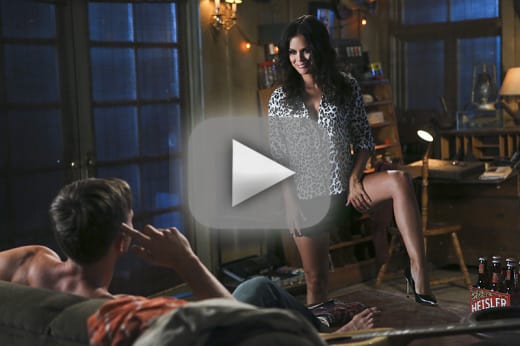 Elsewhere in the episode, George and Lavon bickered over Lemon. I honestly don't have an opinion about who she should end up with. I feel like this was a love triangle that was supposed to happen two seasons ago.
I loved Lavon with Annabeth, and I loved George with Tansy. Both of those relationships didn't work out, so it's anybody's game right now. 
It will definitely get tiring fairly quickly the two men continue to be at odds. Lemon is a strong character, and I would hate to see her defined by whichever guy she ends up with. 
Of course her new relationship is a ruse to get around her grandmother. This is Lemon after all. She has no shame and I love it.
Well I can't say I'm surprised. You [Lemon] do love your fake relationships.

Annabeth
Henry does seem like a catch though. I'm not sure how their secret will come to light, but it definitely will and probably very publicly.
Brick is also keeping secrets from his mom. I like Laura Bell Bundy, but Shelby and Brick's relationship never felt natural to me. Perhaps seeing Brick happy with her will change my mind.
Crickett was feeling a little down in the dumps after realizing there weren't any lesbians around for her to date. It was good she had the support of her fellow Belles, even if their questions were too invasive. Crickett is starting a new chapter, so she needs all the love she can get from her friends.
Can we conquer tomorrow? I have two more seasons of The L Word to watch. It has been quite educational.

Crickett
It turns out Jaysene, who was helping Tom with the volunteer fire department, is gay. We didn't get any scenes between them except when Jaysene asked Crickett out. I guess we are to assume they got to know each other over the eight weeks.
Oh yeah, half way through the episode, the show flashed forward eight weeks. This was clearly the only option considering Zoe needed to find out she was pregnant sooner rather than later.
So, over to you guys! What did you make of the Hart of Dixie Season 4 premiere? Are you happy Rachel Bilson's real-life pregnancy was written into the story? Who should win Lemon's heart? How do you think Wade will handle the pregnancy news? Sound off below, and don't forget you can catch up on all the small town gossip when you watch Hart of Dixie online!
Amanda Steinmetz was a staff writer for TV Fanatic. She went into retirement in June of 2027. Follow her on Twitter.