Homeland Season 4 Episode 11 Review: Krieg Nicht Lieb

Carissa Pavlica at . Updated at .
It's another installment of Homeland perilously short on time, but even more so on content.
For approximately 40 minutes Homeland Season 4 Episode 11 followed Quinn's preparation to take down Haqqani and Carrie's attempt to stop him.
It was hardly scintillating television, but there were a few stand out moments nonetheless.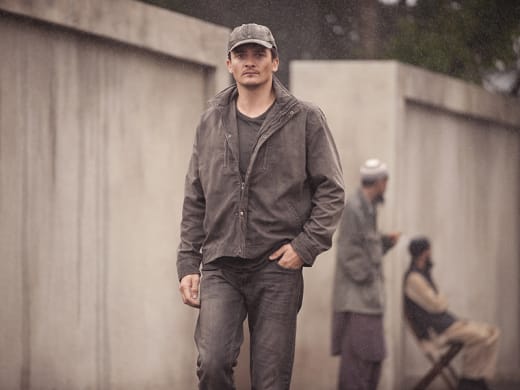 Quinn has had a female friend in the German embassy with whom he has shared some time and some secrets. She helps him get what he needs to assemble a pipe bomb and after careful reconnaissance, Quinn finds a perfect place to nestle it, hopefully putting an end to the terrorist.
Once the final shot was revealed, it was hard not to wish he had blown up the SUV holding Haqqani as well as Carrie for being in the way.
Something happened to Carrie. She lost her nerve. Quinn knows it and Max and everyone remaining to close down the embassy according to failure protocol knows it, as well. Max is feeling the pain of losing someone he loved and he wants retribution. Carrie used to feel that way when she was helping Brody. 
Not even the news of her father's death gives Carrie the jumpstart needed to get back into the game. Being a mother was not her forte, but seeing her daughter's face might have kept her from going over to the dark side. She appears to want to do things by the book for now.
Lockhart is in the dark about what's happening; in Pakistan and with his career. The man who once had no respect for Carrie is turning to her for answers in the hope she'll hear something before he does about his fate. Unfortunately, she's not a part of the circle of trust anymore, either. They're quite the pair.
Tasneem, and I suppose the entire Pakistani government, is working to ensure Haqqani's safety. Aasar knows his life is on the line if Haqqani is injured. Living like that doesn't seem remotely of interest, to viewers or to Aasar. He's obviously not pleased with their line of thought as he continues to look out for Carrie, stopping her from shooting Haqqani in the street.
Carrie is very irrational. She stopped Quinn from killing Haqqani because he couldn't exit safely (even given his more remote location), but her own feelings – as egged on by the image of Haqqani shooting Aayan – had her following him down the street with a loaded gun in full sight.
When Aasar stops Carrie, he notes who is in the car with Haqqani. It's Dar Adal. Has this entire operation been a giant game of cat and mouse? Quinn and Saul are closer to Dar Adal than anyone else. He was Quinn's black ops handler and Saul's friend. Was he pushing so hard for Saul to resume the directorship so he could further influence the way the CIA handles things with the terrorists? Did he set up Saul to be captured? Was he on site as it happened? How dirty is the man?
How long as Dar Adal been working with the enemy while smiling through it all? As far back as the confirmation of Lockhart? Did he think, in the end, Lockhart would serve his needs better than Saul so he shifted his loyalties to assure he was better positioned with the Taliban leaders?
Someone pointed out I could be looking at this all wrong. Perhaps Aasar stopped Carrie because by seeing Dar Adal in the car the assumption is there is a plan in the works. Listening to the voiceover in the preview, however, leads me to believe he's bad to the bone and out only for himself. Does that make him a double agent, a traitor to all sides or is he just working with terrorists?
Will the Haqqani business be wrapped up at the end of Homeland Season 4 or will we just learn of Dar Adal's actions and how things might move forward as a result? It seems impossible to think we're in for another complete overhaul of the series going into Homeland Season 5, but anything is possible.
My wish is everyone survives to tackle whatever is coming. Homeland has pushed the envelope and brought around a show earlier that felt as though it was dying, transforming it into compelling viewing again. 
What's next for Saul; the fallout for Martha; where Quinn ends up, and how Dar Adal fits into the recent history of the CIA all work as future topics to explore. What did you think?
Carissa Pavlica is the managing editor and a staff writer and critic for TV Fanatic. She's a member of the Critic's Choice Association, enjoys mentoring writers, conversing with cats, and passionately discussing the nuances of television and film with anyone who will listen. Follow her on Twitter and email her here at TV Fanatic.