After a rather depressing New Girl Season 3, the writers promised that season 4 would be bring back the original formula for New Girl – unfortunately they lied.
It seems this season the writers are just not that into New Girl. We've been given choppy story lines; a relationship between Nick and Jess which apparently we were all supposed to forget happened.
Thankfully, we can't complain about everything. We still have Schmidt and his douchebag antics to love. So lets get started on what worked and didn't work on New Girl Season 4.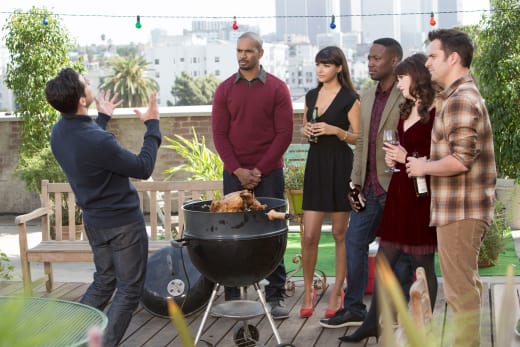 Best Episode: New Girl Season 4 Episode 10. It is not shocking that one of the best episodes had to do with the annual tradition of Thanksgiving. We had the entire cast together and it brought back memories of the good old days. We got to see why these guys are all truly friends and can only hope we get more of that friendship in the second half of the season.
Worst Episode: New Girl Season 4 Episode 4. Where do we even start with an episode that revolves around the revelation that Jess's date has a small penis? It was an episode that made no sense – Jess has never been a superficial woman – and it was cringeworthy to watch. The only shining moment was Schmidt and Coach becoming "models" thanks to Cece and Winston.
Best Character: Schmidt! There is not a question that Schmidt will always be the favorite amongst the group of friends. We all know that he is a douche, but we just can't help but love him. Even in the most contrived episodes Schmidt is there to provide all of us with a chuckle.
Worst Character: It pains me to say this, Cece. Now don't get me wrong I absolutely love the characters on this show and I blame the writers for ruining Cece for me. We all remember when Cece was first introduced as a fiercely loyal best friend to Jess who was also a successful model, yet now she has turned into a bartender who is hurting for money – I don't get it. You'd think this woman would be rolling in tips from the bar patrons.
Most Underused Character: Tie between Coach and Winston. Coach and Winston are played by two extremely talented comedic actors and I find myself week after week wondering why they are not utilized. Winston has turned into a blubbering moron and Coach is...well even I don't know what is going on with Coach.
Hopes For 2015: Less choppy story lines! Seriously writers your audience is starting to dwindle and while you still have those passionate fans there are many out there that want some proper story telling. Can we also please give Winston and Coach something that actually showcases the actors true talents?!
Overall Grade: C
Your turn to tell me what you think! If you haven't caught up on this season, watch New Girl online and than let me know what you think.
What Midseason Grade Would You Give New Girl Season 4?
Samantha McAllister is a staff writer for TV Fanatic. Follow her on Twitter.