And so all hope for Reign rushes out the window as they take a compelling storyline and go the way of The CW instead.
Yes, I was wrong. On Reign Season 2 Episode 10, the contents of the letter Conde hoped to deliver to Mary were revealed. He couldn't marry Claude because his heart lies with the Queen.
Blah, blah, blah. This might be a wonderful storyline if there was any way in hell Mary and Conde had a chance of making a go of it. But they do not and the decision to toss in a rape as a means of tearing her away from her true love is despicable.
I know I'm alone in my desires for the show to be more realistic, but this latest turn has become so ridiculous that I cannot help but be annoyed.
Matching Mary with anyone other than Conde, who is a noted historical figure, would have worked for me. Taking the one man known to have made an attempt on the crown and turning him into her love interest is pushing it.
Considering the network and the audience, it makes sense to keep Mary and Francis at odds. They've done a brilliant job of that so far. The better scenes, however, are when they work together. Like Brennan and Booth on Bones. People can love each other and work together and yet still get on each others nerves just enough to keep them on their toes.
Mary: I've had some time to think. I believe that we should lead separate lives.
Francis: What does that mean?
Mary: That we will continue to work together as King and Queen, but I will be your wife in name only.
Francis: I can't do that. I won't.
Mary: We won't be the first people in history to do so.
Francis: If you're talking about my parents, we are nothing like them. I would do anything for you, Mary. I love you and you love me.
Mary: Look where that love has brought us.
Now what? Mary will carry on with Conde and Francis will climb back into the fray with Lola while they both look back with jealousy seething just under the surface?
The beginning of the hour held much promise. Mary's behavior and Catherine's wise words to Francis about Mary's need to find her attackers were really well done. 
Francis: What is Mary doing here?
Catherine: She's looking for her rapist, and if you don't find him that's what she'll be doing for the rest of her life; in every room, in every crowd.
Leith stepping up to free the man Greer loves knowing he is a good soul was also well developed, even if it only served to drive the older man we've come to enjoy out of the castle to make room for Leith and Greer to resume their attraction.
When you took my lands you said that you'd make it up to me one day. Well this is that day. I want repayment. Let Castleroy go.

Leith
Do you have any doubt, despite Greer's love for Castleroy, that she and Leith will rekindle things in the meantime?
Narcisse falling into a stumbling wretch of a man willing to place his head on a platter to appease Francis makes no sense given his early character or his thoughts in Reign Season 2 Episode 9 when he felt much of the Protestants' ire was due to his actions. Melting into a pile of worthless goo is improbable.
Then we have Catherine. Yes, she's been seeing her daughters for a while now, but to be swayed so deeply by mental illness she chose to kill (or attempt to kill, depending upon how it ends up) her only remaining daughter doesn't fit. 
Where the hell is Nostradamus when we need him? If ever he was needed, it's now. 
Catherine is plagued by ghosts, even one in the form of Henry who makes love to her, begging her to accept him back into her life. Is Henry a vampiric ghost who can only pass the threshold into our world when given a formal invitation? Meh.
Reign has jumped the shark.
This is not where I wanted fierce, strong women to wind up; crazy or running away from love. I'll sit in my disappointment while everyone else revels in Mary's smile at learning of Conde's love for her. 
We have to wait until the new year for additional episodes, but in the meantime you an make up for it when you watch Reign online via TV Fanatic. See you then!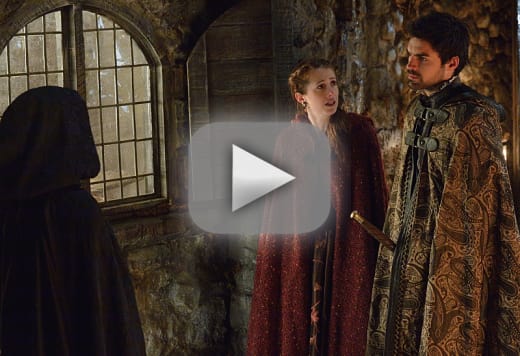 Carissa Pavlica is the managing editor and a staff writer and critic for TV Fanatic. She's a member of the Critic's Choice Association, enjoys mentoring writers, conversing with cats, and passionately discussing the nuances of television and film with anyone who will listen. Follow her on X and email her here at TV Fanatic.