When you have a show that can manage to keep you intrigued about the case of the week and the overarching plot equally, you know you're onto a winner. 
On Stalker Season 1 Episode 11 we didn't exactly take a trip to uncharted waters as we had another case involving a celebrity. That's by no means a bad thing.
When cases are flying by with the suspense that Stalker manages show us on a weekly basis, some of the same is good. Especially when Perry winds up getting a little bit of his own medicine. We'll get to it!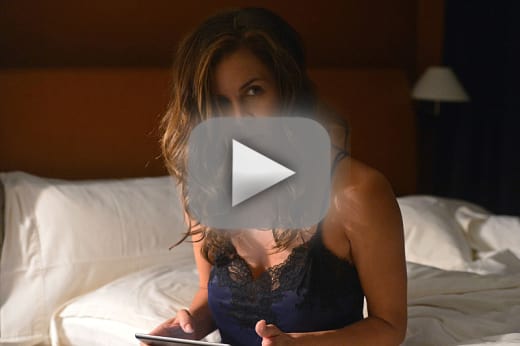 Oh, Stella. You seemed like such a dimwit and for that I was hoping you would meet your maker in that toilet scene. Yes, the scene was totally stolen from Scream. However, that movie was also made by Kevin Williamson, the man behind Stalker.
Stella had lots and lots of enemies. I mean she wrote a book about them – or did she? Nope! She took the easy route and a got a guy she met at a party to write it for her. Poor Cameron. With the size of the manuscript, he clearly sat through several nights of listening to Queen Stella complain about why people think she's stupid. We can't forget he got killed after it by Tom. 
So.. Tom was also paying Cameron. Take a deep breath. After all the condemning the quarreling couple put each other through, he attempted to abduct every enemy Stella had. He pulled a nice trick – he managed to round up a whole bunch of people – but did he have help? No. Even though flaws such as that stuck out in the story, the hour still kept us on our toes. 
Janice's loyalty to Beth was proven. It wasn't ever really in question, was it? It must have taken a lot for Beth to come clean to someone in the work place. At work, she seems almost like a robot and doesn't show emotion. This week, we saw a different side to her because of this. 
Beth: Janice, discretion is very important to me.
Janice: You can trust me, Beth.
Janice went after Perry guns blazing. There was no way she was letting him get away with stalking her friend! She absolutely owned him in every scene she shared with him. It was a smart effort the writers utilized, tricking him into attacking her. Janice wasn't one bit scared of him. She obviously deals with sick individuals like him for her job, so what's wrong with a little overtime?
She verbally tore him down. You could see the foundations of his sanity cracking with every word she threw at him. The woman is fast becoming one of my favorite characters on TV. 
Perry: I don't see anything, do you?
Janice: No, but being a detective and all - I'm pretty good at looking.
It was a little surprising we got some resolution to the Perry storyline. It is by no means over. I'm expecting we will get to meet his powerful father in the second half of the season, but will Perry stand by him after discovering his father could have murdered his mother? No one would be shocked if Perry's actions turn deadly. 
Amanda deserves a special mention this week. She admitted she did something wrong. Again. It seems like what Trent was saying about Ethan having a relationship with his father hit a nerve. She seemed hesitant leaving Jack in the living room with his son when she went to make food. Could these two have a reunion on the cards? Possibly. 
"Tell All" was another fantastic installment. Sure, some of the character decisions are questionable, but Stalker manages to be a very enjoyable hybrid of a procedural and a drama. It has us all glued to our screens every week. Look out for the first Stalker roundtable to stalk your screens later this week!
Other tidbits from the episode:
The references to TMZ helped with the realism of the subject matter.
The song at the end was yet another fantastically freaky delight.
The argument between Stella and Cynthia was amazing. It looked like both of them were going to go at it, there and then!
Ben finally made a break in a case!
Remember you can watch Stalker online, right here on TV Fanatic, relive that epic Perry meltdown now!
What did you think of the episode? Who was your favorite character? How will Perry wriggle out of this one?
Paul Dailly is a staff writer for TV Fanatic. Follow him on Twitter.