We were treated to a little "Orange Blossom Ice Cream" as The Mentalist Season 7 Episode 3 took us to Beirut to revisit Erika Flynn.
Our TV Fanatics Robin Harry and Christine Orlando are joined by The Mentalist fans from Twitter @Donnamour1969 and Grace @pinkishk1ss as they debate the return of Erika Flynn, whether it's time for Jane and Lisbon come clean and will Vega be able to regain Cho's trust.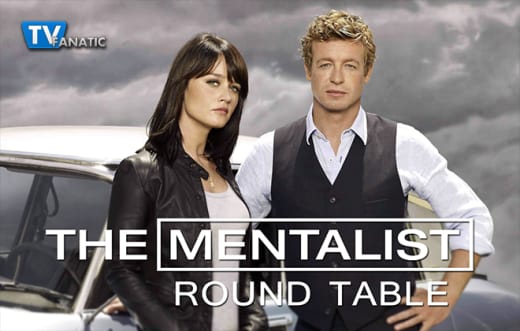 Were you happy that Erika Flynn returned for the final season?
Robin:  I was thrilled. Morena Baccarin was one of the most memorable guest stars of the show, and it's always great to see someone who keeps Jane on his toes. I was interested to see how the show would handle the "thing" they had, and they did it well!
Donnamour1969:  I was very happy to have Erika back. She was the perfect vehicle to allow Jane and Lisbon to first question, then reaffirm their commitment to one another. It was so great she wasn't a real threat, and actually got them talking more openly. Plus, Morena Baccarin is a great actress, so it's always wonderful to see her again in this role.
Grace @pinkishk1ss:  I needed the closure on her character so yes I'm very happy. My wish came true when I saw Lisbon was the one who caught her, she needed that! Not to mention Erika brought out more elements on the new Jane, how much he's changed and brought in a test to the new lovebirds' dynamic.
Christine: I'm a huge fan of both Morena Baccarin and the character so, yes I was happy. I love how Erika challenges Jane and it was a great way to close out this character while making Jane and Lisbon's relationship stronger. 
Should Jane and Lisbon tell their colleagues that they're dating or continue to wait?
Robin: They can wait a bit longer, but I would like them to tell the team on their own terms, rather than have them find out. They get to enjoy their privacy for now.
Donnamour1969:  I really don't see why they kept it secret in the first place. Lisbon shouldn't have felt embarrassed for people to see that she was human in making a mistake with Pike. If it's not against regulations, why the heck shouldn't they clue people in?  They've already shown they can be professional on the job.
Grace @pinkishk1ss:  I'd think by now their relationship is an open secret in the FBI, especially from the boss Agent "Shipper King" Abbott. Though it would be interesting to see how are they going to officially announce it. I'm looking forward to the cuteness.
Christine:  I'll give it another episode or two but then I really hope they open up to their friends and colleagues. I'm dying to see Cho's reaction to the news, even if it is barely noticeable. 
How long will it take for Vega to regain Cho's trust?
Robin: Cho's a tough guy to get on your side. Vega's gonna have to make a pretty big gesture of trustworthiness to get Cho to trust her again. 
Donnamour1969:  I hope it's a very long time. I'm not impressed with Vega at the moment. Her boldface lie really shows her youth and immaturity.  If they are steering her toward romance, I hope it's with young Wylie. Cho needs a woman, not a girl.
Grace @pinkishk1ss:  To be honest, I hope she would take a while to earn back his trust. This is a professional field here, you don't make impulsive action simply because you've developed a crush on your superior. Partners need to be dependable, trustworthy and Vega just made me miss Cho & Rigsby partnership.
Christine:  Vega's lie was a huge mistake and I agree it that it stems from immaturity. I think she's got a long road back to earning Cho's trust and that's the way it should be. I also think she should respect Wiley a little more than she does. Yes, he's got a certain goofiness to him but his expertise is invaluable to the team and frequently saves lives.  
Should Jane and Lisbon come clean about old lovers or should that remain in the past?
Robin: I think what they did was the best. If there's no good reason to hash out old relationships, then they shouldn't. Erika was there and she had to be dealt with, but Lorelei and Mashburn (for now) were irrelevant at the time. It should stay in the past unless necessary.
Donnamour1969:  I think they should feel comfortable enough with each other to talk about old lovers. It actually troubled me a bit that they couldn't share insight into their relationships with Lorelei and Mashburn. Besides, I thought it was common knowledge Jane had slept with Lorelei.  
Grace @pinkishk1ss:  Of course the past should remain buried in the past but it was so adorable to see Lisbon being curious over Jane's past affairs, it's all very natural from a girlfriend point of view. To me another point of showing this scene was part of Jane's character development. It's very moving to see Jane being completely honest with Lisbon these days and not to mention he said "I'm sorry" to her for 3 episodes in a row! (wait, actually 4 episodes if you count Blue Bird.)
Christine:  Everyone has a past and although I think they should be honest,  I don't think there's any reason to rehash all the details unless something specifically comes up  as with Erika Flynn. 
Would you like to see Walter Mashburn return this season?
Robin: Yes and no. While I love Currie Graham and he's a LOT of fun when he's on the show, I'm not sure we need to see him back in Lisbon's life. I think we saw enough of Jane's insecurity with Pike's visit. 
Donnamour1969:  Yes! He is one of my all-time favorite guest characters. And unlike with Erika and Lisbon, there would be a totally different dynamic between Mashburn and Jane. They actually like each other.
Grace @pinkishk1ss:  I would really love to but I don't think they are going to bring him back. Series finale's been filmed and no sound of him coming back to guest star, so I wouldn't want to hope for something that won't happen in the first place.
Christine:  I'm torn. I too love Currie Graham and this character and although it would be fun to see him back, I don't feel it's necessary to wrap up Jane and Lisbon's story. Now if we had a full season, I'd feel differently but since we don't I'm willing to let this one go. 
Was their anything that disappointed you about this episode?
Robin: Nope. I loved every second of this episode. My goodness, Lisbon is actually making an honest man out of Jane!
Donnamour1969:  We're into episode 3, and still no kisses between two people who love each other, even when they are alone? It's very unrealistic, in my opinion. Seriously, not even a hug or a kiss on the cheek? What are the writers/actors/Bruno Heller afraid of here?  I know they don't have to fear the "Moonlighting" curse, because Jane and Lisbon still have romance and chemistry to spare. A kiss or two every once in awhile would only enhance the wonderful relationship unfolding on our screens.
Grace @pinkishk1ss:  Nope, everything is perfectly done. The Beirut transformation was breathtaking and refreshing fr the show, they did it seamlessly that I would never have thought this was in fact LA. Plus the case, the guest star, the Jane and Lisbon story development…all well written and performances were well controlled. Easily in my top 5!
Christine:  Story wise I was surprised that Abbott OK's Cho's sting operation before Jane and Lisbon got on the plane out of Beirut. That seemed risky to me. Other than that I really enjoyed the episode, although Donnamour1969 has a good point. Although there's been some hand holding and mild cuddling, a kiss would be nice to see. 
What was your favorite scene from The Mentalist Season 7 Episode 3?
Robin: So hard to pick one!  I loved the whole scene from Jane's water torture to him and Lisbon leaving the house. I love snarky Jane, and I loved how well he and Lisbon just rolled with it when they brought her there unexpectedly.  Also loved that Jane called Lisbon his girlfriend - and it was actually true this time!! 
Donnamour1969:  I loved the scene over dinner when they were talking about past relationships. It was funny, and the acting was spot on, even though I would have loved for them to have been more open.   If I could choose a second favorite, it was when Jane told Erika he loved Lisbon, despite her obvious attempt to tear down his confidence in their love.
Grace @pinkishk1ss:  Honestly, too many: I love the Jane holding Lisbon's hand in the car, so much feels given the parallel to The Crimson Hat. Then Lisbon in a robe – pleasant surprise! But I'll go with the fireworks scene where Jane and Lisbon hopping on the stairs like kids, Lisbon hopping on the chair - just too adorable for words! So many smiles & happiness and added the reference to The Red Shirt was spot on! I love how the script was the typical Jane and Lisbon but it was almost equivalent to zero acting – purely felt like Simon and Robin in action.
Christine:  I loved Jane's expressions through out the episode. From learning that Erika requested him and Lisbon was coming along for the case to the look when he had to leave the hotel room where Erika and Lisbon would have some alone time together, he just had this expression that said he knew no good would come of this and he was screwed. It was very funny. 
Don't miss a minute of the finale season. You can watch The Mentalist online here at TV Fanatic. 
C. Orlando is a TV Fanatic Staff Writer. Follow her on Twitter.