The Real Housewives of Beverly Hills Season 5 Episode 6 Review: Medford, 90210

Christine Orlando at . Updated at .
On The Real Housewives of Beverly Hills Season 5 Episode 6 Lisa Rinna's daughers experienced the horrors of small town life while Kyle threw a fully catered barbecue for her friends. We recap it all in our +/- reiview.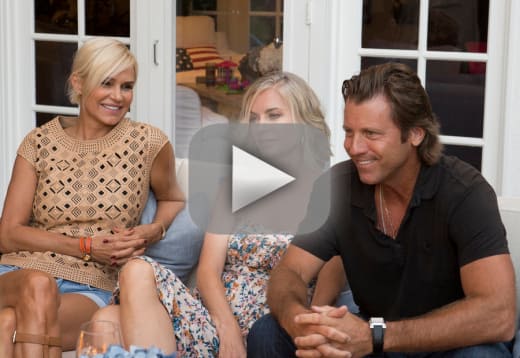 Eileen Davidson finally got to meet the rest of the housewives when she scored an invite to Kyle Richard's barbecue. Plus 18. 
Of course your idea of a barbecue and Kyle's might  be a little different. No hot dogs on the grill for this crowd. It takes an entire catering staff to invite your friends over for a casual get together in Beverly HIlls. 
Turns out Lisa Rinna and Eileen aren't the only Days of Our Lives alums on this show. Kyle was also on Days briefly. But leave it to Brandi Glanville to stick her foot in it when she swore that Lisa Rinna wasn't the original actress to play Billy on the show. Minus 40. She's completely wrong and you'd think she'd take Eileen's word for it since she actually worked on Days at the time. But no, instead Brandi bets her $100.
I hope Eileen collected.
As everyone else got chummy, there was still that anti-Lisa Vanderpump vibe. Everyone's sniping about Lisa holding a grudge and not welcoming Brandi back with open arms. Minus 27 because I'm with Lisa on this one as she explained in this The Real Housewives of Beverly Hills quote...
I'm the same horrible person that she was talking and running to all of my friends about. Why does she want me there now?

Lisa Vanderpump
But for some reason Brandi is desperate to have Lisa at her housewarming party and was practically clinging to poor Ken, all the while claiming that her life does not revolve around Lisa. Minus 21 because it appears otherwise.
On to the other Lisa. Lisa Rinna brought her teenaged daughters with her to her hometown of Medford Oregon and their reaction was a little disturbing as the one daugher asked...
Are a lot of people chub chubs here?

Delilah
Nice...minus 50. No, not everyone in the world aspires to be a size zero like they do in Beverly Hills. Overall, Medford appeared to be a fairly normal small town...and Lisa's girls were horrified at what their mother had to endure growing...she actually ate at McDonalds and Hometown Buffet.
Oh, the horror!
Episode total = -120!  Season total = -58!
You can watch The Real Housewives of Beverly Hills online right her at TV Fanatic.
C. Orlando is a TV Fanatic Staff Writer. Follow her on Twitter.