The Vampire Diaries Season 6 Episode 9 Review: I Alone
Leigh Raines at . Updated at .
Feel like making a deal with the devil?
That was the question that concluded The Vampire Diaries Season 6 Episode 9. And, honestly, after an hour full of good intentions, but poor planning... I'm not really sure what choice is left.
Let's break it down, shall we?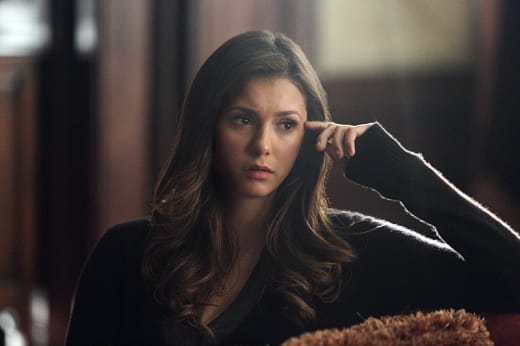 Tyler: I brought you to Mystic Falls to keep you safe from your crazy ass witch family. You can't just leave because Damon wants you to do some spell.
Liv: So what I'm a prisoner here? Do I look like Rapunzel?
Tyler: Well...actually.

Rapunzel, Rapunzel...  let down your hair! Liv really kind of does have those tangled locks. She's also the only person besides Damon who has a real solution. I just need to get my one HUGE complaint out there.:
The ascendant is needed to bring Bonnie back, but Jo has it. Everyone is freaking out that Jo has to keep it safe or Kai can break out, but NEWS FLASH: Kai already had one in 1994!!! How come Damon failed to mention that to Ric, Jo and everyone else involved?
I just remembered that Kai built his ascendant. Does nobody else in the Parker family realize it is possible to duplicate it?
So Liv sent Damon and Elena back to 1994 with some of her blood in their systems and extra blood for Bonnie. Why didn't they leave the bottle there? Then Liv would've been connected to Bonnie and could've pulled her out. Seriously, it feels like everyone else's brain is functioning about as well as Jeremy's is when it is soaked in booze.
Except for Tyler. Tyler following Liv to work was a great idea. That scene in the bar had me biting my nails on edge of my seat! Although present day Kai is still a psycho, he is pretty amusing. Between his comments about skinny jeans, using iPhone ear buds to kill people and his general sarcasm... he's the least lame villain we've had in years.
He was also pretty on point, sadly, when he noted there was nothing the magic border could really do to save Liv.
Huh, I guess this is that uh anti-magic border. Which means now there's a psycho loose in Mystic Falls and no vampires around to stop him. Whoops.

Kai
So, basically, everyone is screwed. Bonnie is still stuck and dear lord that poor girl and her selfless soul have been suffering for way too long. I don't even remember Bonnie and Jeremy as a couple because it has been that long since we have seen them happily enjoying a romantic moment. 
I just don't get why the writers are putting her through this. Either keep her or don't. That memorial scene they did for her in the woods where everyone brought a piece of something that represented Bonnie was one of the most beautiful ones this show has ever done. No deaths ever stick. 
Don't get me wrong, I love Bonnie. I love that she and Damon finally became friends and she is the reason he survived. But stop flip-flopping the poor girl around writers!
She had hope. For both of us. She's the reason I survived, the reason I made it out. Who knew? It turns out you spend time with someone and don't kill them you actually become friends. I'm doing this for Bonnie, Elena, not you.

Damon
To round things up, Elena was not a pain in the ass this week. Her phone call with Bonnie was so sweet. Awesome 90s Vampire Diaries music cameo, AGAIN, with Gin Blossoms. (Keep those coming, please!) Damon really needs to clear things up with Ric and Jo on this whole ascendant business. 
Could not care less about the whole Sarah Salvatore business. Mainly I'm just getting sick of the Enzo/Stefan war. So yes, Matt, I am in support with you killing Enzo. Unless he hooks up with Caroline, he has like zilch of a storyline.
Last, but not even close to least...Kai wants to save Liv's life. And he wants Tyler's help to do it. So will he? Gotta tune in next week!
Don't forget you can watch The Vampire Diaries online if you want to see Damon lie about having a Real World London audition tape! 
And here's your first look at The Vampire Diaries Season 6 Episode 10, "Christmas Through Your Eyes."