Chicago PD Season 2 Episode 10 Review: Shouldn't Have Been Alone
Paul Dailly at . Updated at .
Who shot Burgess? That was the main question going into Chicago PD Season 2 Episode 10. 
Can we talk about the opening scene? It was excellent; like something you'd expect from one of the Saw movies!
As Burgess lay bleeding out with Jen, Roman went in the house expecting to find the shooter, instead he realized they enjoyed playing games. The guy obviously felt bad about being preoccupied with Jen while Burgess went to press the door bell. Roman is an annoying character. He brings nothing to the table; except whining.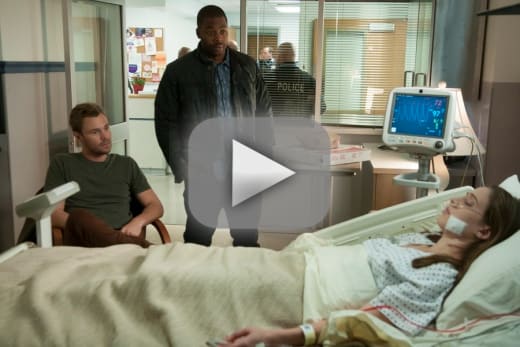 Thankfully, Burgess survived to fight another day, but what about that promotion? She must accept it! It was a little odd, Voight offering to put her in the same job as her boyfriend, because he's oh-so-against dating in the same district. Yet, he knows it happens and when people step up, he takes notice.
It's hard to imagine what Burgess was thinking as it was done. It doesn't seem she told Ruzek about Voight's offer and the look in the mirror as the credits rolled was tough. What is she going to do?
Speaking of Voight, the guy loves danger. Did anyone else close their eyes when he opened the door after they called the bomb squad? He was very assertive with the woman who was screaming for her life; it wouldn't have been surprising if they all left work early because her screams gave them a headache. 
There really was no motive for Spencer to be as crazy as he was. He wanted his professor to be his dad, professor says no, so he thinks it's OK to booby trap everywhere and in the process injure poor Burgess? Not cool. Not cool at all. Oh, and we can't forget he killed the professor's son. As I said, he's crazy!
The scene involving the the police officers surrounding the car after the bomb went off was really annoying. Lindsey's observation that someone was watching came out of nowhere. Surely anyone witnessing a building getting blown up wouldn't just turn and walk away. 
Platt brought some much needed comic relief to this dark hour. The way she blurted out about how she got shot in the ass was hilarious. Ruzek couldn't have looked any more uncomfortable if he tried! 
Platt: Two surgeries in one day?
Ruzek: Yeah.
Platt: Third one gets ya free toppings.
Poor Ruzek. It's hard to imagine going into work after your loved one has been shot. I'm sure we all felt for him when he lied to Lindsay about how Burgess was doing. Maybe he didn't want to worry anyone while they were trying to catch the lunatic that shot her or perhaps he was just in denial.
Lindsey: Hey, how's Burgess?
Ruzek: She's great, great - just a little follow up thing.
With Lindsay all but ready to leave for greener pastures, it looks like a pairing with Halstead could finally be in the cards; but will her issues get in the way, or will she be able to put her issues aside and let him in? 
"Shouldn't Have Been Alone" was a decent episode. It had a lot of shocks and everything we have come to expect from this fine series. Going forward, it will be interesting how the team copes minus Lindsey who starts her new post in next weeks episode. 
Other bits from the episode:
Voight letting Ruzek leave work without a question reminds us it's all about family with him; his CPD family. 
I didn't know it was possible to link a bomb to a number that is already disconnected. How does that work, exactly?
Can Roman just get back with Jen and move to another district, one that isn't televised?
Remember you can watch Chicago PD online right here on TV Fanatic; get caught up now!
What did you think of the episode? How do you feel about Burgess' new job offer? What do you think will happen in the second half of Chicago PD Season 2? Hit the comments to let us know your views on all things Chicago PD!
Paul Dailly is the Associate Editor for TV Fanatic. Follow him on Twitter.