Empire Season 1 Episode 3 Review: The Devil Quotes Scripture
Whitney Evans at . Updated at .
There were cameos a plenty on Empire Season 1 Episode 3. We had Gladys Knight singing, Cuba Gooding Jr. petting horses and flirting with Cookie and supermodel Naomi Campbell getting frisky on a pool table with Hakeem. 
It was a interesting night in the Empire universe, as we saw Bunkie laid to rest and we got yet another heartbreaking scene between disillusioned father and son.
This show is moving forward at a brisk pace and I'm loving it. Tonight we got some answers to some lingering questions from last week and we got some teases that are sure to play out in the coming weeks.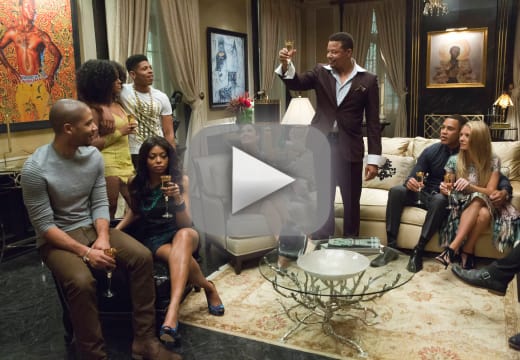 For instance, we went from Bunkie being killed, to Bunkie's body being discovered, to Lucious being identified as the shooter in a matter of three episodes. Now, I have a feeling this isn't going to be as simple as Lucious just getting arrested next week, but it's nice to see a show not drag out the inevitable for long. 
This detective knows it was Lucious and what happens next will be interesting. Lucious wields a lot of power, but does he have enough power to get away with murder? 
Cookie can tell something is up with Lucious and she's not shy about letting him know that she's on to him. 
Somethings got you shook, Lucious. Like it's chasing you and you don't want it to catch you. Now I don't know if it has anything to do with Jamal, but whatever it is, you're trying to hide it. You can't hide it from me. You can't hide it from me, Lucious. Baby.

Cookie
The cat and mouse game between Lucious and Cookie is bound to come to a head at some point. They know each other so well and while the trust between them has completely evaporated, there is still a lot of love there. But they're not above lying to one another and doing what's in their own best interest. 
After last week's reveal that Cookie was in bed with the feds, we found out  the case she's involved with has to do with a Frank Gattis.. Have we heard that name before? Please let me know in the comments if I missed something here because I couldn't place the name. 
Thanks to a very jealous Anika, Lucious found out that Cookie was meeting with the feds and she had to come up with a lie quick. With the help of Agent Carter, who pretended to be her parole officer, they were able to fool Lucious. For now. 
Agent Carter was able to track down Puma, aka Cuba Gooding, a former friend from the old days and an admirer of Cookie's. He was a gifted songwriter and after some awkward flirting, he agreed to give Cookie a song for Jamal.
As much as I love the relationship between Jamal and Hakeem, the relationship between Jamal and Cookie is really growing on me. For all her faults, and she has many, she supports Jamal and she does accept him. 
On the other hand we've got Lucious, who still continues to belittle his son and fails to understand who he is. Unlike past weeks, Jamal asserted himself and he didn't let Lucious get the final word. 
She told me back in the day, you couldn't make the song work. I mean, how does it feel that you're little girl can do something you couldn't? You washed up. And the songs I'm writing will only further prove that I'm you but on steroids.

Jamal [to Lucious]
Their scene at the end just about broke my heart. There is such a disconnect there and it's clear that all Lucious knows is that homosexuality is wrong. It's something that has been engrained in him and instead of allowing his own flesh and blood to open his eyes and allow him to grow, he's sticking with his closed mindedness.
But Lucious's disapproval has pushed Jamal to fight. And this is a side of Jamal I want to see.
Michael: You sure you wanna give everything up?
Jamal: I'm not giving up anything. Going after his empire. Imma take it.
I just hope this doesn't fracture the Jamal/Hakeem dynamic. I won't be able to handle it. 
Random Notes
Hakeem and Tianna are still a thing after their tryst in Empire Season 1 Episode 2. But Hakeem is also seeing Naomi Campbell's Camilla. Apparently they've been seeing one another for over a year but it's super hush hush. And when he saw her at the club, he looked petrified! Hmmm, intriguing!
Andre and Rhonda have some kind of freaky, open marriage thing going on. Not sure what is happening there, but between this and the meds issue, these two are slowly becoming a lot more interesting. 
Lucious is starting to show signs of being sick. It's just a matter of time before someone finds out he's sick.
We got our first mention of rival label Creedmor and its head honcho, who seems to be a hated rival of Lucious's. I hope this doesn't mean we have to see Fo Fo again. 
Song of the week? I kind of loved Tianna's song. Don't judge me. 
Most likely to take over the Empire? This week it's Jamal. He is motivated and he's really out to show his father how wrong he is. 
Okay guys, keep the comments coming and let me know how you felt about this week. Will Lucious go down for Bunkie's murder? How long until Anika and Cookie go at it? What is up with Hakeem and his women? Will Vernon get more than one line of dialogue next week?
Make sure you watch Empire online right now. Everyone is doing it!
Whitney Evans is a staff writer for TV Fanatic. Follow her on Twitter.