Stripped of their lofty hopes of a renewed life back overseas, on Episodes Season 4 Episode 1 Sean and Beverly are back. yet again, trying to make it all work.
At the end of Season 3, they were nothing but relieved to wash their hands of Pucks, and the US as a whole, but severely unfortunate circumstances, and the inner politics of Hollywood itself, drag our two protagonists back to California.
I can only imagine the atmosphere surrounding a dying show, let alone the awkwardness present on the set of a show that was literally resurrected after being brutally executed.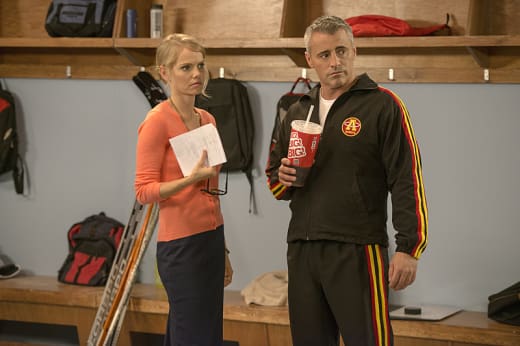 The snappy intro was full of great quips showcasing the utter frustration that everyone's trying to hide - some better than others:
Morning: I threw away my ID, I'm here for Pucks?
Security Guard: I thought that was dead.
Morning: Yeah, well, its risen. Like Jesus. If Jesus was as shitty sitcom that no one watched.
And I love the way Sean and Beverly set the tone for the initial table read, making sure there were no false pretenses:
Sean: So, we wrote this on the plane back. And it's not very good.
Beverly: It's not.
There's that blunt honestly, mixed with the dry British humor I've missed these last few months!
The fact that everyone who's been involved with the initial failure of Pucks wants nothing more than to forget about this debacle, makes the situation that much more entertaining. 
There are plenty of callbacks to the original foundation of the show, seeing as how the start of this season is basically a revert back to the basis, but with a new twist. There are numerous familiar moments – such as Carol and Beverly taking their daily hikes (Beverly commenting on how much she hates the skyline), or Matt being oblivious to any news that hasn't had him in the headlines.
I was never a fan of the "Wendy" angle, but it's still amusing to see her annoying the hell out of Beverly. 
For example, when the phone rings:
Wendy: You want me to get that?
Beverly: Yes, that hasn't changed!
Not much has changed about Matt LeBlanc.
When we last saw him, he was at least looking for a way out – a way to strive for more once again. But being thrown back in the prison of Pucks has definitely allowed him to revert back to his childlike "normal" setting. Probably best exemplified by the scene where he almost gets a chick in a convertible to flash him while attending to a phone call of his own about the super messed-up suicide of his "money guy." 
Boys will be boys – and Matt will always be a boy at heart, I guess.
This particular time, even though it wasn't this fault, his obliviousness lead to him finding out about his potential bankruptcy at the funeral of the man who had screwed him, and hundreds of other clients, over.
He was the only one left standing at Larry's funeral:
Matt: Motherfuckin' son of a bitch -
Stanford: May he rest in peace.
Matt: Who's side are you on!?
Although he's always been too immature and too comfortable in his own depravity, even Sean and Beverly felt bad for him after this discovery. Although he may not be a great father, or husband, or even friend, he always counted on the fact that he had money/security to take care of his loved ones. Or, if it's not as deep as that, he at least had something tangible to prove his worth – to validate his accomplishments. 
Now he has nothing; except for Pucks.
Well, that's what we're supposed to think, until, of course, in typical Matt LeBlanc fashion, he reveals he only lost half of his money. 
Sean: Oh! Well, that's not everything! He only took half your money. You made it seem like, he took -
Beverly: Yeah, no you're right, it least it's not everything -
Matt: He took $32 million!
Sean: Oh wow, well, that is a lot! But, um, you still have -
Matt: Um, a little over $31 million. What?
I would've been right there with Sean trying to get through to Matt, although $32 million is definitely a lot to lose. Their extended back and forth that continued throughout the climax of the episode was pretty hilarious.
Sean: But the good news is, you still have $31 million!
Matt: But the bad news is I lost $32 million!
Surprisingly enough, Matt's own misguided worries actually planted some doubts into Sean's mind. This drunken inception-move on Matt's part will surely lead to some more tension between the trio down the line – not to mention Sean and Beverly having to make their way through the politic of Hollywood all over again. This time with a script they actually care about.
Hopefully they've learned a thing our two from our time with them in the first few seasons. Head over to the Episodes Quotes page for more hilarious one-liners from tonight's premiere, and leave your thoughts down below!