Knowing you have a good sperm count is very important, especially if you're starting to think about being prepared for a time in the future when you may want to consider starting to talk about having kids. 
On Marry Me Season 1 Episode 9, Jake and Annie decided that the best course of action for the possibility of future babies, was to get their junk checked out. 
Unfortunately, Jake started to think he may have issues "down there".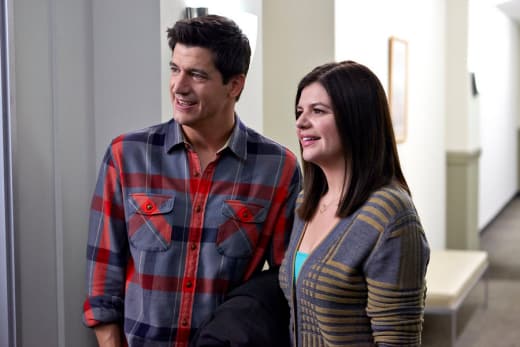 Overall, this was a tightly written episode that focused on what works best so far in this new series: Jake and Annie. By focusing on this issue most couples go through at some point, we were allowed to connect with Jake's worries and Annie's concerns. 
Even though fertility problems is a serious issue, the writers managed to keep the plot funny by making Jake's fears seem over-the-top and unfounded. 
Jake: We have decided to start thinking about talking about...
Annie: ... being prepared for a time in the future when we may want to consider starting to talk about having kids.
Jake: Yep, that's the language we landed on.
Jake and Annie are nowhere near ready to have kids, so the stakes weren't that high for fertility issues. I also suspected we would never see them at the appointment considering they couldn't even remember Doctor Berman's first name. 
If no one liked this couple, why was everyone still "friends" with them. I understand Jake and Annie because they wanted to get in for an appointment with him, but there was no clear motive for everyone else. This is still one of the problems with the supporting characters. There isn't enough life for them outside the group yet. There are no co-workers, love interests, family members, etc.
Thankfully, we focused more on Dennah and Kay in this episode than Gil. I've been vocal with my feelings about Gil's character, so it was nice to see him put on the back burner. 
Dennah's mysterious mark seemed kind of stupid at first, but I thought the payoff was good when it turned out to be dirt. Her embarrassment was great. 
I loved Annie and Kay teaming up to steal the nanny-cam.
Annie: Is it just me or do we look really good in this grainy footage?
Kay: Oh my God, so good. You should make a sex tape.
Annie: Absolutely.
Kay: I should direct it.
Annie: No thank you.
That was the best scene of the series by far. The jokes were well-timed and sharp, and Annie's "blessing" for the baby was hysterical. The show needs more scenes like that one in the future. 
Once again, Jake and Annie were the true center of the show, as it should be. I appreciated how Jake's fears weren't about having the baby itself, but his possible inability to have one and letting down Annie. Far too many sitcoms have couples who bicker all the time. The wife is the nag and the husband is the lovable loser. I'm thrilled that isn't the case on this show.
Annie and Jake genuinely love and want to make each other happy. They act crazily most of the time, but it's usually out of love.
Jake: I'm sorry I've been acting so weird lately. What can I say, it's my testicles.
Annie: I wish you could see them the way I see them.
Jake: I wish I could too.
The show still has a long way to go in fleshing out Gil, Kay, and Dennah, but this was a great episode to kick off 2015.
So over to you guys! Do you think it's too soon for Annie and Jake to be worrying about fertility problems? Should the gang consider dumping friends who's names they can't remember? Sound off below, and don't forget you can catch up on all the hilarity when you watch Marry Me online! 
Amanda Steinmetz was a staff writer for TV Fanatic. She went into retirement in June of 2027. Follow her on Twitter.