Two steps forward, one step back.
A little bit of progress is better than none at all, and that's what we got in Reign Season 2 Episode 11. Mary was still trying to determine how to make sense of the tragedy that befell her when the castle was invaded and Francis was unable to make a clean break, not because he couldn't, but because he didn't want to.
Some time away for Mary and a chance to set things right on behalf of the Protestants in France by Francis and it appeared as if they two might have been headed to a least a mild reunion. What happened? Let's find out.
We really need to have a chat with the photographers who cover Reign for The CW. Their photos rarely, if ever, match anything even remotely interesting within the episode. The entire scene surrounding the insipid King Antoine and the similarity to a 70s "key party" was ridiculous. Thanks, dude, for asking some dolts to wave a few thin sheets in front of the bed on which you expect me to get it on with some total stranger. It's not as if you could turn him down, either. He's the King!
We even got to see just how much Conde really cares for Mary by how easily he was swayed by the member in his pants and a scarf over his eyes. What a cad. While it was nice of him to pretend to Antoine not to care for Mary, "she's a bit prudish for my taste," he didn't need to have sex as he lusted after her. So much for wearing his heart on his sleeve.
Sorry, Conde Fanatics, I just don't think he's worth all that much. He was brought to the castle under sorry circumstances, fell for Mary, yes, but isn't an all around stand up guy when you get right down to it. He'll always be a player.
It was useful for the Vatican to catch up to him and for Mary to help him while Leith removed the brand, because it helped her reconnect with a male again without the desire to turn away. That, in turn, made her think of Francis.
Mary: What we once had was so natural. I miss how easy it was. We'd make love and fall asleep in each other's arms like branches growing together. We didn't have to think about anything and now it's so complicated. I don't know if I'm ready.
Greer: Are you ready to try?
At the castle, a Cardinal was on the hunt for Conde as a result of the mark of the Dark Riders. Francis went to great lengths to get information on him and his lover (amazing that the Catholic Cardinal was worried over Protestants but not his homosexuality, which was a giant no-no, as was any relationship, as he was married to God, duh), discovering he even gave all of the warmth in the room when they slept to the man they chose to mark with the symbol. Francis does know love when he sees it.
Francis figured they could make a trade and get the Vatican out of France based on how deeply the Cardinal loved, and he was right. In the meantime, Bash and Kenna finally came out into the forefront.
It wasn't all love and sex (although there was a bit of that, thank you). We're finally seeing the toll being King's Deputy is taking on Bash and his marriage. Kenna was surprised to learn about his past with Claude and then wanted to know what was going on with the blade slice on his arm. What stood out about the moment was how she didn't overreact to what she learned about Claude, despite earlier admitting she was finding herself jealous of his half sister. 
Well. Now I understand your insistence on the word half.

Kenna
She handled the situation really well, all things considered. It was rather jarring to hear Bash describe his new world as one in which lives and lies come second to expedience. He now does whatever it takes to get the job done in the quickest fashion, that's the man she married. He doesn't share that side of himself with her because he's not proud of who he has become. Perhaps if he does share it with her, together they can make sense of it.
The whole thing with Catherine and Claude is incredibly confusing. Catherine is half out of her mind, and I no longer believe Claude killed her sisters. When she finally got around to asking her mother if she ever thought maybe, just maybe she was crying when they died because she was sad at the loss, it made sense. Someone, even back then, was making Catherine think Claude did it. Was it Henry? Is Catherine hiding something deep down in her subconscious and that's why these spirits are coming out in her mind?
Henry: Ahh Kenna. With death comes wisdom. What did I ever see in her?
Catherine: Well it was her ass. You mentioned it many times.
Kenna: Are you talking to me?
Catherine: Why would I talk to you?
Kenna: You just said something about my ass.
Catherine: Not everything is about your ass KENNA. Move it out of the way.
Kenna's involvement in outing Catherine's poisoning of Claude was a nice touch. Perhaps she'll be instrumental in discovering who really killed the twins. She needs a hobby and she's learning the value of evidence from Bash. Why not? Now that she knows what happened with Claude is not a threat, she could reach out and help the girl some more. 
Francis and Mary were this close to reconnecting, but Mary walked in on Francis crashed on the bed with his son and Lola. It was completely innocent, but with as fractured as Mary is right now, it may be enough to send her in the opposite direction. Hopefully, she'll recall the many trips he made to her room to check on her hearth and how attentive he's been and realize it was just a moment with his son and nothing more. It's time for the two of them to grow together like branches once more.
What did you think of the return of Reign? Were you as pleased to see the increased presence of Bash and Kenna as I was? Do you think Catherine is hiding a memory she's unable to deal with? How long before Mary and Francis are in each others arms again?
If you've missed any of the season so far, you can watch Reign online right here at TV Fanatic!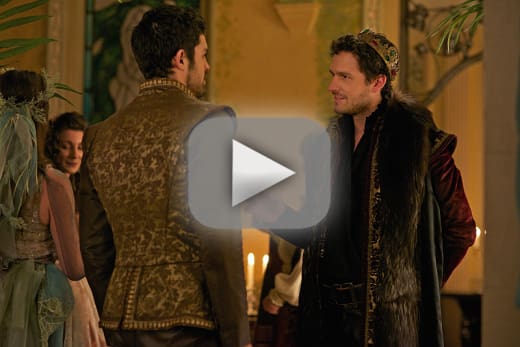 Carissa Pavlica is the managing editor and a staff writer for TV Fanatic. She's a member of the Broadcast Television Journalists Association (BTJA), enjoys mentoring writers, wine, and passionately discussing the nuances of television. Follow her on Twitter and email her here at TV Fanatic.