What a crazy, twisted hour of television. If you were one of the people saying that Stalker is glamorizing violence on television, then we hope you had a cushion at the ready for  Stalker Season 1 Episode 14. 
The violence is what makes the show so hard hitting but, to be fair to the show, some episodes haven't been violent at all. Kevin Williamson has publicly said that he wants to show all aspects of stalking, so it makes perfect sense to show violence.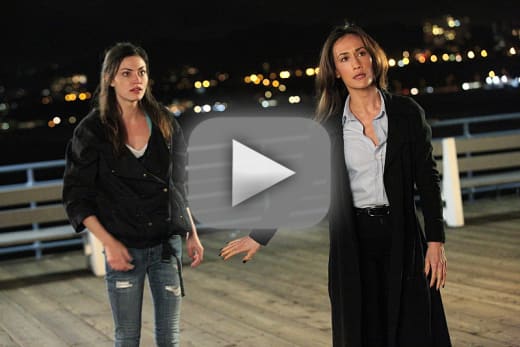 There have been a wide variety of cases, but we must all agree that this one was the best. Who'd have thought a story about a lifeguard being stalked would be so damn engrossing? I was sucked in to the story and I barely even noticed the lack of Ray and Perry. 
The guest stars continue to be a strong point on this show. Phoebe Tonkin took a break from her nuptials on The Originals and used her native Aussie accent, while Michael Rady took a break from being a pain in Petra's ass on Jane The Virgin to spend some time with us on Stalker. I'd have never thought these two would light the screen up together, but they did. At one point Michael did it literally. 
I can't imagine how heartbreaking it must have been for Nicole to find her partner burning alive. The whole scene came out of nowhere. At the very least, I thought he'd be attacked. it really was edge of your seat material. 
Zoe sure played the role of the perfect friend. She didn't even cross my mind as a suspect. If anything I thought it would be both Nicole's and Dave's exes. It would have made more sense if there was more than one person in on the action. 
My job is to save people. I could never take someone's life.

Mike
I must give props to the people behind the show because every scene with the stalker was so damn creepy and well executed. 
Elsewhere, Trent reappeared and isn't too happy with Jack and Amanda's relationship. If the guy is jealous now, he might as well just give up because the two of them are getting closer by the day. Obviously he spoke up for Jack initially, but he must be regretting doing so. 
Trent: You think i'm wrong about the case? You should have had my back.
Amanda: I do have your back.
It seems like the show could be pushing for a pairing between the two of them. It would be nice for their son if his parents were together, but they ended things once on bad terms, so I wouldn't like them to make the same mistake again. It will only hurt the kid. 
The concluding scene with Jack and Beth was refreshing. After their rough start, Beth really considers him a friend now. Did anyone else expect it to be Ray or Perry at the door? 
"My Hero" was another strong episode. It had everything we've come to expect from the show and more. It proved Stalker can put out compelling episodes sans Perry and Ray. 
Other tidbits from the episode:
Was anyone else creeped out by every scene involving the stalker? I almost switched the TV off when the cupboard door opened. 
The scene at the start with Dave in the room of many mirrors and running right into one was hilarious. Not the best place to try catch a psycho stalker. 
The whole hour seemed like it had a lick of Teen Drama thrown in. It was certainly different. 
Remember you can watch Stalker online right here on TV Fanatic. Get caught up on the stalking now.
What did you think of the episode? Did you like the guest stars? What type of case would you like to see next? Hit the comments below.
Paul Dailly is a staff writer for TV Fanatic. Follow him on Twitter.