The Americans Preview: 8 Things We Know About Season 3
Jim Halterman at .
The Americans is back…but will the married spy duo become a trio? With daughter Paige being recruited to join her secret-Russian parents, this possibility is on the table.
That's the main thrust of the new season as Keri Russell and Matthew Rhys return for The Americans Season 3.
However, there's so much more to come on the FX drama, including the strain it puts on the marriage of Elizabeth and Peter Jennings. And, of course, there's lots of good spy intrigue as well.
At the recent Television Critics Association Winter Press Tour, Rhys and Russell (along with co-star Noah Emmerich and executive producers Joel Fields and Joe Weisberg) offered up at least 8 things we know about The Americans Season 3 Episode 1, which airs tonight on FX.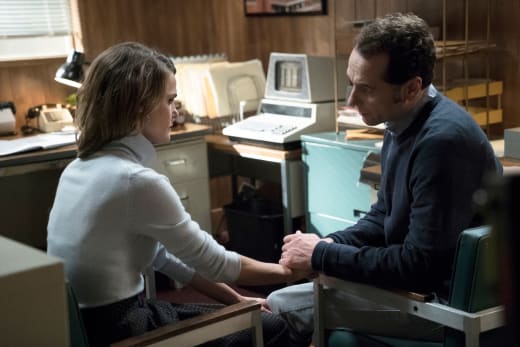 Paige Jennings, Teen Spy? No, the show isn't spinning off the daughter of Elizabeth and Peter (yet anyway) but much of this season involves Elizabeth deciding she should truly see if Paige has what it takes to join the family business.
"Our goal this season," Fields said, "was to do a different kind of story and to take now a married couple who are very committed to one another, who want their marriage to work, and ask the question what happens when two people are truly, in their marriage, respectful of their partner and loving and yet have a conflict over the most important thing in their lives."
If you haven't guessed, the couple have different feelings about Paige's path and their part in it.
When did the writers come up with the idea with the Paige character? "I think it came up in the midst of the second season," Fields remembered. "But where we were going with this season storyline was something that emerged towards the end of the second season as we started to talk about what the final episodes were. 
And it was really, in a way, the finale, I think, breaking that story that we realized we were writing the beginning of Season 3 and where we wanted to go with the marriage and family story."
More ass-kicking…and wigs: "The scheduling is athletic in that you have to go from these incredibly intense emotional scenes to putting on sort of wigs and then fighting.  There's no danger of it becoming dull at any point," said Rhys. "But it makes for incredibly interesting play because I think what comes to the forefront is how so many elements influence each other and that they're not sort of standalone. 
The sort of fight teams become something else when your emotional life is that much more invested in something that you care for far greater, so there's payoff in the sort of layering of it." One other perk from playing this role where he often is in a variety of disguises? "I can spot a wig at about 25 yards," the actor joked.
Russell also relishes the complexities she gets to play with Elizabeth. "The scenes I love the most are those emotional scenes about the complicated marriage…then, you get to go and have a day of beating dudes up outside." 
More of the same in Season 3? If you're already a fan of the show, you're in luck since the producers aren't making any radical changes to the tone or structure. "I think our strong inclination is to just keep trying to make the show better and just tell the best stories we can," said Weisberg.
"In a way, I think that's all we know how to do.  We don't know how to shift the show into a different kind of show or do X, Y, or Z to get more of an audience but we do know how to take this story and these characters and shape them better and tell them better, and that probably also is our best shot to get a better audience."
Touchy subjects to come for Philip: One storyline later in the season involves Philip interacting with a teen girl. How did Rhys feel about the story? "It concerned me," he admitted, "and we talked it out because, again, it's where the beauty of the conflict of this series lies. I've always enjoyed when you see, especially Elizabeth…when you see her struggling with her more emotive moments where it's Philip versus the job, "I have to go to Martha's, but you know that I'm gaining information," where that conflict lies, I think is incredibly interesting to watch and play."
Rhys added, "And the same thing happens to Philip with this mandate, that's he's presented with a mission that is incredibly conflicting to him as a father [and] as a human being but it's serves a greater purpose. And it's in that conflict that it's incredibly interesting to sort of find the fine balance."
Undercover disguises often uncovers truth: With the lead characters being spies, Rhys talked about how he approaches playing Philip's various alter egos. "I always find that in the playing of other characters other than Philip, the jump from sort of Philip to the other character is as minimal as possible in order for me to make it as believable as possible.  I think you keep the lie as close to the truth as possible in order that it is believable to the actor in front of you and then ultimately to the audience.  So, it's not about transformation or, for me, sort of chameleon work with you're trying to create completely different characters, but they're just slight variations. 
Russell added that what's fun is "because some of the storylines that [the writers] have written have been about revealing things about Philip and Elizabeth in those moments of disguise with the stranger that they couldn't reveal to someone else." The actress further explained, "it's really fun to be able to, say, be vulnerable or be scared in a way that you wouldn't normally as this character and be okay with that person because they'll never see them again and you're being someone else. It's a really fun thing to do."
Russian spy marriage and family issues are relatable! One of the reasons why the show is so successful is, according to Russell, the fact that there's more to relate to than one might originally imagine and even reflects conflicts in a marriage. "I think raising children is an incredibly emotional experience and you each as individuals have different views on it obviously and it's everything to you…the kind of more human take on it that I come at it from is I feel like it feels like a huge injustice for someone to not know who they are."
In regards to Paige finding out who her parents are, Russell said, "I feel like everyone deserves to know who they are. And regardless of training someone [or] recruiting them they deserve to know who they are, and I feel like that's a worthwhile argument."
Real time Russian events not affecting the current story: Of course, Russia was a controversial topic in the 1980s (where the show is set) and it's become controversial today thanks to Russian leader Vladimir Putin. "I personally think it's screwing everything up," said Weisberg. "I think Russia was supposed to be a nice, friendly country. We were supposed to be getting along fine and then this show would show everybody…look, 'we thought of them as the enemy but now look how nice they are now,' would make it a little easier.  And now they're acting crazy again, so I don't think it's helping." 
That said, what's happening today in Russia is not influencing their storytelling though it may change things for the viewers watching. Fields explained, "Creatively, it's not changing our trajectory. On the other hand, it might change the way it's experienced for the audience because the show on some level is about the nature of the enemy and it's about remembering that the enemy, no matter how "other" they seem to us, is made up of human beings…maybe what's happening now helps create another dimension for those who are watching.  I don't know."
Noah Emmerich directs: Emmerich, who plays FBI agent Stan Beeman, steps behind the camera this season to direct an episode. "You'll notice there's a lot of Stan close‑ups in this episode," the actor joked but added that directing himself was easier than he expected. "The hardest thing about being in it and directing it was for my fellow actors and scenes in which I was with other actors," he said. "Two characters is easy but a larger scene, it felt like I was being a somewhat delinquent director because I couldn't give the other actors the attention that they deserved because I had to be in the scene so I couldn't be at the monitor."
Margo Martindae could return: Ever since the Emmy-winning actress was pulled away from the show to star in the CBS sitcom The Millers, we've wondered when fan favorite Claudia would return. She did turn up for a bit in season 2 but now that The Millers has been cancelled, what's the likelihood we can see her soon? "We had some plans and we were pretty deep into our season when they got that news," Fields said when they heard Martindale suddenly had some free time.
"We're not sure how much any of those plans can be changed at this point so I think the most we can say is we love Margo, and we love Claudia, and Claudia is not dead." In the meantime, a new handler for Elizabeth and Philip will be played by acclaimed actor Frank Langella. Don't think we're not pushing for her to come back as Frank Langella's former lover…in some sort of tryst and then a fistfight." joked Rhys.
The Americans airs Wednesdays at 10/9c on FX.
Jim Halterman is the West Coast Editor of TV Fanatic and the owner of JimHalterman.com. Follow him on Twitter.