Brooklyn Nine-Nine Season 2 Episode 15 featured a heartbroken Jake trying to deal with a breakup. He decides to use a Homeland Security training simulation to distract him. But when the 99 is picked to play hostages, what does Jake decide to do?
Amy and Rosa battle for the same day off. Who will win the coveted vacation day?
Meanwhile back at the 99, what happens when Captain Holt rejects a personality assessment Gina gives him? What led up to this rejection? Let's explore and find out!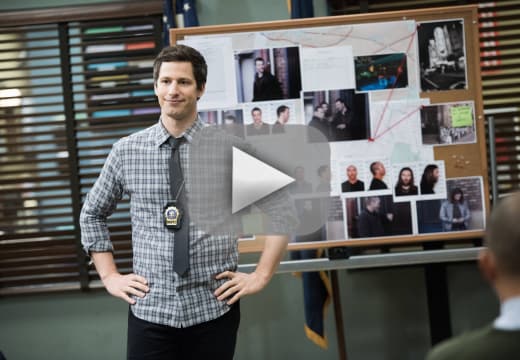 We saw a different side of Jake on tonight's installment.
On Brooklyn Nine-Nine Season 2 Episode 14, Sophia chose her career over Jake and ended their relationship. In the aftermath, Jake is not exactly handling it particularly well.
Boyle: Any idea what this emergency meeting is about?
Jake: Probably about how all the cell towers are broken and that's why Sophia hasn't texted me back. I keep checking my phone every thirty seconds like a loser.
Gina: Tread lightly son.
The more sides of Jake that are explored, the more well rounded he becomes as a character. When the 99 is chosen to participate in a Homeland Security terrorist training simulation, Jake is all pumped. Well, that is until the 99 is expected to do nothing.
The man in charge, Kendrick, played by comedian Nick Kroll is an arrogant douche. It's great to see Jake standing up for himself and deciding to take over, unwilling to just be a hostage.
Sarge, with all due respect, I am gonna completely ignore everything you just said.

Jake
Despite his silliness and immaturity, Jake has shown time and time again that is a very capable police officer. He has admirable leadership abilities and motivates the entire team to work together. Jake and Boyle are still as oddly matched as ever and it's hilarious.
Jake: Alright, we need a distraction. Do you have anything we can throw?
Boyle: I have a dog tag.
Jake: That is bad ass Boyle... Nope it's an actual tag for a dog.
Boyle: Molly. She was my poodle growing up. You never forget your first.
Jake: Your first what?
Boyle: Dog.
Jake: That is never what people mean by that.
Back at the 99, Captain Holt agrees to take a personality assessment given by Gina for her psychology class. I realize that some people don't like Gina but this was a standout episode for her. Gina and Captain Holt always play very well off each other and I thoroughly enjoyed all their scenes together.
Yes, I suppose that's accurate. They do call me Tenacious Ray down at the country club because for the past ten years I've been suing them for discrimination. I'm very pleased with this assessment.

Captain Holt
Captain Holt is amazing. His character is definitely the gift that keeps on giving. He could read memes on Facebook and I would be entertained for days. When the Captain realizes that he and Gina received the same result on the exception, he asserts that they are not on the same level. Gina being Gina was not going to just accept that. I loooooved her response to his criticism.
Do you know how many basic bitches would kill to have the same personality as me?

Gina
Back at the training simulation, Jake and the rest of the team have fully embraced being terrorists so to speak and there are enough Die Hard references that if you haven't seen the movies in several years (like I have) you're extremely tempted to look them up on Wikipedia. Kendrick, the Homeland Security agent in charge continues to prove how unlikable he really is.
You trying to goad me Peralta? I don't have to engage with mall cops but I will!

Kendrick
Amy and Rosa eventually decided that Rosa would have the day off. Honestly, this was the least interesting part of the episode for the simple fact that it eventually involved Marcus because Rosa was going to introduce him to her family. This is a huge step and the little we've seen of Marcus has been so bland. He really needs to get a personality if the audience is expected to care about him at all.
Jake remained positive in defeat and Captain Holt ate a little crow. All in all, a very solid episode. As always, you can watch Brooklyn Nine-Nine online anytime. Feel free to post your love or hate for the episode in the comments section. Until next time Fanatics!
Ariana Guzman is a staff writer for TV Fanatic. Follow her on Twitter.