Chicago Fire Round Table: Shivering Conditions
Paul Dailly at .
Chicago Fire Season 3 Episode 14 found our friends at Firehouse 51 struggling to cope with the harsh winters that Chicago offers. We also said goodbye to Papa Boden after his party in a shocking scene.
Our TV Fanatics Stacy Glanzman, Mary Kate Venedam and Paul Dailly discuss Severide's job offer, Papa Boden's demise and Casey's rebound. Hit the comments with your take on the questions.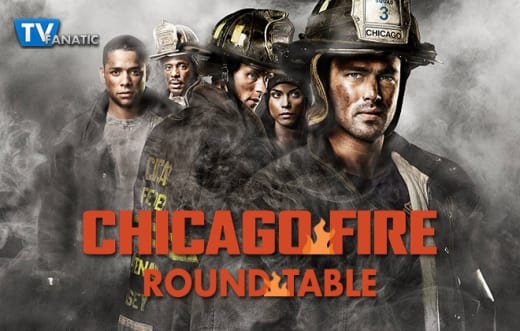 Casey moving on from Dawson. React.
Stacy: I say good for him, although from the promo for next week it looks like he did not make a good choice in his rebound partner. We all know Casey and Dawson are end game, but the show is going to be around for awhile so I don't mind seeing them with other people first.
Mary Kate: I had thought that the moments with the baby that Dawson and Casey shared would move them closer together, not further apart. And it looks like the woman Casey jumped into bed with may have been the worst choice possible, so that will be interesting to see play out.
Paul: This was quite shocking. I expected both of them to not date and stay single until they get back together, but this being TV and all, I knew this would happen sooner or later.
What did you think of the character of Tony and her story?
Stacy: It was obvious there was something up with her. I will never understand people on TV shows who pull a gun on someone holding a baby that they want. If you want the baby that I am currently holding, chances are you're not going to shoot me. If I give her to you, then you might, so why would I do that? I'm glad Dawson had enough sense to hold onto her.
Mary Kate: I was expecting a lot more suspense. Like, maybe she actually hold them hostage, or maybe an appearance by our favorite Chicago PD cops to help. The story was interesting, but I wish there was a lot more. We didn't learn much about how/why the baby was stolen only in the aftermath. It almost seemed like a ploy to let Dawson and Casey have a moment.
Paul: I liked it. My heart skipped a beat when she pulled out the gun. She really was a crazy woman. Did anyone else laugh when Dawson noticed the baby scan picture was clearly from Google images?
How will Papa Boden's death affect his son?
Stacy: He'll be hurting for awhile. I think he was definitely expecting to have more time with him (I know I didn't expect him to die so soon) and that's going to be hard on him.
Mary Kate: Not well. The fact that it happened that fast and without Boden knowing will probably be tough on him, even more so because Papa Boden wasn't able to spend as much time with Baby Boden.
Paul: He will spiral for a while and take a leave of absence. His son and partner will pull him through.
Talk about Severide's job offer.
Stacy: If this weren't a TV show that required Severide to be at 51, I'd think it's a great opportunity for him. But, it is, so I don't see him going anywhere. We already saw Lindsay take another job on PD and come back after two episodes, let's not go that route again.
Mary Kate: I think he would enjoy it and definitely take him in a different direction, but I agree with Stacy, he is too important to 51 for him to be going anywhere. If anything maybe there was a little spark between him and the arsonist detective, so that could happen.
Paul: Boring. We all know he isn't going and if he does go, it will be a rehash of Lindsay's storyline over on PD, like Stacy said.
Could you survive a Chicago winter?
Stacy: I grew up in Indiana so I'm no stranger to Midwest winters, however, I've been to Chicago many times and as much as I love the city, I don't think I could stand to live there. Even being from Indiana, Chicago is still way worse in the winter.
Mary Kate: Probably not. I can handle cold, but not the type of bitter cold that they deal with for weeks on end.
Paul: Living in Scotland, I thought minus 5 was bad. I don't know how I would handle a Chicago winter. It would involve like 50 layers of clothing.
Chicago Fire Season 3 Episode 15 airs Feb. 17 at 10/9C on NBC.
Paul Dailly is the Associate Editor for TV Fanatic. Follow him on Twitter.