Chicago Fire Round Table: The New Boss
Paul Dailly at .
The team was under new management on Chicago Fire Season 3 Episode 15, while viewers were also treated to new Dawsey developments, along with Brett possibly crossing the line.
Below, TV Fanatics Stacy Glanzman, Mary Kate Venedam and Paul Dailly discuss the new boss, debate Welch's game and talk about Otis' revenge. Remember to hit the comments with your observations...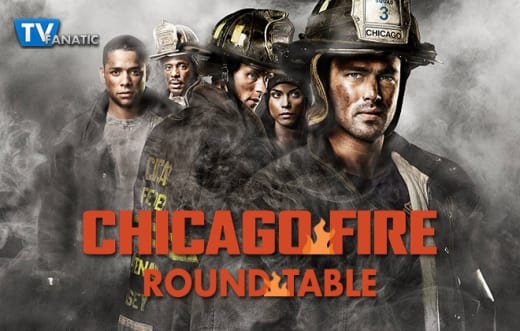 How do you feel about the new management at Firehouse 51?
Stacy: He's a jerk obviously, there to cause trouble for everyone, especially Casey. Hopefully he won't be around too long, though watching Boden get dad tips from Hermann was pretty hilarious.
Mary Kate: Obviously, it's not going to run in exact same way as it does when Boden is in charge, but the new guy is a jerk. I was not a fan of him teasing Otis or going back on his compliment to Severide. I'm ready for Boden to come back.
Paul: I want Boden back. The new guy is just so rude and has come to the Firehouse with guns blazing. He needs to go. There's a reason he got Firehouse 17 shut down.
Will Casey try to win back Dawson?
Stacy: It looks that way. His fling helped him realize what he really wants, so that's good, but it's not going to be easy for him now that Dawson knows about it.
Mary Kate: I'm not sure. I don't think it's good to go from horrific rebound to winning back your ex. Plus, now that Dawson knows about his little affair, it may take a while for it to work.
Paul: I honestly thought they'd be back together by now. As much as I think Dawson whines a little too much, she loves him. So much that she hasn't even thought about going with anyone else. Casey on the other hand...
Speak about Brett buying Celia the guitar and her reaction.
Stacy: I thought it was sweet of her. I like that Brett gets so invested in the people she helps, even if sometimes she gets a little too invested.
Mary Kate: I thought it was a nice gesture. Maybe it's because us, as viewers, know how nice she is so we didn't think anything of it. Celia's mother only thought of the bad side of Brett buying the guitar so she saw it as an offense to her parenting skills. Though it seems that her parenting skills aren't that good in the first place.
Paul: I think it was a little much. It's like these woman in the Chicago shows are begging to get a stalker.
Why is Welch over at Firehouse 51?
Stacy: No idea, to stir up more drama for Dawson and Casey? Because they don't have enough of that...
Mary Kate: To be honest, I had no idea who Welch was before this episode. He obviously does not have a good history with 51. I think he is either going to make good on anything bad he did to those in 51, or burn the bridges for good. I think it's time I caught up with everything Chicago Fire.
Paul: If we are to take what he said to Dawson as a clue, I'd say he's there to cause trouble and lots of it.
Will Otis try to get revenge on the new boss?
Stacy: I don't think so, at least not by himself. I could see the whole house coming together and doing something, but there's no reason for Otis to care about what happened. The chief was the only one laughing at him while everyone else was uncomfortable. Personally I think if anyone should be embarrassed about it, it should be the chief.
Mary Kate: I don't think so. If he does try to get revenge he'll do some harmless prank, but after the punishment for Casey and Severide, I don't think they're going to mess with the new boss for now.
Paul: He's not the revenge type. I'm betting he will be happy when Boden makes his return.
Remember you can watch Chicago Fire online, right here on TV Fanatic.
Paul Dailly is the Associate Editor for TV Fanatic. Follow him on Twitter.